Artistic luggage celebrates unique all-inclusive travel experience
Share - WeChat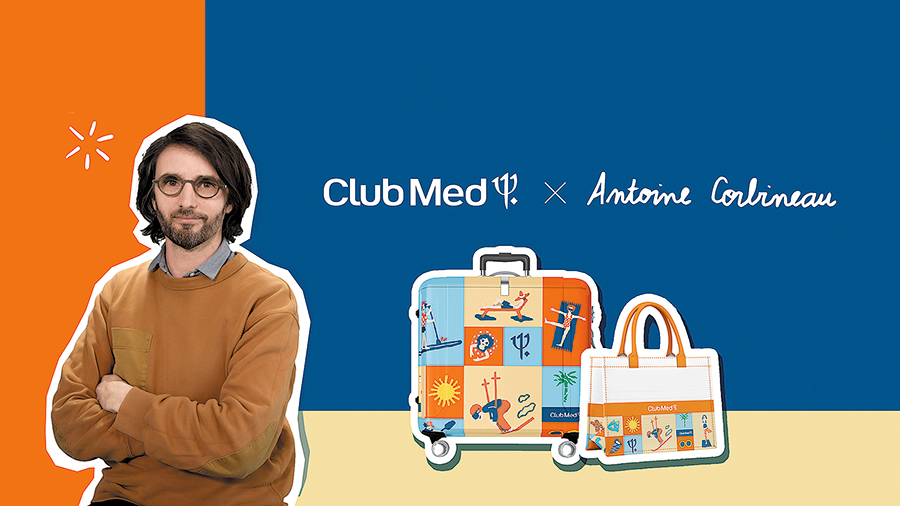 The world's leading "Premium All-inclusive" vacation brand, Club Med, and Antoine Corbineau, a well-known French artist who has worked with Hermes, have jointly created an All-inclusive Travel Bag series.
Through the artist's playful design, the unique elements of Club Med — skiing, flying-trapeze, archery, yoga, golf and more — feature on suitcases and tote bags. The bags represent an artistic display of the brand's unique "Premium All-inclusive" vacation concept, according to the hospitality group.
Corbineau graduated from Camberwell College of Art in London and Strasbourg School of Decorative Arts. He has worked with many world-renowned brands, including Hermes, Apple, Google, The New York Times, La Maison du Chocolat and more. This is the first time he has cooperated with Club Med.
Corbineau is adept at capturing the essence of daily life through art. Most of his illustrations come from a delicate balance between observation and life experience. His designs not only directly touch the core values of the brand but create an interesting and vibrant world.
As a loyal fan of Club Med, Corbineau expressed his simple philosophy of cooperation with Club Med: "I hope that, like me, everyone who comes to Club Med can enjoy a happy holiday time here."
As a world-leading brand with 72 years of experience in resort operation, Club Med's biggest advantage is its world-first "Premium All-inclusive" vacation concept and international Gentil Organisateur culture, servicing guests around the world.
The All-inclusive Travel Bag co-branded series, jointly created by Club Med and Corbineau, has come into fruition to convey the joy of travel in a fashionable manner.
Among the products in the series, the small and light carry-on case and the super-large tote bag are the most eye-catching.
Corbineau elected to use orange to express personality and fashion, showing the brightness and enthusiasm of "European style". It is matched with light beige and pastel blue, representing the ocean — presenting a warm and dynamic visual effect.
The design integrates Club Med's distinctive sports, leisure and other elements, illustrating the happy atmosphere of its resorts.
In recent years, crossover cooperation with artists who capture the brand's qualities has become an effective way to break through barriers, communicate with consumers and convey brand propositions, according to Club Med.
The group has been deeply involved in the Chinese market for years and has established extensive brand recognition.
Innovating crossover cooperation, awakening consumers' travel drive with a more relaxed scene, and bringing established "European-style" holidays to China have become the core purpose of the artist collaboration.