Health firms bark up right tree for families with fur babies
Share - WeChat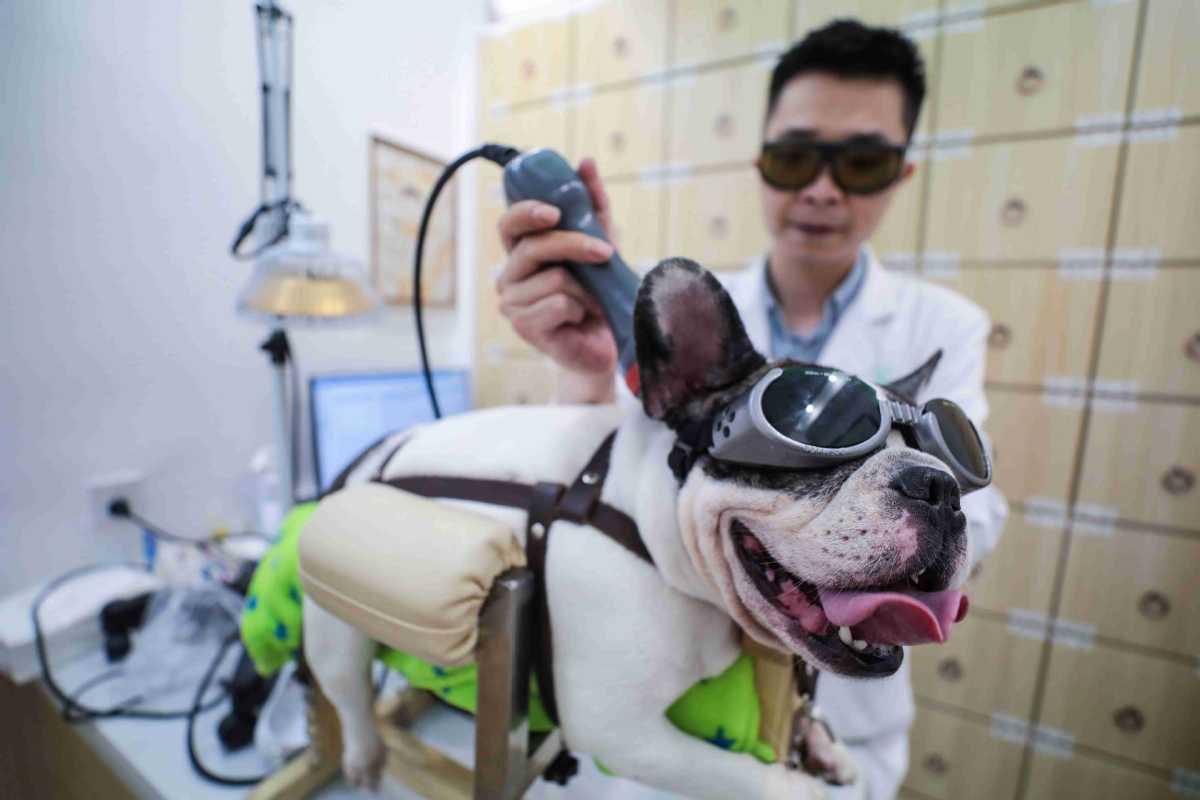 Shanghai resident Demi Jiang quit her full-time job more than three years ago to work as a public relations freelancer, partly because she wanted to devote more time and care to her dog, a Miniature Pinscher.
The dog has been a good companion for her since 2008, and at that time had developed some chronic health conditions requiring medical treatments from regular examinations to medications and surgeries.
Before that, she had always taken the dog to veterinary specialists regularly for vaccinations and deworming.
That is just one example of how cats, dogs and many other animals are now integral members of Chinese families, and pet owners, especially young owners who are well-educated, are becoming more aware of pet health and are willing to pay the bills.
Industry people said China's pet health market is becoming just another treasure trove of opportunities for animal medicine producers and medical care providers.
"As China's middle-income group keeps expanding and as Chinese pet owners are increasingly aware of as well as capable of paying for their pets' health, we have seen a rapidly growing market for pet health," said Liu Jingxian, head of animal health at Boehringer Ingelheim China.
"We are very confident in the long-term market prospects in China," she said.
Some reports showed in 2021, there were 112.35 million cats and dogs in China's urban areas, surging 11.4 percent year-on-year, while cat and dog owners in China increased by 8.7 percent on a yearly basis last year to 68.44 million, Liu said, attributing the expansion in the pet population mainly to the increase of pet owners.
As many of the dogs in China are getting old and likely suffer from conditions like heart disease and arthritis, demand for painkillers and other treatments will surge, she said.
More importantly, the use of parasite blockers for pets remains relatively low in China, as only 10 percent of Chinese pet owners buy deworming medicines for their pets regularly, which indicates huge growth potential for such medicines, Liu added.
According to the 2021 China Pet Medical Industry White Paper, the market scale of pet medical care, the second-largest subsection of the pet sector, hit 60 billion yuan ($8.59 billion) in 2021 in the country.
Released in January by several organizations including the National Veterinary Drug Industry Technical Innovation Alliance, the report said the pet medical care market accounted for 22 percent of the pet sector in 2021 and the proportion is still on the rise.
It also said there were more than 18,000 pet medical institutions in China last year, up 12.5 percent from a year ago.
Liu Lang, vice-chairman of Shenzhen, Guangdong province-based New Ruipeng Pet Healthcare Group, said the pet medical care market is expanding rapidly along with the development of the pet sector in China, thanks to the growth of the Chinese economy.
Besides, China's deepening exchanges with the international community in recent years have provided favorable conditions for Chinese veterinarians to import technologies and acquire advanced expertise, he said.
Top-rated for animal parasite expellers, Germany-based pharmaceutical company Boehringer Ingelheim has launched a series of pet parasite therapeutics in the China market and has been making diligent efforts to educate the public as well as veterinary specialists with accurate pet health knowledge.
It also plans to expand cooperation with local partners including pet hospitals to develop new growth points, while tapping the potential of digital platforms and tools, as the COVID-19 pandemic has impacted the offline pet health market while spurring demand for online services.
Yet, lack of high-level regulatory compliance and veterinarians remains a bottleneck for the healthy expansion of the sector, industry people said.
As China's largest chain of pet hospitals, New Ruipeng has around 2,000 pet hospitals across the country, which are arranged under a three-tiered hierarchy.
However, the company only accounts for around 10 percent of the market scale, as up to 80 percent of pet hospitals in China are small private businesses.
"The largest difference between the Chinese and US pet medical industries is that the latter has higher performance on regulatory compliance due to a large number of well-trained veterinary specialists," said Liu, who is also president of the sub-association of the pet industry under the China Animal Agriculture Association.
However, he also said China's pet hospitals have strong resilience and flexibility as they sprung up spontaneously to meet market demand in their early development stage and have been adapting to the changing market environment.
Together with improved government regulatory policies as well as strengthened policy support in recent years, that will ensure the fast and healthy growth of the pet medical industry, he added.
Industry people also said despite the increased awareness of pet health and welfare among Chinese pet owners, some are still not accustomed to spending time and money on regular health checks and parasite expellers for their pets.
Yin Xueyuan, an experienced veterinarian in a pet hospital in Beijing's Daxing district, said the hospital treats more than 1,000 pets per month, and while some pet owners are aware of the importance of pet disease prevention and control, some are less interested.