China's auto export accelerates to new record
Share - WeChat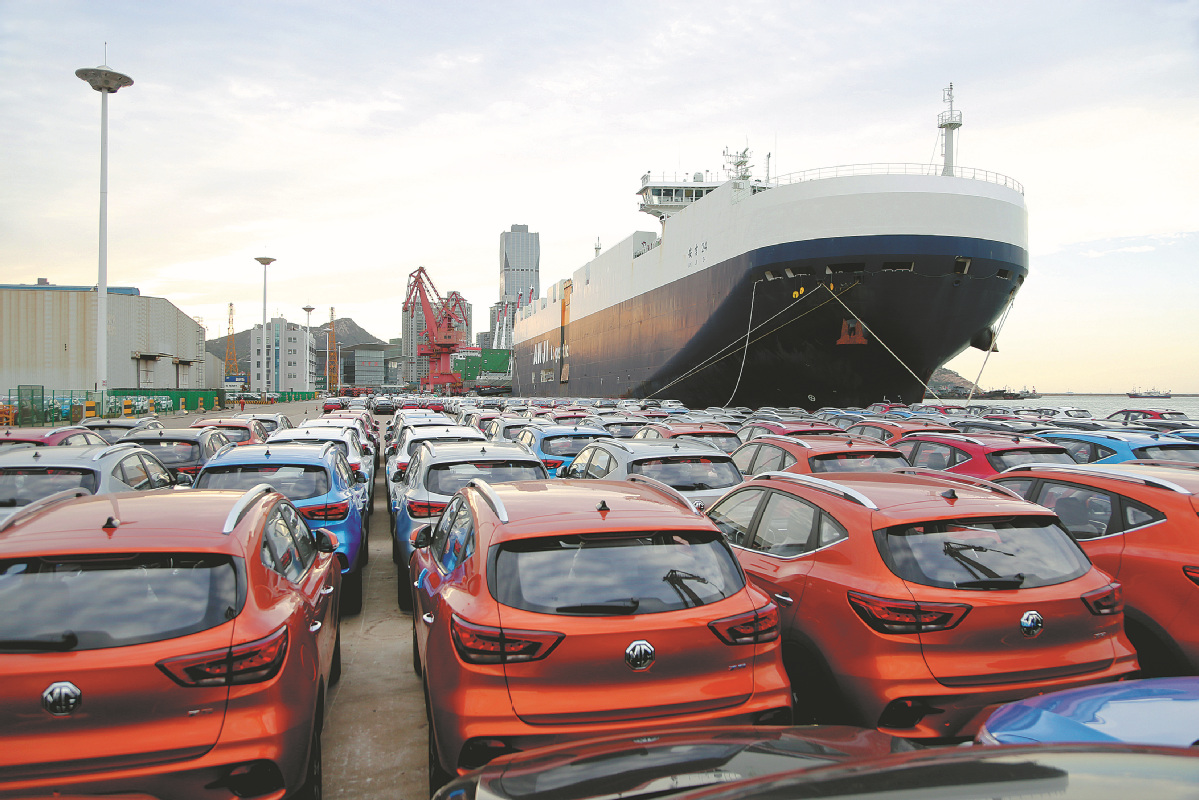 China's auto export industry registered steady growth amid headwinds such as chip shortage, rise of raw material prices, and the pandemic, with export totaling 2.46 million units in the first 10 months, up 54.1 percent on a yearly basis.
Xu Haidong, vice-chief engineer of the China Association of Automobile Manufacturers, expects the total exports of this year to cross 3 million units, reported People's Daily on Tuesday.
Passenger vehicle export recorded growth rise 57.1 percent to 1.98 million units during the Jan-Oct period, and new energy vehicles registered 96.7 percent growth to 499,000 units, CAAM statistics showed.
According to Cui Dongshu, secretary-general of the China Passenger Car Association, China's automobiles were mainly exported to the European, North American, and Asian markets, with Mexico, Belgium, and Saudi Arabia big importers of Chinese automobiles.
The SAIC Motor topped China's exporters by delivering 684,000 units through to October this year, data from the CAAM showed. Chery and Chang'an Auto also posted exports of over 200,000 units during the same period. Meanwhile, Geely reported the fastest growth rate at 86 percent during the period to 160,000 units.
China's export footprints have expanded from the traditional African and Middle Eastern market into the markets in North America and Europe, Cui said, adding that the export products have upgraded to higher-end ones, with better outer appearance, quality and services.
Customs data showed in the first half of 2022, the Western European market accounted for 34 percent of China's export of new energy passenger vehicles, with Belgium the top one importer.
The country's export volume broke the 2 million units threshold last year, with an over 50 percent growth in the first 10 months of this year, said Xu, noting that the recovery of the overseas market, as well as a completed supply chain in China, have all contributed to the growth of export.
The improved competitiveness of China's automobiles, including the designing, appearance, quality, management, tech innovation, integration and services, remain the core reason of export increase, Xu said.
The average export price of Chinese automobiles, an important indicator of export strength, also jumped from the $12,900 in 2018 to the $18,900 in August this year, Xu said, adding that pure electric vehicles have seen larger rise with average price at $25,800 in August.
Xu said China's auto market will sustain its growth momentum in the fourth quarter of the year, as the government has released a notice in November to vitalize the industrial economy with 17 specific measures, including further expanding automobile consumption, and continuing the exemption of NEV purchase tax.