Tea brews better livelihoods for farmers
Share - WeChat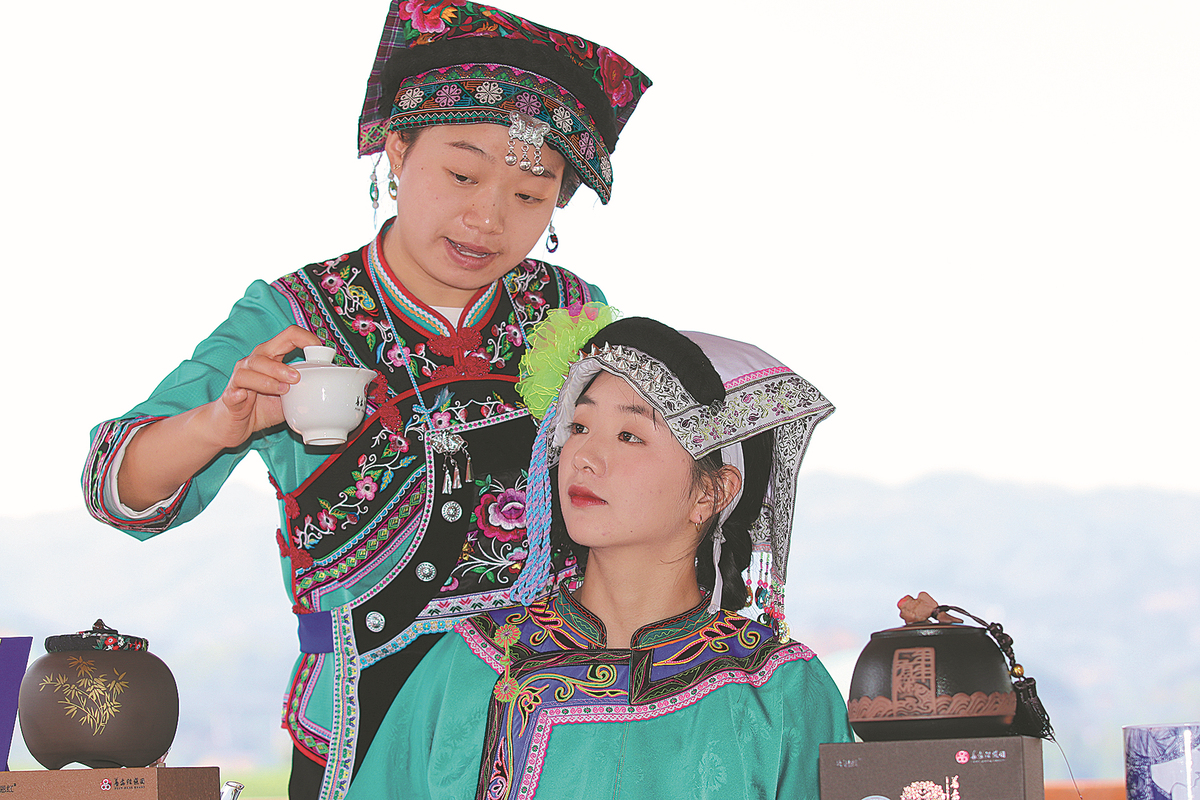 About four years ago, tea seedlings from Huangdu village, Anji county of Zhejiang province, helped poverty-stricken Pu'an county in Guizhou province develop 2,000 mu (133 hectares) of tea plantation area and increase the incomes of locals.
Today, Pu'an has not only been successfully lifted out of poverty, but also expanded the planting area from the original 2,000 mu to 13,000 mu, providing jobs and better incomes for more than 15,800 farmers.
Xu Kezhen, 48, is one of them. She has been working on the tea plantation since 2018, and is responsible for picking tea leaves and weeding out invasive flora.
"Our life is much more comfortable thanks to the tea plantation. By working here, I earn about an extra 10,000 yuan ($1,394) every year. Thanks to the earnings, our family has built a new house and bought a car over the past four years," Xu said.
Tan Hua'ai, another local farmer, said the tea plantation helps improve her family's living standards. "I can earn up to 3,000 yuan per month by working on the plantation, which is much more than before."
Tan's family was poverty-stricken four years ago. Working on her own half-hectare plot of farmland, she found it difficult to make ends meet, as she also needed to take care of her ailing husband and support the education of their two children.
After learning that the county wanted to rent her farmland to plant tea and hire her to sow seeds, remove weeds and fertilize the soil, Tan hesitated in fear of the possibility that the tea crop might not develop well and she may not be capable of providing for her family.
Located in a mountainous area in the southwest of Guizhou province, Pu'an has made attempts to develop some industries on its rugged slopes. But due to the hard natural environment and traffic conditions, it is difficult to grow crops and harvest and sell them. As a result, an increasing number of villagers had vacated to other places for work before the county established the tea plantation.
The tea seedlings from Zhejiang have brought dreams of a better life to the small county in Guizhou.
Lian Jianhong, deputy director of the Pu'an Tea Industry Development Center, said both local officials and residents were excited to see the tea seedlings arrive in the county.
"Pu'an wasn't originally on the list for consideration when Huangdu village offered to donate tea seedlings to help people in poor areas emerge from poverty. However, we actively contacted relevant personnel from Huangdu and invited them to come to Pu'an to conduct field investigations," Lian said.
The investigation team soon found a barren mountainside covered in ferns in Pu'an. Areas with ferns are usually suitable for growing tea. The county later became an ideal planting site among the surveyed sites.
The team finally decided to plant a 2,000 mu tea plantation in Pu'an and donated enough seedlings to the county. In order to make a harvest, Pu'an made a detailed plan covering construction standards, management and maintenance of the plantation, and also improved infrastructures such as water tanks, reservoirs, piping networks and dams.
A year later, Zhejiang Tea Group and local government invested 280 million yuan to build a tea industrial park in the county. The group also stepped up efforts in the research and development of tea brands. It launched the Xiecha brand and is now working on the development of the Baiming No 1 brand. The goal is to help with tea processing, brand building and promotion, as well as sales.
Thanks to the development of the tea industry, Pu'an had lifted itself out of poverty before 2020. Last year, the tea plantation was expanded from 2,000 mu to 13,000 mu, providing more opportunities for local farmers to get a job and increase their incomes.
Huang Shihong, general manager of Guizhou Pu'an Black Tea Group, which is responsible for the maintenance and management of the tea facility, said the company also continuously carries out training for local farmers to ensure better skills.
"Before harvesting spring tea next year, our company will give the management rights of the tea trees to the farmers, and then the income from the sales of tea leaves will go directly into the villagers' pockets. Letting farmers become the main players in planting, managing and collecting tea leaves doesn't mean we give up management. The company will still continue to ensure management, processing tea leaves to tea products, and sales," Huang said.