Foreign caterers eager to invest in nation
Share - WeChat Companies continue expansion plans despite challenges posed by pandemic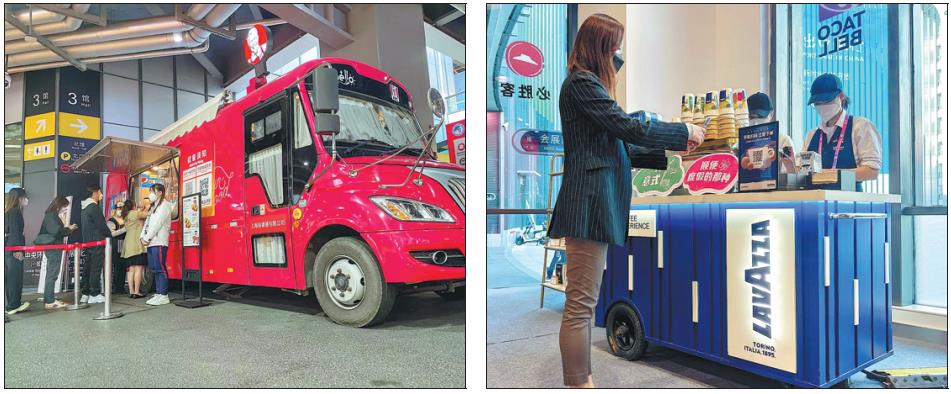 Global coffee chain giant Starbucks recently opened its second intangible cultural heritage concept store in China in the Shenyuli area of Shanghai.
The store is housed in one of the best-preserved buildings in the city to feature the Shikumen architectural style, which combines Western and Chinese elements and first appeared in the 1860s.
On entering the store, the most eye-catching features are 10 large handcrafted "coffee flowers "adorned with delicate red berries. The artwork was made by embroiderers in Suzhou, Jiangsu province.
The store also houses an exquisitely embroidered cheongsam from Shanghai, silverware from Heqing, Yunnan province, and tinware from Honghe, also in Yunnan.
The branch is one of Starbucks'1,000 outlets in Shanghai, The company, which has 6,000 stores in China, plans to increase the number of its branches nationwide by 50 percent to 9,000 in 300 cities by 2025.
This goal would see Starbucks opening one new store nearly every nine hours in China for the next three years. During this time, Canadian coffee chain Tim Hortons plans to expand rapidly in the nation — opening one new store every 12 hours.
Despite challenges posed by the COVID-19 pandemic, foreign catering companies are continuing to invest and expand in China, from constructing supply centers to developing digitalization and deliveries.
These companies also attract investment, and they are collaborating with Chinese partners to help spread Chinese culture and help the nation achieve its green goals.
At the China International Import Expo, or CIIE, in Shanghai this month, fast food chain KFC's mobile dining car was driven onto the exhibition site for the fifth consecutive year. Food produced in the vehicle was viewed by visitors through a large window.
Since first arriving in the Qianmen area of Beijing in 1987, KFC has opened 8,600 stores across China, launching some 500 new outlets nationwide in the first nine months of this year.
Joey Wat, CEO of Yum China, which manages KFC and Pizza Hut in China, said at CIIE, "As the first foreign catering chain enterprise to enter the country, Yum China is fortunate to have experienced China's reform and opening-up, which has brought extraordinary development opportunities in this massive market for 35 years."
As of September, Yum China owned 12,409 restaurants in 1,700 cities and towns across the country. The company plans to expand 1,000 to 1,200 of its stores in China by the end of this year.
During the pandemic, the fast development of digitalization and takeaway services has helped the company deal with the challenges it faces.
As of September, KFC and Pizza Hut had a combined membership program of more than 400 million customers, with digital orders accounting for about 91 percent of the two brands' revenue. Yum China plans to invest $1 billion to $1.5 billion on digital infrastructure in the next five years.
The company's artificial intelligence planning system not only enables riders to deliver across business districts, but also for its employees to achieve flexible scheduling across cities and regions.
By the third quarter of this year, KFC and Pizza Hut's takeaway sales accounted for 37 percent and 41 percent respectively of their overall revenue.
With more customers, especially the younger generation, looking for convenient readily prepared dishes during the pandemic, Yum China launched precooked food products in 2020.
In two years, KFC has attracted countless customers with its new packaged products, which include steak, fried rice and chicken soup, as well as microwaved dumplings, coffee and snacks. In the second quarter of this year, sales of these products reached 200 million yuan ($28 million), more than double the total for the same period last year.