Foreign caterers eager to invest in nation
Share - WeChat Special system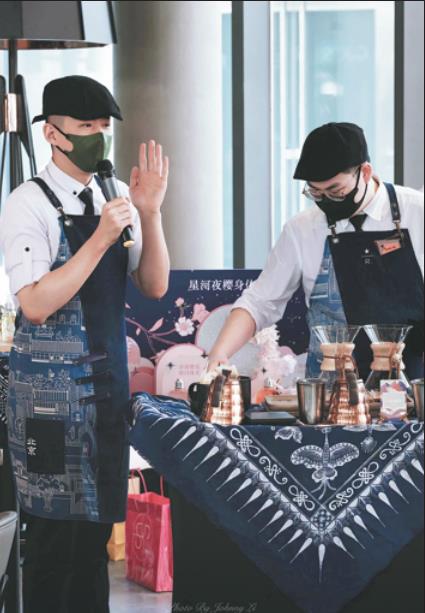 Starbucks also plans to launch more special stores during its rapid expansion in China. This month in Xiamen, Fujian province, it opened its twelfth sign language outlet. This store has 15 employees — eight of whom have hearing difficulties.
Customers place orders by using a specially designed system that converts voice and text to achieve barrier-free two-way communication through a voice recognition assistant. Orders are also displayed on a double-sided screen for customers and hearing-impaired staff members.
This month marks the one-year anniversary of Starbucks' first intangible cultural heritage concept store in China, which opened in the Huamao area of Chaoyang district, Beijing.
Li Xiaowei, 31, who manages the store and has worked there since its decoration phase, has organized more than 50 events during the past year.
"We hosted eight batik workshops led by the inheritor of batik intangible cultural heritage from Danzhai county, Guizhou province, at which hundreds of customers got to experience this dyeing technique," Li said.
Each day when he arrives at the store, after donning an indigo-blue batik apron Li checks all 60 batik works in the building. He also knows the stories behind each of them.
"The difference between batik and tie-dyeing skills is the tools. The former uses a knife and wax, while the latter uses ropes," Li said, adding that he has been asked about this difference countless times during the past year.
A group of students majoring in art history at Communication University of China, who were curious over the batik canvas in the store's bar, asked Li a series of questions about the work. "They told me the experience they gained gave them new inspiration for their graduation designs," he said.
Li is happy to pass on his knowledge of intangible cultural heritage to colleagues as Starbucks opens more concept stores.
Starbucks, which aims to have 9,000 stores in China, is hiring 35,000 more staff members, and plans to double its sales and quadruple its operating income by 2025. It also plans to have 170 million registered members by 2025, up from the current 85 million.
Belinda Wong, chairwoman and CEO of Starbucks China, said during this year's CIIE: "China is an open and inclusive market. The dynamism and opportunities in China have greatly benefited Starbucks' development in the market."
In the next three years, Starbucks China will invest $220 million to launch its digital technology innovation center in the nation.
"We will continue to increase our investment while deepening our connections to China and supporting the industry's sustainable development through supply chain localization and digitalization," Wong said.
liyingxue@chinadaily.com.cn