Beijing Marathon returns after hiatus, celebrates 40 years pounding streets
Share - WeChat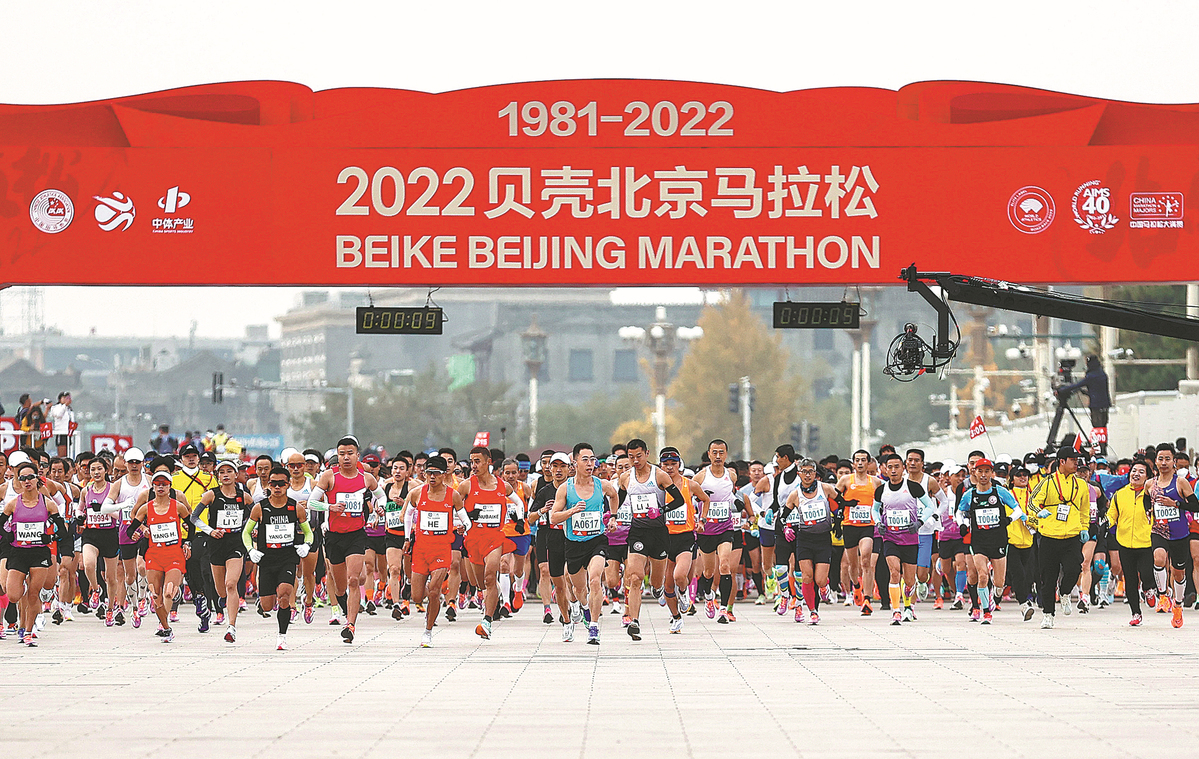 Runners' emotional celebrations at the finish line and fans' passionate cheering alongside the course showed just how excited people were for the long-awaited return of the Beijing Marathon, which was held in the Chinese capital on Sunday.
It was the first major sporting event held in the capital since the Winter Olympics and Paralympics in February and March.
This year's race was especially important as it marked the 40th time it had been held — the first was in 1981. After two years of absence due to the pandemic, its return gave the participants motivation to finish the 42-kilometer race, which started from Tian'anmen Square and ended at the Beijing Olympic Park.
Among the approximately 20,000 runners, the brightest star was Anubaike Kuwan from the Xinjiang Uygur autonomous region, who finished with a time of 2 hours 14 minutes and 34 seconds to take the men's title. Yang Chunlong finished second at 2:19:11, and He Jie placed third at 2:21:26.
"First, I want to thank my coach and my team. Without them, I wouldn't have been able to achieve such a great result," Anubaike said after winning. "I'm very satisfied with my performance today, and I feel Beijing is like my second hometown."
On the women's side, Xia Yuyu from Tsinghua University stood on the highest step of the podium with a time of 2:28:57. Li Yingmei ended up in second place at 2:30:44, with Wang Min in third at 2:33:05.
"The weather is great today, and the track felt so good. This is my first time participating in the Beijing Marathon," Xia said. "We are all so excited that the Beijing Marathon could return after two years, and we all want to show our best here."
The marathon is not only a great platform for elite runners to shine, but is also a party for all running enthusiasts. Runners of all different backgrounds, including everyday office workers, university students, medical workers and even people with disabilities, took part to experience the joy of the event.
"I met with many friends on the track. After two years, we once again stood on the starting line at Tian'anmen Square," said He Xiaoyun, the leader of a running group in Beijing that is mostly comprised of visually impaired runners. "The moment when all the people sang the national anthem together right before the start was so emotional, and I cried."
Yu Hongchen, secretary-general of the Chinese Athletics Association, said the race has achieved great things over the past 40 years and has become a beautiful sight in the capital in autumn.
"As the first city marathon in China, its development cannot be separated from the support of all sectors of the society," Yu said. "In 1981, there were just 86 runners. Nowadays, the spirit of those runners is leading the Chinese marathon on a spectacular journey."
shifutian@chinadaily.com.cn