Carrier fleet charged up on EV demand
Share - WeChat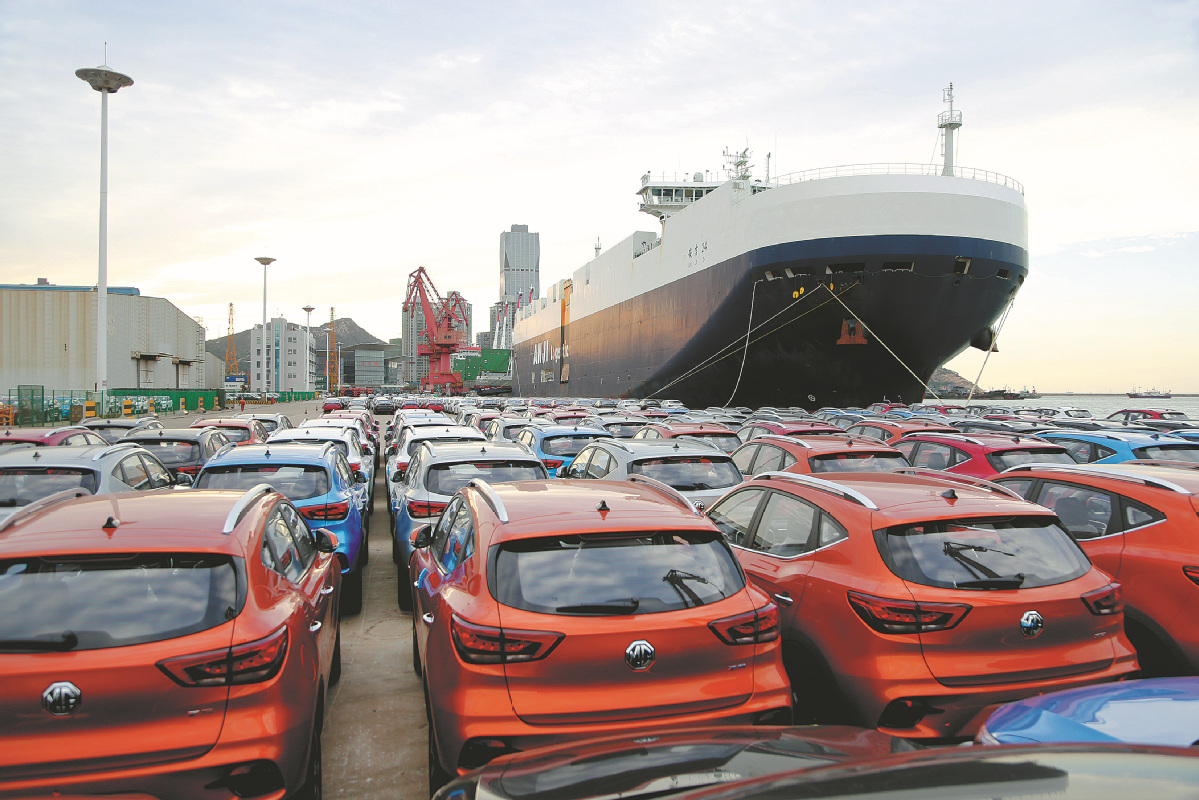 Soaring auto exports boost seafaring biz, bring surge in orders for shipbuilders
Prompted by China's soaring auto exports and surging global demand for electric vehicles in recent years, the size of China's seafaring car carrier fleet will be enlarged and is expected to seize more market share in the years ahead, said shipbuilders and industry watchers.
Beginning to rebound in 2021, the global market for auto carriers has experienced rapid growth this year. A total of 43 new car carriers have been transacted worldwide in the first eight months — the highest level since 2008 — said the Beijing-based China Association of the National Shipbuilding Industry, or CANSI.
Driven by vigorous market demand, daily average rental rates for car carriers reached $90,000 by October, an increase of more than 70 percent compared to the peak price seen in 2008, said Clarkson Plc, a London-based provider of integrated shipping services.
In the current round of market recovery, Chinese shipyards have an 82.3 percent market share in the global car carrier building industry in terms of the total number of orders. Recent orders were placed by both domestic and global carmakers and shipping companies, such as China's SAIC Motor, Italy's Grimaldi Group and Norway's Hoegh Autoliners, said Tan Naifen, deputy secretary-general of CANSI.
"Thanks to its high efficiency, scale and price advantages, China's shipbuilding industry has already developed a mature supply chain for building this type of vessel. All the core parts, including propulsion systems, ro-ro equipment and LNG (liquefied natural gas) dual-fuel gas supply systems can be purchased from the domestic market," Tan said.
She added that even though China leads the world in the field of car carriers in terms of design and production, it still hasn't entered the "first echelon" globally in terms of existing capacity and fleet size.
According to a September report by Clarkson Research Services — the data and analytics arm of Clarkson Plc — the global fleet, made up of 756 car carriers, has about 4 million spaces for individual vehicles, with an average ship size of 5,300 spaces. China's car carrier fleet currently stands at 51 vessels, including nine large car carriers with 7,600 parking spaces each and two large car carriers with 7,800 parking spaces each to serve foreign trade demand, and are scheduled to be delivered in 2024 and 2025, respectively.
Before 2021, China's car carrier fleet was mainly dominated by domestic trade. However, the fleet is set to grow as orders for new vessels from Chinese shipowners and carmakers will be delivered over the next few years, said Liu Hao, a manager at Longkou manufacturing base of Yantai, Shandong province-based CIMC Raffles Offshore Ltd.
Liu said the company currently has orders for 12 car carriers, the highest in its history. Its production plan to fulfill these orders has been scheduled till 2026.
As more car carriers will be built next year, the company's use of steel plate will grow from 6,000 metric tons per month this year to 8,000 tons each month in 2023, indicating that the company has to purchase 300 tons of steel plate on a daily basis to ensure production levels next year, Liu noted.
With the Beijing-based China Association of Automobile Manufacturers reporting that 2.12 million vehicles were shipped overseas between January and September, up 55.5 percent year-on-year, the growing figures have presented challenges for both forwarders and automakers, who have been struggling to secure spaces on car carriers.
It is estimated that at present, overall demand gap of car carrier capacity in Guangdong province is 20,000 spaces per month. From the perspective of the supply and demand of shipping spaces, the current supply and demand situation of each service route is in short supply, said Liu Nianpeng, business director at project logistics unit of State-owned Sinotrans Guangdong Co Ltd.
"If cars are transported by shipping boxes on container vessels, the technical requirements for binding and packing are high, and capacity is limited. Among them, electric vehicles must use special containers designed for transporting dangerous goods, which aren't cheap," Liu said. "Therefore most carmakers and forwarders prefer to wait for car carriers for export."
Chinese companies have cost advantages. Currently, prices for building different sizes of car carriers in Japanese and South Korean shipyards are 15 percent higher on average than prices offered by their rivals in China, said Xing Yue, general manager of Clarkson Research Services' Shanghai branch.