The exhibition that changed a life
Share - WeChat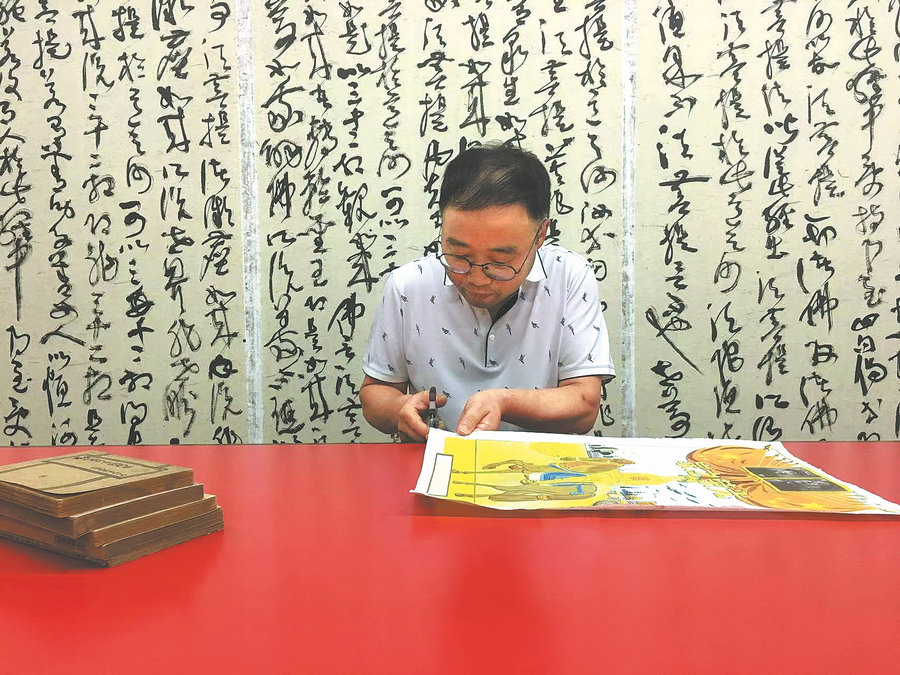 A chance sighting puts a school teacher on a 28-year journey into ancient artwork restoration, Wang Ru reports.
When people visit an art exhibition, they may expect to be impressed, or perhaps, even moved. Few people, however, would imagine the experience could change their life. Yet, that is what happened to a 23-year-old Fei Yongming in 1993.
However, it wasn't grand works of art that had such a transformative influence on his career, but a rudimentary public notice he spotted hanging on a wall of an exhibition at the Shanghai Research Institute of Culture and History.
What that notice said, as far as Fei recalls, was that a training course for picture mounting would be held at the institute by Yan Guirong, a resident master of mounting pictures and calligraphy works. Fei, a school teacher at the time, had a strong interest in the field and had already learned a lot about it. So, naturally, he signed up.
In the end, the course did not go ahead, but Fei, keen to pick up some new skills, managed to get an introduction to Yan. Impressed by the young man's determination, Yan took him on as a student. Fei threw himself into studying and practicing the craft, and now, more than half a lifetime later, he has become every bit the expert.
What Fei learned from Yan is Yangzhou-style painting mounting and restoration. China has a long tradition of mounting paintings. Under the reign of Emperor Qianlong (1711-99) in the Qing Dynasty (1644-1911), one craftsman, Ye Yufu, opened a store to help people frame paintings and calligraphy in what is now Yangzhou city, Jiangsu province, and became famous. He is thus regarded as the father of the Yangzhou-style painting mounting and restoring technique.
At the time, there were several styles of mounting paintings. The one in Yangzhou was especially renowned for restoring ancient paintings and calligraphy works.
"We are required to fix the old like the old, trying our best to ensure the feel of the ancient work is retained," says Fei, who now lives in Shanghai.
The way paintings are mounted has greatly changed over the centuries, and the techniques used these days usually depend on the era in which the painting was created.
To realize that goal, the artisan must consider many aspects before restoring an old painting, including the time when the work was created, the original creator and the value of the work.