A future-proof view of past glories
Share - WeChat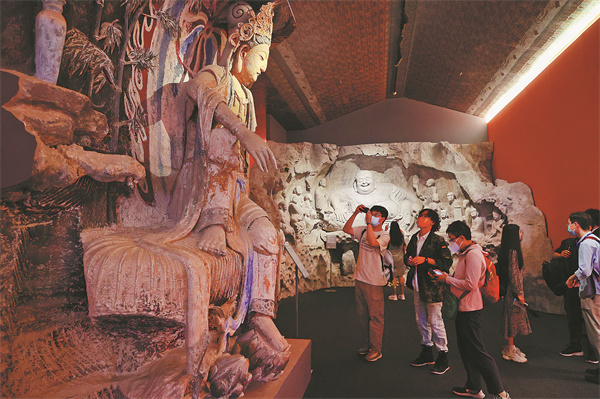 An ambitious 17-year project realizes an unprecedented gathering of legendary Chinese art, aided by digital technology and 3D printing, Lin Qi reports.
The Song Dynasty (960-1279) produced a rich trove of artworks that present a beautiful simplicity and a high level of taste. The finer specimens of Song art have endured and remain irresistible to people today. One recent example of this was the rare display, in 2017, of A Panorama of Rivers and Mountains (Qianli Jiangshan Tu), an 11-meter-long scroll painting by Wang Ximeng, a prodigy who lived between the late 11th and early 12th centuries.
Wang was only 18 when he completed this masterpiece of Chinese blue-green landscape painting, under the tutorship of Emperor Huizong, a renowned artist and a discerning collector and sponsor.
It is little wonder that, when this work appeared for a public viewing at an exhibition of blue-green landscape paintings of ancient China at the Palace Museum, where it has been housed for decades, people flocked to get a brief glimpse of the masterpiece, and the Palace Museum had to set a daily cap on the number of viewers.
Few would have known that A Panorama of Rivers and Mountains was rolled out for viewing on Jan 5, 2009, to a limited group of visitors from Zhejiang province.
When people just returned from the New Year holiday, a team comprising members from Zhejiang University and the province's cultural heritage bureau arrived in Beijing. They joined their counterparts at the Palace Museum for an important undertaking: moving the painting out of storage, unfolding it, and taking high-resolution digital pictures of it.
Wang Xiaosong, one of the team members and deputy dean of the School of Art and Archaeology at Zhejiang University, vividly remembers the atmosphere of excitement and tension when people, holding their breath, slowly unrolled the famous painting.
"The last time this 900-year-old piece of art had been taken out for photographing was in 1992, 17 years earlier. The mineral pigmented palette of the painting is delicate, and every time it is exposed to light and air, there is a certain, predictable amount of loss in its color," Wang Xiaosong says.
Most Popular