Consumption market tipped to expand
Share - WeChat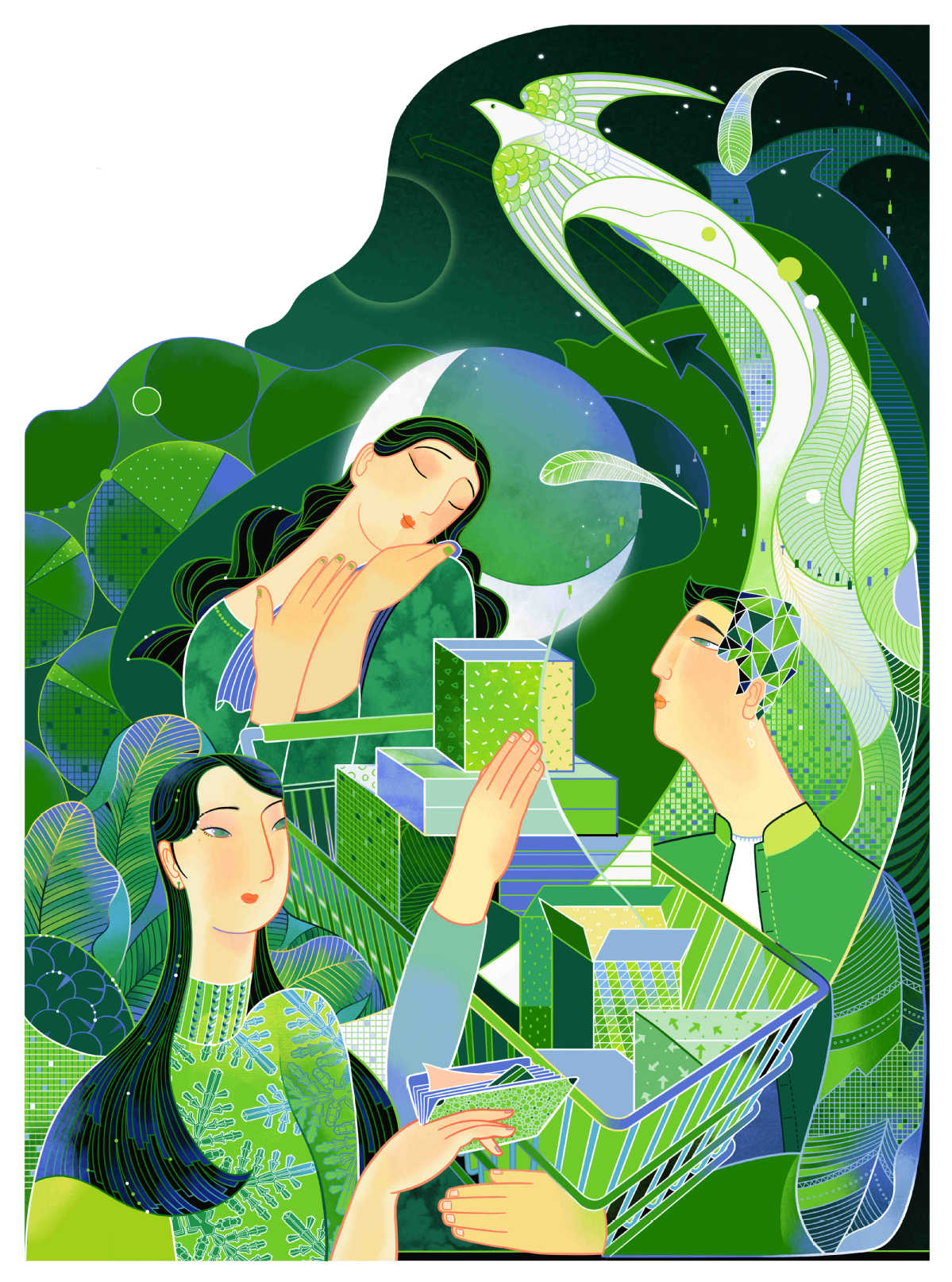 COVID containment and stimulus package to spur growth, experts say
Editor's note: A survey among China Daily's overseas readers ahead of the 20th National Congress of the Communist Party of China shows that the nation's ecological progress, economy, diplomacy, science and technology, and the Belt and Road Initiative are among some of the most closely observed issues. China Daily is publishing a series of special articles to offer readers an in-depth look at these topics.
Despite facing downward pressures and uncertainties at home and abroad, China's consumer market is expected to gain growth momentum in coming months, according to experts.
This impetus will be fueled by better containment of the COVID-19 pandemic, and a package of stimulus measures taking effect gradually to spur consumption, the experts said.
A series of supportive measures to boost spending on big-ticket items such as automobiles and home appliances will further stimulate consumers' purchasing appetite, promote a consumption recovery, and strongly propel the country's economic growth, they added.
Consumption has become a major driving force for boosting the economy's stable recovery. Data from the National Bureau of Statistics, or NBS, show China's consumption expenditure contributed to 65.4 percent of domestic economic growth last year, driving GDP expansion by 5.3 percentage points.
Yang Haiping, a researcher at Central University of Finance and Economics' Institute of Securities and Futures, said, "To stabilize the economy, China needs to ramp up efforts to boost consumption, exports and investment — and the key to this is spurring consumption."
Wang Yun, a researcher at the Academy of Macroeconomic Research, said, "Consumption plays a fundamental role in China's economic development and is the main driving force boosting economic growth."
With the pandemic being contained more effectively, and with several supportive policies to shore up consumption, China's consumer market is gradually recovering from the fallout of COVID-19, Wang said, adding that in the long run, the strong resilience and immense potential of consumption will remain unchanged.
Chinese shoppers are eyeing high-quality and diversified products, Wang said, suggesting that to further unleash consumer spending potential, the government should increase subsidies for green, energy-saving and environmentally friendly home appliances and other consumer electronic products.
Sales rise
Data from the NBS show that retail sales of consumer goods in China, a significant indicator of the country's consumption strength, rose by 5.4 percent year-on-year to 3.63 trillion yuan ($517.3 billion) in August. The growth quickened from a 2.7 percent rise registered in July.
In the first eight months of this year, the nation's retail sales of consumer goods stood at 28.26 trillion yuan, up by 0.5 percent on a yearly basis, the NBS said.
The State Council, China's Cabinet, has announced 33 measures to stabilize economic growth in an effort to get the economy back on a normal track and keep major economic indicators within an appropriate range. The measures include boosting sales of automobiles, home appliances and other high-priced items to further unleash consumption potential.
Meng Wei, a spokeswoman for the National Development and Reform Commission, told a recent news conference in Beijing that the nation is planning to introduce new policy measures to promote the accelerated recovery of consumption.
Local governments nationwide recently accelerated measures to boost consumption. For example, the authorities in Guangdong called for efforts to encourage sales of cars, consumer electronics and other industrial products. They also handed out coupons to stimulate purchasing.
In Yunnan province, the authorities announced a plan to boost consumption and stabilize growth for the next two years. They called for efforts to develop online and offline consumption, encourage the digital and intelligent transformation of traditional trade enterprises, and build Kunming, the provincial capital, into an international consumption center.
Yue Xiangyu, an analyst at Shanghai University of Finance and Economics' Institute for the Development of Chinese Economic Thought, praised provincial-level support, such as giving out coupons and subsidies, for boosting consumption, and said such action will help stabilize market demand for the short-term.
He said more efforts should be made to optimize the business environment, ensure operations of market entities, and stabilize employment.
With the contactless economy booming during the pandemic, Chinese consumers are increasingly switching to online shopping. This year's June 18 shopping carnival played an important role in promoting the recovery of consumption and shoring up the real economy.
E-commerce giant JD, the initiator of the promotional event, which this year officially started at 8 pm on May 31, said its transaction volume stood at 379.3 billion yuan as of June 18, a rise of 10.3 percent year-on-year from 343.8 billion yuan. The growth rate represents a slowdown compared with 27.7 percent a year ago.
Alibaba Group's online marketplace Tmall and social commerce platform Pinduoduo did not disclose their gross merchandise volume during the shopping spree.
Liu Hui, director of the Consumption and Industry Development Research Institute at JD, said although the pandemic has had an impact on consumption, the e-commerce extravaganza injected strong vitality into the nation's consumer market and fully unleashed pent-up purchasing demand.
"Chinese consumers have become more rational during the promotion gala, and they are inclined to choose higher-quality and new products, rather than lower-priced commodities," Liu said.
Auto sales play a crucial role in boosting consumption and stabilizing economic growth. As the world's largest automobile market, China has unveiled a series of measures to invigorate auto circulation and boost car consumption, as numerous factors have weighed heavily on the industry.
According to a notice released by the Ministry of Commerce and 16 other central government departments in July, steps will be taken to support the purchase and use of new energy vehicles — or NEVs, scrap unreasonable regulations on secondhand vehicle sales, and encourage the replacement of old vehicles.
More efforts should be made to propel spending on NEVs in rural areas, accelerate the construction of charging facilities, and guide charging pile operators to lower their service fees, the notice said.
The authorities will extend the exemption of purchase tax on NEVs, which was originally scheduled to expire by the end of this year, to the end of next year.
China first exempted NEVs from purchase tax in 2014, and this is the third time the exemption policy has been extended. The latest extension is expected to waive 100 billion yuan in tax.
From June 1 to the end of this year, the government has also halved car purchase tax for passenger vehicles costing no more than 300,000 yuan and which have an engine capacity of 2 liters or lower.
The State Taxation Administration said that from June to August, 3.55 million autos benefited from the purchase tax relief, saving buyers about 23 billion yuan.
Zhang Hong, secretary-general of the China Auto Dealers Association's NEV branch, noting the auto industry accounts for a relatively high proportion of the overall consumption market, said the package of supportive measures will help promote development of the entire industrial chain of automobiles, and stabilize domestic economic growth.
Although the COVID-19 outbreak weighed on China's auto market in the first half of this year, NEV sales have seen robust growth, he said, adding that the accelerated construction of charging facilities and the recycling of batteries will give a big boost to development of the NEV industry.
China's NEV market has witnessed rapid growth this year. In the first eight months, retail sales of such vehicles nationwide stood at 3.26 million, up by nearly 120 percent year-on-year, the China Passenger Car Association said.
Recycling efforts
In July, the Ministry of Commerce, the Ministry of Industry and Information Technology, and the State Administration for Market Regulation issued a notice encouraging the replacement of old household appliances with new ones throughout the country and bolstering the consumption of green and smart home appliances in rural areas.
Sheng Qiuping, vice-minister of commerce, noted that sales of household appliances have faced huge pressure since March, especially in April and May due to the pandemic. China will strengthen the recycling and reuse of aging home appliances, support the construction of recycling networks for such appliances, and improve delivery, installation and maintenance service standards regarding these appliances, Sheng said.
Zhao Meimei, assistant president of the market consultancy All View Cloud, which is based in Beijing, said, "The measures to boost spending on home appliances will not only satisfy people's demand for higher-quality products but also propel the intelligent transformation of the traditional home appliance industry and drive economic growth."
Sales of home appliances in China fell by 8.5 percent year-on-year from January to May, so boosting spending on such items will help drive overall economic growth, Zhao said.
Major domestic home appliance manufacturers are stepping up efforts to support the recycling of discarded products and introducing more green and intelligent household appliances.
For instance, home appliance giant Midea Group distributed shopping coupons to consumers who replaced old home appliances with energy-saving and intelligent alternatives via the company's 120,000-plus offline stores.
The group, which is based in Foshan, Guangdong province, has increased efforts to recycle discarded household appliances in cooperation with companies involved in dismantling discarded electronic devices.
Zhao Ping, deputy head of the Academy of China Council for the Promotion of International Trade, which is headquartered in Beijing, said: "China boasts a sizable consumption market, with immense development potential and resilience. The top priority to stabilize economic growth lies in maintaining stable consumption growth."
She called for efforts to encourage enterprises to use new-generation information technologies such as big data, cloud computing and artificial intelligence to create new types of green and intelligent consumer goods and cultivate new consumption growth points.
Zhao said China's consumer market is likely to witness a growth recovery this year fueled by income rises, the continued recovery of industrial and supply chains, and a series of supportive policies to shore up consumption.
More also needs to be done to further cut taxes and fees to help micro, small and medium-sized enterprises and the self-employed hit hard by the pandemic overcome difficulties, expand employment, increase incomes and ensure the smooth operation of logistics and supply chains to further spur consumption, she added.
According to a report by global consultancy Accenture, during the pandemic Chinese consumers have become more rational, are carefully reviewing their needs, and tending to scrutinize their spending.
Eric Hor, managing director of Accenture Strategy & Consulting Greater China, said the pandemic has fundamentally altered Chinese consumers' approach to consumption, making them more restrained and pragmatic.
"In addition to restraining their shopping impulses and reducing unnecessary expenditure, people have begun to conduct in-depth research and thorough comparisons before deciding what to buy. They regard the selection process as an integral part of the consumer experience," he said, adding that people are paying more attention to the value of the products they buy.
In the long run, fully tapping consumption potential and upgrading channels and services in lower-tier cities and rural areas will remain key measures to fuel a consumption recovery in China, the Accenture report said.
Mo Daiqing, a senior analyst at the Internet Economy Institute, a domestic consultancy, said lower-tier markets are a significant engine for driving the continued growth of new users and boosting consumption, thus helping promote recovery of the real economy.
Ye Yindan, a researcher at the Bank of China Research Institute, said boosting domestic demand will play a crucial role in stabilizing the economy for the rest of this year, and consumption will likely recover with stimulus measures taking effect gradually.
The government should adopt additional measures, including encouraging more online promotions and sales on major holidays, continuously offering subsidies to buyers of NEVs and green home appliances, and easing restrictions on the recovery in services consumption during the pandemic, Ye said.