'Assassin' Jiang has killer touch
Share - WeChat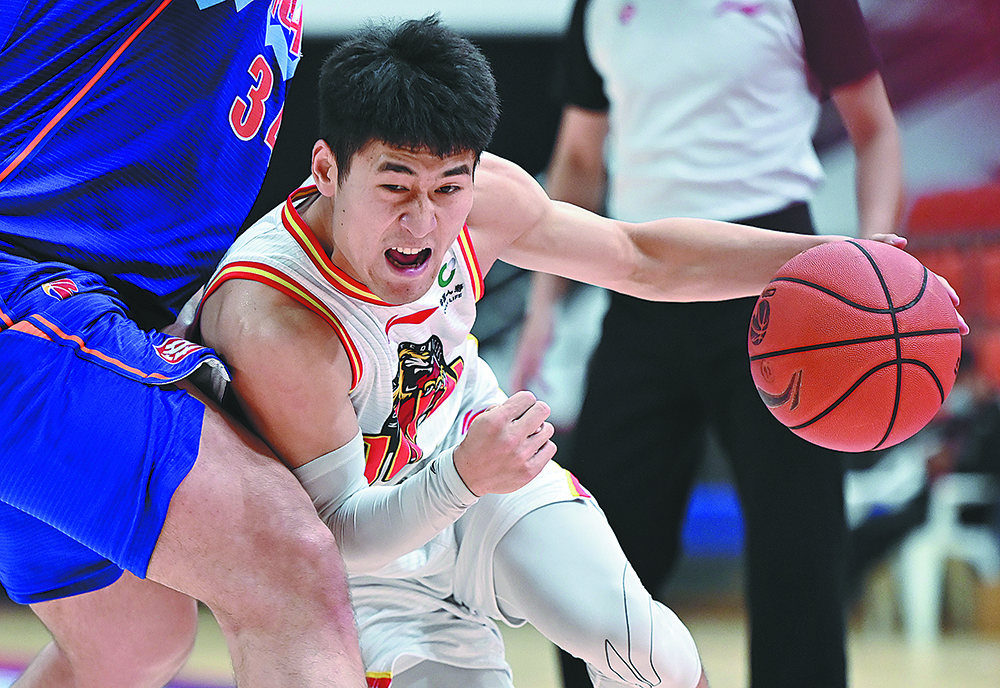 After prolific summer, sharpshooting Jilin star eyes more breakthroughs
Jiang Weize clearly remembers the first 3-pointer he drained for China's national basketball team.
With four minutes left in the third quarter of a FIBA Asia Cup group match against South Korea on July 12, the ball was passed to Jiang, who stood behind the arc in the fast break. Then he adjusted, jumped and shot with no hesitation.
"That score means a lot to me," said the 22-year-old.
The TV cameras showed that Jiang was about to celebrate the 3-pointer but unclenched his fists just as he realized a counterattack was being launched and switched to defense.
As a national team rookie, Jiang looked a little perplexed on the floor at times, but his classy shooting style impressed the fans, who nicknamed him the 'Yanbian Assassin'.
Border boy
Jiang was born in Yanbian Korean autonomous prefecture in Northeast China's Jilin province and began to shoot hoops in elementary school.
He was discovered by Jilin basketball legend Sun Jun in a middle-school game and called up to the Jilin Northeast Tigers' youth team. He began playing professionally for Jilin in the 2018-19 CBA season.
Standing 1.81 meters tall, Jiang is comparatively short for a hoopster. However, he compensates for what he lacks in height and reach with hard work, a never-say-die spirit and, of course, his shooting accuracy.
Over four seasons of unremitting effort, Jiang gained a place in the Tigers' starting five. Increasing his regular-season playing time from 22.6 minutes to 37.9 minutes per game and doubling his average score from 7.8 points to 17.6 points per game, Jiang has become an indispensable scorer for Jilin.
After last season's CBA playoffs, Jiang was capped by Team China's reserve team before earning a call-up to the national team proper for the FIBA Asia Cup in Jakarta and World Cup qualifiers in Kazakhstan.
China's national team is packed with higher-profile point guards such as Zhao Rui, Sun Minghui and Xu Jie, but Jiang surprisingly caught the eye the most. The diminutive shooter showed composure that belied his inexperience — averaging 15 minutes per game, shooting 44 percent from 3-point range and making several key shots during the Asia Cup.
The "Assassin" was at his clinical best as China edged Bahrain by a point, making several clutch shots in succession during an intense third quarter.
Jiang credits tough offseason training sessions for his impressive Asia Cup performances. "There are many excellent young players on the Chinese men's reserve team, and training is very systematic, which keeps me in good shape," Jiang said. "Also, I didn't put too much pressure on myself to get into the national team. Even though I wasn't in the training camp, I never doubted myself."
After his appearance in the under-18 and under-19 national teams in 2018 and 2019, Jiang completed a "triple jump" this summer to land in the nation's senior squad.
Playoff goal
This summer, Jiang's rookie contract with Jilin expired, and both parties agreed to renew for five more years. Although there was speculation Jiang might look elsewhere for a bigger deal, the sharpshooter chose to stay. "I have been with the Tigers since I was a child. The club gave me everything, so I chose to play for the team again," he said.
With the new CBA season having tipped off on Monday, Jiang admitted that he needs time to get familiar with Jilin's tactics, but his teammates have been patient with him.
"Although we haven't seen each other for over two months, the united team atmosphere has always been there," he said.
During the summer, Jilin appointed Cui Wanjun as its head coach to replace Wang Han, who led the Tigers to a shock victory over the three-time champion Beijing Ducks in the playoffs, finishing with the club's best ranking in the last eight seasons.
As for the new CBA campaign, Jiang said that "the primary goal is to secure a playoff berth".
American Dominique Jones returned to the Tigers team in early September and will also take up the role of assistant coach in the new season. Fighting together for a fifth season, Jiang says that the two have built a strong chemistry and "can read each other just by a look on the court".
Next step
Despite an excellent shooting percentage, Jiang admitted that he still has a lot of room for improvement. "I still rely heavily on shooting, and I have a long way to go to become an all-around guard," he said.
"Set plays and defensive awareness are my weaknesses, and I will be working on these aspects in the future," Jiang added. "I will focus on picking the right pass at the right time to the best-positioned teammate."
With an intense summer of hard work behind him, Jiang is looking to the future with renewed confidence. "As a scorer, one can't hesitate. With the trust from coaches and teammates, I will continue to work hard to maintain this momentum," he said.
"In the new season, I look forward to taking on more responsibilities in the team, and I hope each year I can do better than the previous year."
Xinhua