Cooperation buzzword for firms in tapping global green business
Share - WeChat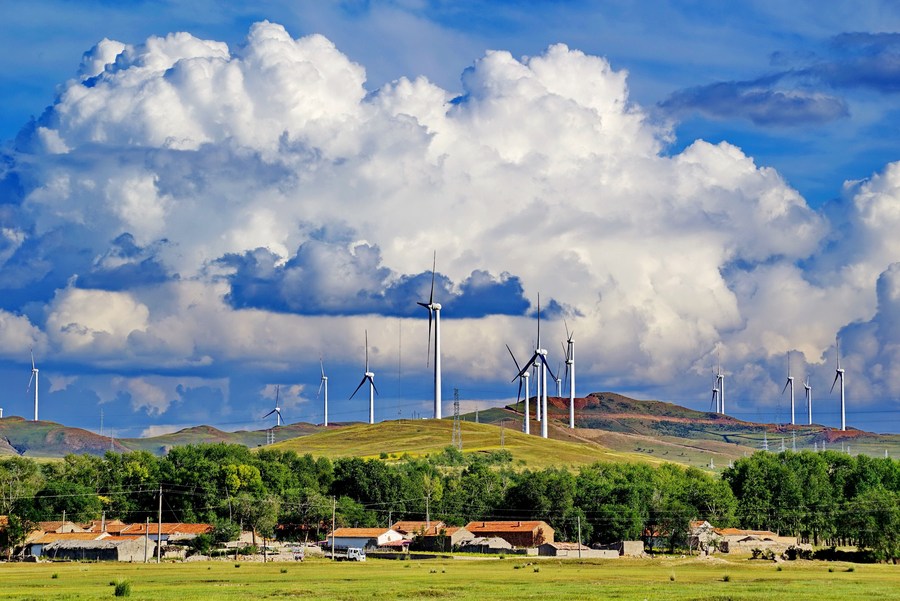 Chinese enterprises are expected to further tap growing cross-border investment opportunities amid the accelerating global green transformation, experts and business leaders said.
In addition, facing challenges such as different green industry standards and investment restrictions from destination countries, Chinese enterprises should pay more attention to risk control and optimize global strategies, they added.
"The green industry has become more important for Chinese enterprises to pursue high-quality development and enter international markets," said Wang Jiaqiang, vice-president of the BOC Research Institute, a unit of the Bank of China, during the recently concluded China International Fair for Trade and Investment in Xiamen, Fujian province.
"Chinese enterprises that lead respectively in the upstream, midstream and downstream of the green industry are also accelerating the layout in international markets."
The global green transition will give rise to enormous investment demand, as greenhouse gas emissions, economic size and the population of the countries and regions that have announced carbon neutrality goals account for 83 percent, 91 percent and 80 percent, respectively, of the world total, Wang said.
China has been a pioneer in developing the green industry, and accumulated valuable experience, capital and technological advantages, which are beneficial for its enterprises to step up their presence in global green investment, he added.
According to US financial services firm Morningstar, global sustainable fund assets were valued at $2.8 trillion in the first quarter of this year, expanding 180 percent from that recorded by the end of 2019.
Chinese enterprises operating in the United Kingdom have been enhancing ties with local partners in the green economy, said Fang Wenjian, president of the China Chamber of Commerce in the UK.
Many have transferred their investment focus to emerging sectors such as new energy, power storage and electric vehicles in the UK, Fang said at the forum via video link.
"The essence of green transformation of the global economy is the transition from labor-intensive growth toward efficient, clean and sustainable growth. The transition will create new business forms and economic growth points, and generate outbound investment opportunities for Chinese enterprises," said Wu Fang, director of the Institute of Overseas Investment and Economic Cooperation, the Chinese Academy of International Trade and Economic Cooperation (CAITEC), at the forum.
China's dual-carbon goals also require its enterprises to strengthen international investment cooperation in technologies and resources to propel the development of emerging industries, Wu said.
Such cooperation will enable Chinese enterprises to make more contributions to the sector's global development, using China's accumulated technologies and experience, and will help formulate and update international standards in the sector, she added.
Other than rising opportunities, there are challenges in the sector that require enhanced overseas investment cooperation in the green industry between Chinese players and global participants, experts said.
In 2021, 53 economies were implementing an aggregate of 109 policy measures affecting foreign investment, including around 40 measures less favorable to investment, Wu said.
Some have also tried to reconstruct and localize their green industrial chains to reduce reliance on Chinese products, she said.
Wang, with the BOC Research Institute, said Chinese enterprises need to pay more attention to differences between domestic and foreign green industry standards to avoid investment risks.
He also suggested that Chinese enterprises focus on markets in Europe, the regions involved in the Belt and Road Initiative, and the Association of Southeast Asian Nations for green investment and cooperation.
Specifically, he said Chinese enterprises can relocate their green production capacities to ASEAN markets, and help strengthen the competitiveness of Asia's green industry globally.
Wu, with CAITEC, said Chinese enterprises should avoid unhealthy internal competition and strengthen cooperation with foreign enterprises to build joint ventures while completing their global supply chains.
She also suggested financial institutions better support Chinese enterprises' overseas new energy projects with innovative insurance and financing products.