Japanese barge into intensely competitive China EV market
Share - WeChat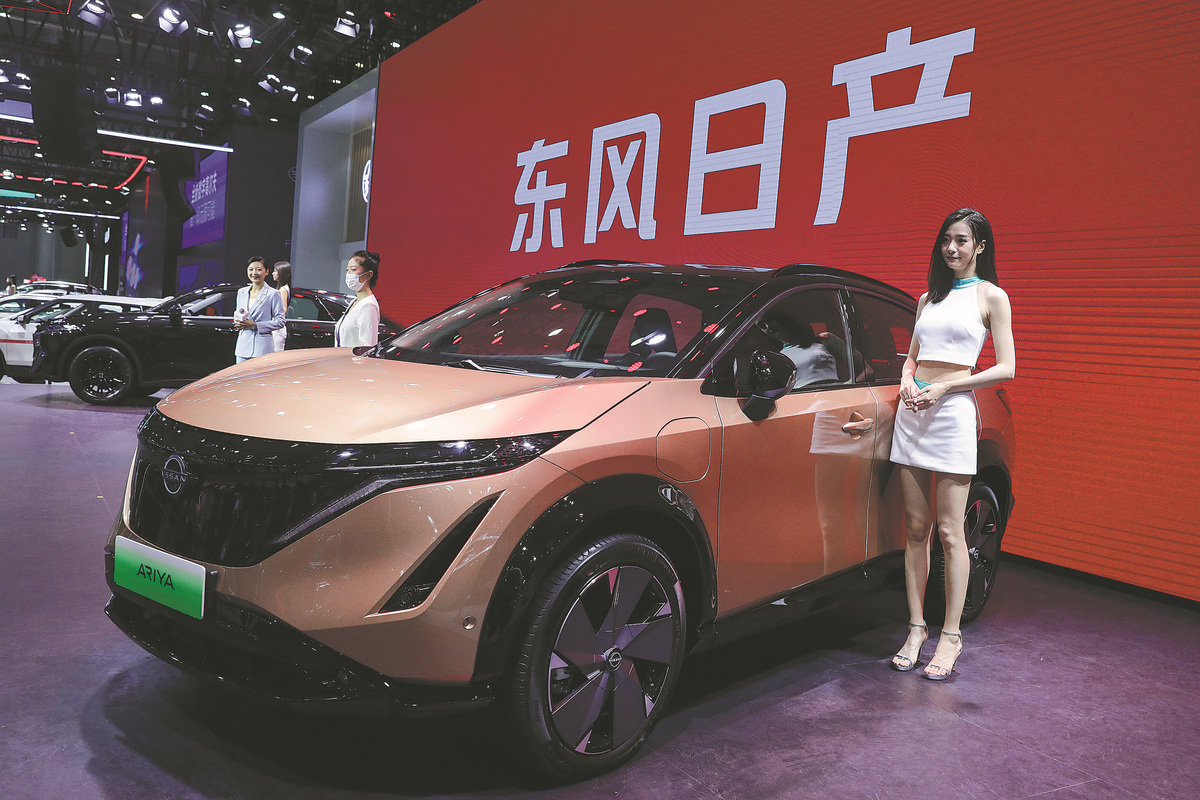 Already crowded, the major sector players are Chinese carmakers as well as US-based Tesla
Japanese carmakers are finally entering the extremely competitive electric vehicle market in China, but it may take the latecomers a lot of time before they can grab a slice of the country's competitive electric car market.
Japan's second-largest carmaker Nissan launched the Ariya, its first electric model on its new platform, ahead of the weeklong National Day holiday. The crossover measures 4,603 millimeters in length, with a wheelbase of 2,775 mm. It is available in two versions: one with a single electric motor and one with dual electric motors.
For the latter version, it has a maximum output of 178 kilowatts and a top torque of 600 Newton meters. Its range reaches 623 kilometers on one charge under the China Light-duty Vehicle Test Cycle.
The Ariya comes at a time when the market is already crowded and competitive, and the major players are Chinese carmakers as well as the United States-based Tesla.
German carmakers are scaling up their portfolios of EVs in China, followed by conventional US companies, including General Motors and Ford. Of the major carmakers, the Japanese are the latest to join the race.
Honda was the first among a trio of carmakers from Japan, with its first model based on its dedicated platform launched in June in China.
Toyota is yet to launch its volume electric model, which was co-developed with Subaru.
It was scheduled to hit the market in the first half but the launch was postponed because the carmaker found problems with its wheels. It said production of the model, called the bZ4X, will restart in Aichi, Japan, this month.
Nissan is not a newcomer to e-mobility. Sales of its electric Leaf sedan, which hit the Chinese market in 2010, exceed half a million globally. But its arrival came too early, when the market was still immature, so it did not generate expected results for the carmaker, analysts said.
Japanese carmakers have their preferred hybrid technology, which they believe is more economical, so they were reluctant to shift their focus when EVs started to boom in China.
Now the market is full of competitors and it will be much more difficult for new players, analysts said.
In contrast, German carmakers moved more swiftly. Volkswagen, partially because it wanted to get rid of the stigma of its costly "dieselgate" scandal, was the first to announce heavy investment plans in electric cars.
Its first EV came to China last year and now three models are on sale, with their monthly combined sales reaching 22,000 units in August.
Besides Tesla, its two joint ventures, FAW-Volkswagen and SAIC Volkswagen, were the only two international brands that sit in the country's top 15 new energy vehicle brands by volume.
Analysts said Europe's stringent laws on carbon emissions and German carmakers' reliance on the Chinese market were major drivers of their rapid shift to e-mobility. For instance, around 40 percent of Volkswagen's sales and half of its profits come from China.
Premium brands including BMW, Mercedes-Benz, as well as Porsche have electric models available in China.
BMW is even producing China-only electric models at its plants in Northeast China's Liaoning province. Volkswagen is also planning to export China-made EVs back to Germany.
Local Chinese makers are moving even faster to consolidate their competitive edge, which is primarily the result of their first-mover advantage and the higher acceptance by Chinese customers of new technologies.
Edward Wang, managing director of syndicated research at J.D.Power China, said Chinese brands are expected to lead in smart EVs, as they are quicker to adopt new technologies and launch new models.
"Such innovation is injecting momentum into Chinese brands in a rapid, effective and continuous way," said Wang.
Warren Buffett-backed BYD sold 174,000 vehicles in August, sitting atop the list of NEV makers. Of them, more than 80,000 were EVs.
GAC Aion, one of China's most active EV makers, launched its latest electric SUV, the Y Plus, in late September. Xiao Yong, vice-president of the carmaker, expects the monthly sales of the new model to exceed 20,000 units.
GAC Aion's second plant is expected to start production soon, which will double the carmaker's annual production capacity to 400,000 units. Xiao said its monthly sales are expected to reach 35,000 to 40,000 units in the fourth quarter of the year. In the first eight months, its total sales reached more than 150,000 units.
The China Association of Automobile Manufacturers estimates that total sales of NEVs, which include pure EVs and plug-in hybrids, can reach 5.5 million in the country this year, up from 3.5 million in 2021.
Statistics from the Ministry of Public Security showed that there were 11.49 million NEVs by the end of September on Chinese roads, of which 80.56 percent were EVs.
In the first three quarters of the year, 3.71 million NEVs were registered in the country, up 98.48 percent from the same period last year, the ministry said.