Nighttime offers profitable opportunities
Share - WeChat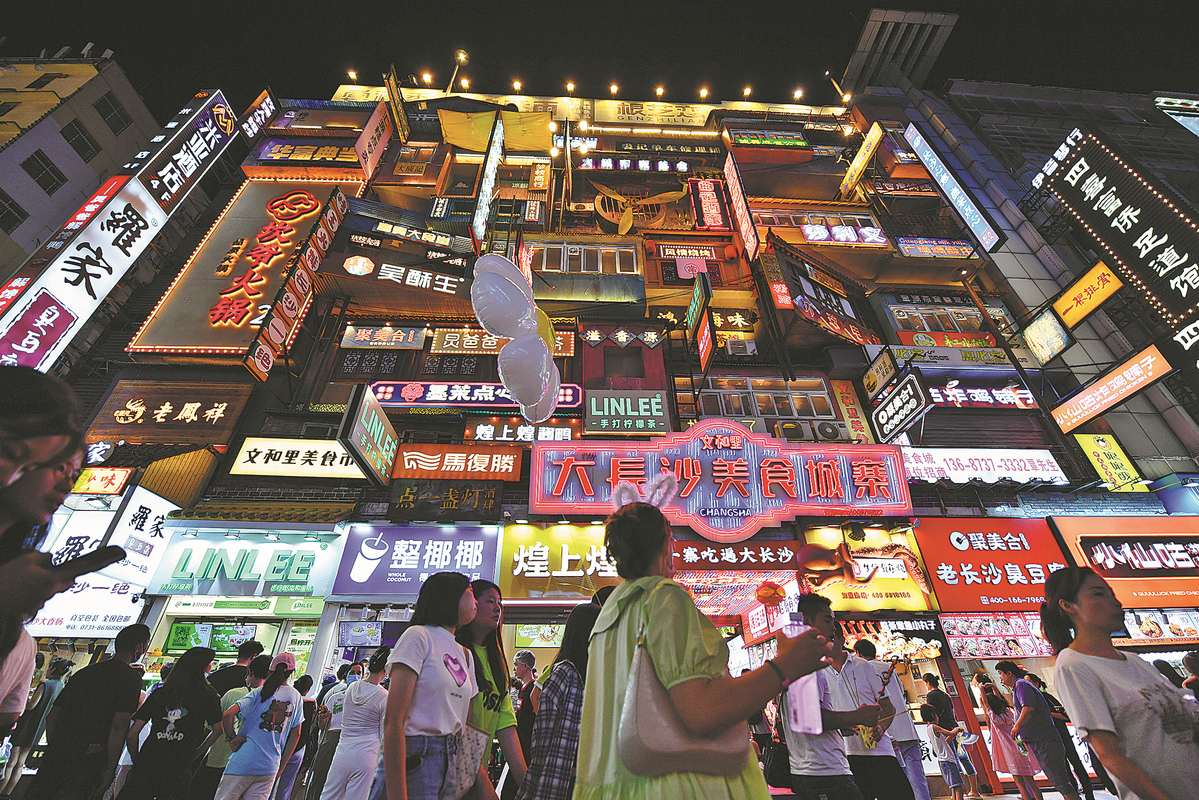 More policies push to meet appetites for evening consumption
Be it watching the Peking Opera Farewell My Concubine at Dashila in the nation's capital, having traditional Beijing snacks across the street, or camping on Shanghai's bustling Nanjing Road, the nighttime economy is taking off in cities across the nation. The market scale is estimated to be over 40 trillion yuan ($5.7 trillion) this year.
As the COVID-19 resurgence is being contained in most Chinese cities, local governments are making the decision to promote business and consumption at night in a bid to capture opportunities at sundown.
The municipal government of Beijing decided to issue 100 million yuan worth of consumption coupons and designed up to 10 nighttime traveling routes to boost the capital's nighttime economy, the Workers' Daily reported. More than 20 key business areas and about 10,000 brands take part in various night activities extended through November, the report added.
In East China's Shanghai, ten iconic scenic spots across the city are also embracing the nighttime economy. As a city built on fashion and innovation, Shanghai is ready to add more hustle and bustle to its evening entertainment repertoire.
In Chongqing, more than 200 featured activities online and offline were held so far this year, making it a sleepless city, the Economy &Nation Weekly under the Xinhua News Agency reported.
In Xi'an of Shaanxi province, consumption of culture and tourism at night is expected to create new growth opportunities, and the provincial capital has allocated several tourism and consumption areas for the nighttime economy including the Xi'an Grand Tang pedestrian street and the City Wall, Shaanxi Daily reported.
About 60 percent of consumption in China takes place at night, according to a report on urban residents' spending habits by the Ministry of Commerce, said Shen Jiani, a senior researcher from the strategic research center of Trip.com, a tourism platform.
The overall business scale of the nation's nighttime economy has been expanding rapidly since 2016, thanks to local government policy support, increased venues for consumption at night, as well as people's rising appetite for spending in the evening, according to a research report from iiMedia Research.
"The Chinese nighttime economy surpassed 30 trillion yuan by the end of 2020, a growth of 5 percent year-on-year, and the figure is projected to exceed 40 trillion yuan in 2022," the report said.
"Consumption holds great significance to China's economy, so we can see governments of various levels launching all kinds of measures and businesses to shore up consumption," said Zhang Yi, chief analyst with iiMedia Research.
"According to our research, most of the consumption activities are made by Chinese people during 6:00 pm to 2:00 am, both online and offline, showing the nighttime economy has great potential," Zhang explained.