Surfing on land gains ground among youth
Share - WeChat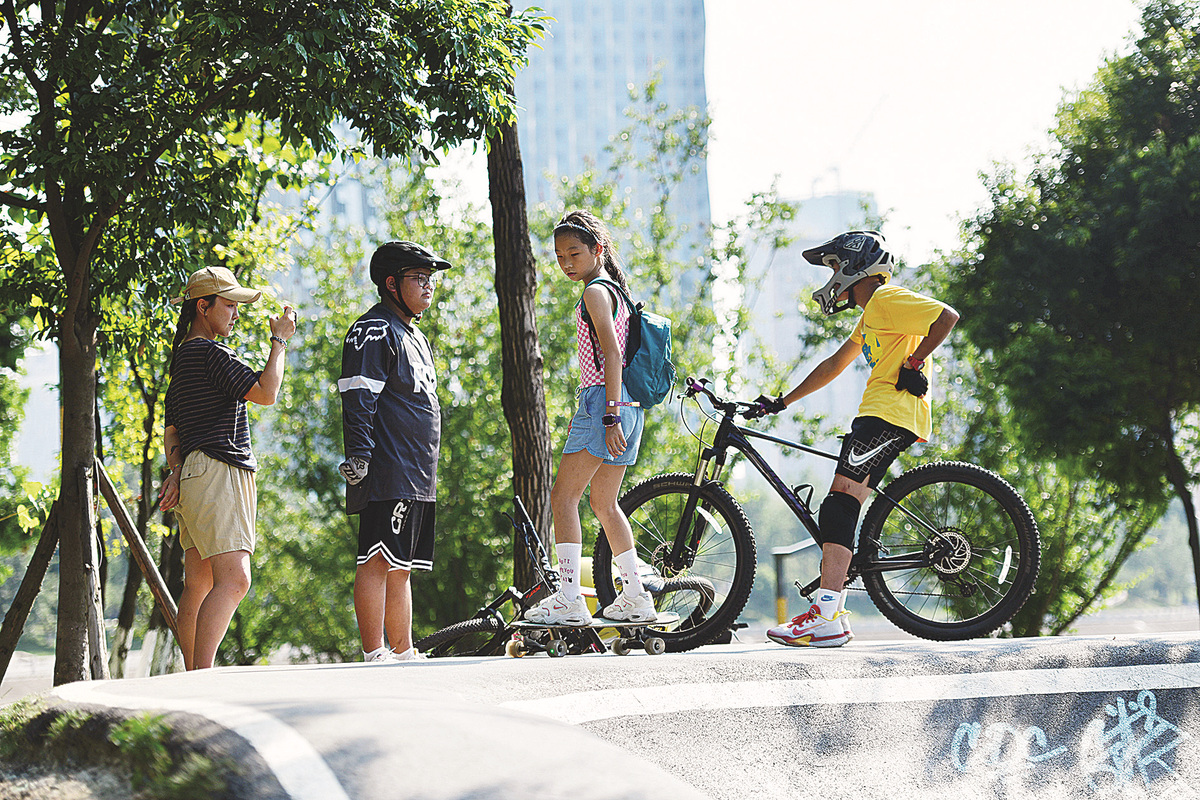 Female riders are showing higher interest in the sport than men, according to the report. Of 1,216 people surveyed who were born in the 80s or later, 66.81 percent of women surveyed said they liked skateboarding, while only 33.19 percent of men showed interest.
Li Dezhi, founder and CEO of Aosheng Extreme Distributor, and also authorized dealer for the Chinese market of YOW, a Spanish surfskate brand, said after surfskating became popular, many companies that were originally manufacturers for foreign brands started to build their own. "There are also a surging number of new brands trying to take a share of the growing market."
Li started selling YOW boards five years ago. "We thought surfskating would be popular someday but we didn't expect that day would come so soon, or that the sport would draw such wide attention and participation. We think COVID-19 has accelerated its popularity, because the pandemic restricted tourism and many outdoor activities like skiing and surfing. Surfskating emerged as a fun alternative."
The rapid popularity of the sport has given many OEMs (original equipment manufacturers), new businesses and well-known brands the opportunity to exploit a burgeoning market. According to Tianyancha, a corporate information provider, there are about 221 new registered companies with businesses covering board production in the past two years.
Estimates from Grand View Research Inc, a market consultancy, showed that global market size of skateboarding will reach $2.4 billion by 2025, with an annual growth rate of 3.1 percent. As the second most popular skateboard, the surfskate comprises a large share of the rising market.
Data from Tmall Global showed that since the beginning of this year, the post-95 and post-00s generations have become the fastest-growing groups for imported skateboard consumption. Transaction volume of imported skateboards on Tmall Global has also achieved triple-digit year-on-year growth.
Since June, 15 overseas brands that produce surfskate boards, including Carver and Santa Cruz, have opened stores on Tmall Global in an attempt to tap surging consumption in the sector, according to news agency Myzaker.
For riders, there are a variety of surfskate boards to choose from. "One can get a pretty decent board under 1,000 yuan ($139.8) for domestic brands, or a more expensive one at 1,000-2,000 yuan. Many friends who are skilled in the sport tend to choose overseas brands that have a longer history in board manufacturing and a good reputation in product quality such as Carver and YOW, which are usually priced above 2,000 yuan," said Ma.
Li said the sales volume of the YOW board rose from about 9,000 last year to about 20,000 this year. "We have sold out all of our reserves to either consumers or distributors across 90 cities in China. Many of our distributors said they have started surfskate training classes and clubs to further tap the growing market."
He said most of the sales surge is in southern cities like Sanya and Haikou in Hainan province and Chengdu in Sichuan province, as well as the four first-tier cities, which are Beijing, Shanghai, and Shenzhen and Guangzhou in Guangdong province.
Aside from board consumption, riders also spend big money on related apparel and protective gear.
A recent report by market observer Daxue Consulting showed that China has now become Vans' second-largest market outside of the US.
Domestic sportswear companies are also taking a share. Li-Ning partnered with US skater Erik Ellington to launch the Chinese sportswear giant's first skateboarding line last year. The line's sneakers, the Li-Ning x Erik Ellington Signature Model, sold in three colors for $180 per pair.
Anta, another domestic sportswear giant, launched its first skateboarding sneakers "Ao Li" this year, which are sold through online channels and in 95 stores across the country. Brands that focus on skateboard wear like FLY Streetwear and Vagabond Skateboards also enjoy increasing recognition among consumers, Daxue Consulting said.
"Many friends of mine are willing to spend a large sum of money on skateboarding lifestyle brands such as Supreme and Vans. They also like new brands that have gotten trendy in recent years through endorsement from pro skaters and celebrities," Ma said.
The rapid popularity of the sport has also buoyed the construction of professional skateboarding scenes and tutorials.
Data from Meituan, an online delivery platform, showed that monthly sales of beginner surfskate training classes, which are priced cheaper than regular classes to entice consumers, have surged at least 19-fold since June compared to that of January.
On Dazhongdianping, an online rating service provider similar to Yelp, over 20 clubs are offering surfskate training services across Beijing, with one-hour training prices ranging from 9.9 yuan to 880 yuan.
Li's company also routinely holds activities called "Have a YOW Day" across various cities, during which they invite surfskate veterans to teach newcomers and host interactive games and photo shoots.
"There are many surfskate lovers that have started group chats on WeChat, which can hold up to 500 people per group. They share experiences and skills, which helps beginners save on training costs. Some people also trade secondhand boards, protective gear and even apparel in the groups," said Ma.
Ma said she joined one of the WeChat groups. "It could be very helpful in learning and socializing, as the group organizer often proposes gatherings. We also invite those we like to hang out with. I really enjoy the community atmosphere."
liuyukun@chinadaily.com.cn