HK CE: '0+3' arrangement ran smoothly
Share - WeChat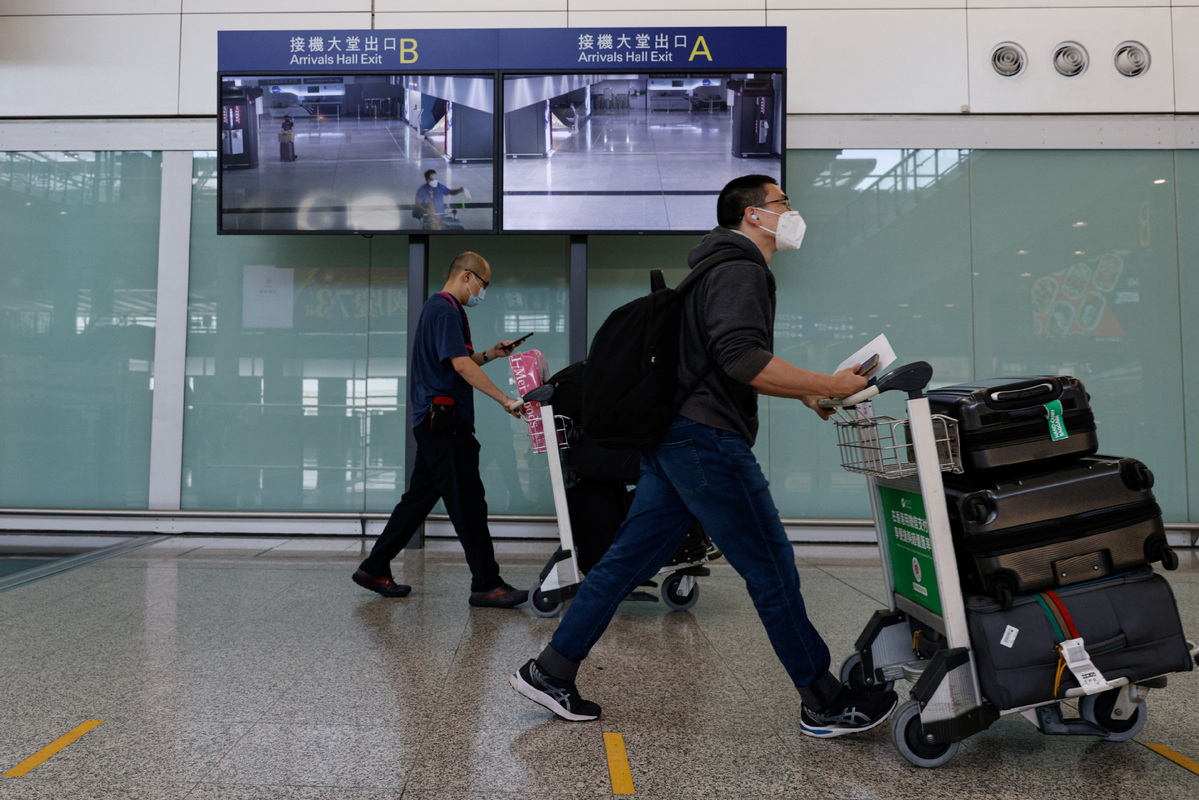 Chief Executive of the Hong Kong Special Administrative Region John Lee Ka-chiu on Tuesday said the first day of the "0+3" quarantine-free "medical surveillance" system for new arrivals went generally smoothly, and that the city's social and economic activities are gradually resuming.
Speaking before the weekly Executive Council meeting, Lee said there were many warm and joyful scenes at the city's airport on Monday, and society has responded positively to the new arrangement.
Hong Kong scrapped its COVID-19 hotel-quarantine policy for all arrivals on Monday, replacing it with the "0+3" arrangement, under which all those arriving from overseas and Taiwan need to self-monitor for possible COVID-19 infection for three days after entering the city.
They are allowed to move freely about the community, but may not enter certain establishments, including restaurants and bars.
Lee said that the lifting of the hotel-quarantine requirement is aimed at allowing greater room for the development of social and economic activities. The aviation industry will be the first to stand to benefit from this, he said.
According to the Airport Authority Hong Kong, more than 50 flights arrived in Hong Kong on Monday. Many arriving passengers said that they could leave within half an hour after landing and the entry process was smooth.
Lee said other sectors will gradually see more relaxation of social distancing measures if the pandemic remains under control and the economy shows an expected recovery.
Popular online travel platform Trip.com Group saw a nearly 400-percent increase in outbound flight bookings over the weekend in Hong Kong compared with the same period last week, with the most popular destinations being Bangkok, Seoul, Tokyo, Singapore and Osaka.
Eddy Yip, e-commerce lead for Hong Kong and Taiwan of the Trip.com Group, said it takes time for overseas tourists to respond to the new arrangement and Hong Kong is expected to see a significant increase of tourists in the fourth quarter. Most of the bookings for inbound flights are for late October and the average number of days for hotel stays booked is five days for tourists.
Noting the good sign, a number of local business chambers and trade associations called for scrapping all pandemic controls for arrivals.
Calling for further relaxation of the entry rules, George Leung Siukay, chief executive officer at the Hong Kong General Chamber of Commerce, expressed hopes for the city to recoup its losses by increasing publicity to attract business events to Hong Kong.
Annie Tse Yau On-yee, chairwoman of the Hong Kong Retail Management Association, also welcomed the relaxation of the quarantine measures to "0+3" and looked forward to the early implementation of the"0+0" entry policy. She believed that this would inject new impetus into the local consumer market and help restore Hong Kong's international standing.
Hong Kong on Tuesday reported 3,667 new coronavirus cases, including 193 imported infections.