Team China's charge in full flow as medal hopes grow
Share - WeChat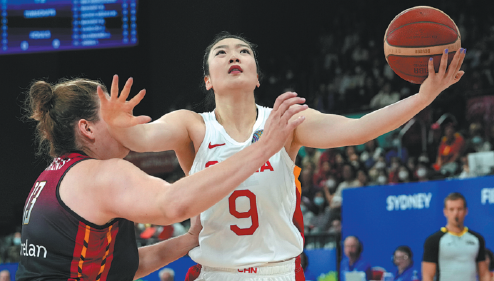 After capping its group-stage campaign with another resounding victory on Tuesday, the Chinese women's squad heads into the FIBA World Cup quarterfinals with a spring in its step.
Strongly tipped for a podium finish in Sydney alongside the United States and host Australia, Team China has so far lived up to those expectations by racking up big victories and losing just once — a brave fight against the defending champion US.
Led by star forward Li Meng and the towering duo of Han Xu and Li Yueru, China demolished world No 5 Belgium 81-55 in its final group game on Tuesday, cheered on by an enthusiastic and vocal crowd of local Chinese at Sydney's Olympic Park Sports Center.
With a 4-1 record in the pool stage and an average winning margin of 42.8 points, Team China advanced to the quarterfinals as runner-up behind the unbeaten US, who defeated China 77-63 on Saturday.
All the quarterfinals will be played on Thursday.
Despite sailing smoothly into the knockout phase, Team China head coach Zheng Wei insisted that her players will stick to the underdog mentality that they began the tournament with.
"Any team that makes the quarterfinals of the World Cup is extremely competitive and dangerous, so we should never take anyone lightly," said Zheng, who was appointed head coach in May.
"For us, there remains plenty of room for improvement, both offensively and defensively, even though we've done a good job in the group stage.
"Physically, the busy schedule has taken a toll on our young roster, yet we will focus on our weaknesses and learn the lessons from our previous games to be ready for the next matchup."
Built around young centers Han and Li Yueru, who both played in the WNBA this past season, Team China has developed an uptempo, team-first style.
The team's well-balanced strength in the paint and on the perimeter is reflected in its pergame averages — 28.2 assists, 88.8 points, and shooting 51.3 percent from the field — all ranking second at the tournament behind the US.China has also tied the US as the tournament leader in rebounds, with 46.6 per game.
Statistically, this Team China looks as good as, if not better than, the legendary squad that won silver at the 1994 worlds — the country's only medal to date at a major FIBA women's event.
China's top scorer Li Meng, however, has called on her teammates to keep their feet on the ground.
"The real battle begins from the knockout stage. We've accomplished nothing yet," said the 1.82-meter forward, who scored a game-high 21 points against the US and has averaged 14.6 points per game.
"We need to stay focused on preparing for our next opponent, not get carried away by the group wins. Whoever we play, we will try to play in our way to the best of our ability and play with a challenger's mindset," said the 27-year-old native of Shenyang, Liaoning province.
Dubbed "LeBron Meng" in China for her all-around skillset, Li Meng has been a huge hit Down Under, winning over fans with her prolific scoring and willingness to sign autographs and pose for selfies with spectators.
The overwhelming support from the Chinese community in Sydney, highlighted by the reported 10,000 Chinese fans that flocked to the US game, has helped inspire Team China to bring out its best.
"It's an incredible atmosphere to play here, feeling like we have a sort of home-court advantage in almost every game," said Li Meng.
"The fans brought so much energy to the game, motivating us to play harder in every possession."
Having finished sixth at the previous World Cup tournament in 2018, China's reemergence as a serious medal contender has captured the basketball world's attention, with Team USA head coach Cheryl Reeve half-joking that she didn't want the squad to improve any further.
"We have all the respect in the world for China, we've seen them grow ... this is a great time for the (Chinese) women's national team," Reeve said on Saturday.
Australia's Basketball Hall of Famer Michele Timms, who was an assistant coach on Team China at the 2008 Beijing Olympics, said it is impressive to witness the squad's return to medal contention.
"Right now China is the talk of this tournament behind the US, everyone predicting China to medal. A lot of talk about Li Meng and the two big girls," said Timms, who was on the host team that lost to China in the semifinals at the 1994 worlds.
"Coach Zheng is fantastic. She coaches like a point guard. She makes quick changes on the runs, sees the game great. She has the girls playing classic Chinese style with great intensity and fantastic defense."
Now with a target on its back, the young team will face a tougher mental challenge in the quarterfinals, said forward Huang Sijing.
"We suffered some frustrating setbacks at the Tokyo Olympics and the last Cup by losing some games that we could've won," said Huang, who has averaged 7.4 points, 5.4 rebounds and 3.2 assists in Sydney.
"We've learned our lessons and we won't repeat those mistakes. This is how we have returned to the top echelon of the game."