'Prime Time' Tiafoe lifts Team World to 1st Laver Cup win
Share - WeChat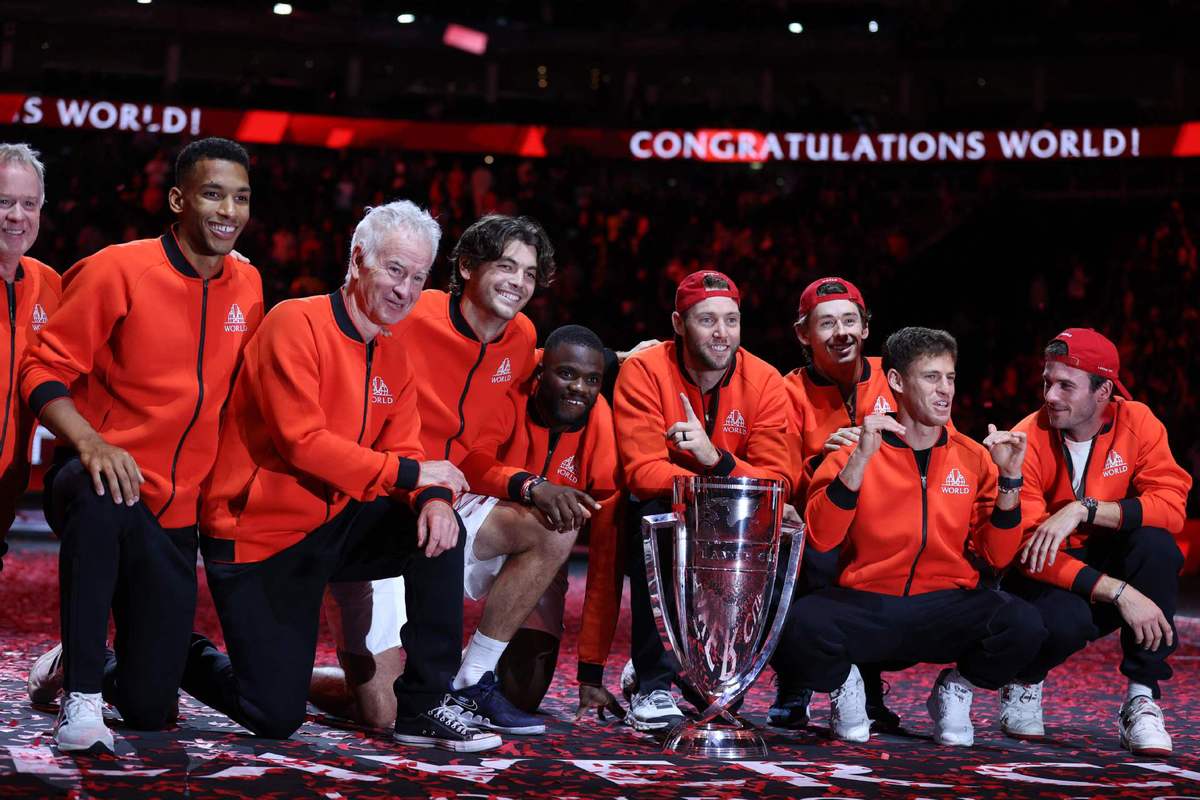 "I'm able to play and function in that better than my opponents, it seems." Using the nickname other players gave Tiafoe to reflect the way he embraces big moments, Team World captain John McEnroe said: "Frances is 'Prime Time.' He loves this stuff."
McEnroe had been 0-4 while leading his squad against his former playing rival, Team Europe captain Bjorn Borg; both indicated they would be back for the 2023 Laver Cup in Vancouver, but that might be their last go-round.
This one served as a celebration of Federer and the 41-year-old Swiss star's career. Tiafoe responded with a quip when asked whether he might owe Federer some form of "I'm sorry" for beating him in his finale or for defeating his team, which also included Nadal, Novak Djokovic and Andy Murray for a total of 66 major singles titles. That, incidentally, is 66 more than Team World, a collection of 20-somethings (Sock turned 30 on Saturday).
"I'm not going to apologize to him. He's got a lot to apologize for after the last 24 years — after beating everybody on the tour," said Tiafoe, who went 0-3 against Federer in singles head-to-head.
"I will say thank you for having me in this amazing event, what he's done for the game. He's a class act. Happy to know him, happy to call him a friend, happy to call him a colleague, and best wishes in his second act. But I will not apologize."
Team Europe entered Sunday at O2 Arena with an 8-4 lead; the first team to 13 points would win.
Each match on Day 3 was worth three points, and Team World went ahead thanks to a pair of victories by Felix Auger-Aliassime, a 22-year-old from Canada. He beat Djokovic 6-3, 7-6 (3), after partnering with Sock to edge Murray and Matteo Berrettini 2-6, 6-3, 10-8 in doubles.
Tiafoe then made it 13-8, but it wasn't easy. He went a tournament-record 8-0 in tiebreakers at Flushing Meadows this month and was just as resilient Sunday.
"It's been a long time that Frances has been playing the big guys close and losing a lot of close battles. It's great to see lately he's been winning," said Taylor Fritz, an American who is the same age as Tiafoe and has known him for years.
"It's about time that he steps up and the matches go the other way. Today was a joke." That's because Tiafoe was a single point from losing to Tsitsipas four times in their second-set tiebreaker, but somehow got through that.
Then, at 4-all in the concluding match tiebreaker — first to 10, win by two — Tiafoe sprinted from behind the baseline to near the net and barely got to a drop shot by Tsitsipas, somehow lunging to flick an angled winner. While most of the 16,365 fans went wild, Tiafoe went around the net and stood still, hands on his hips, relishing the atmosphere.
"We put him in the slot that he was in today for a reason," said Team World's Tommy Paul, a 25-year-old American, "and he stepped up for us, big time."
AP