Fear blamed for rise of the far-right in Europe
Share - WeChat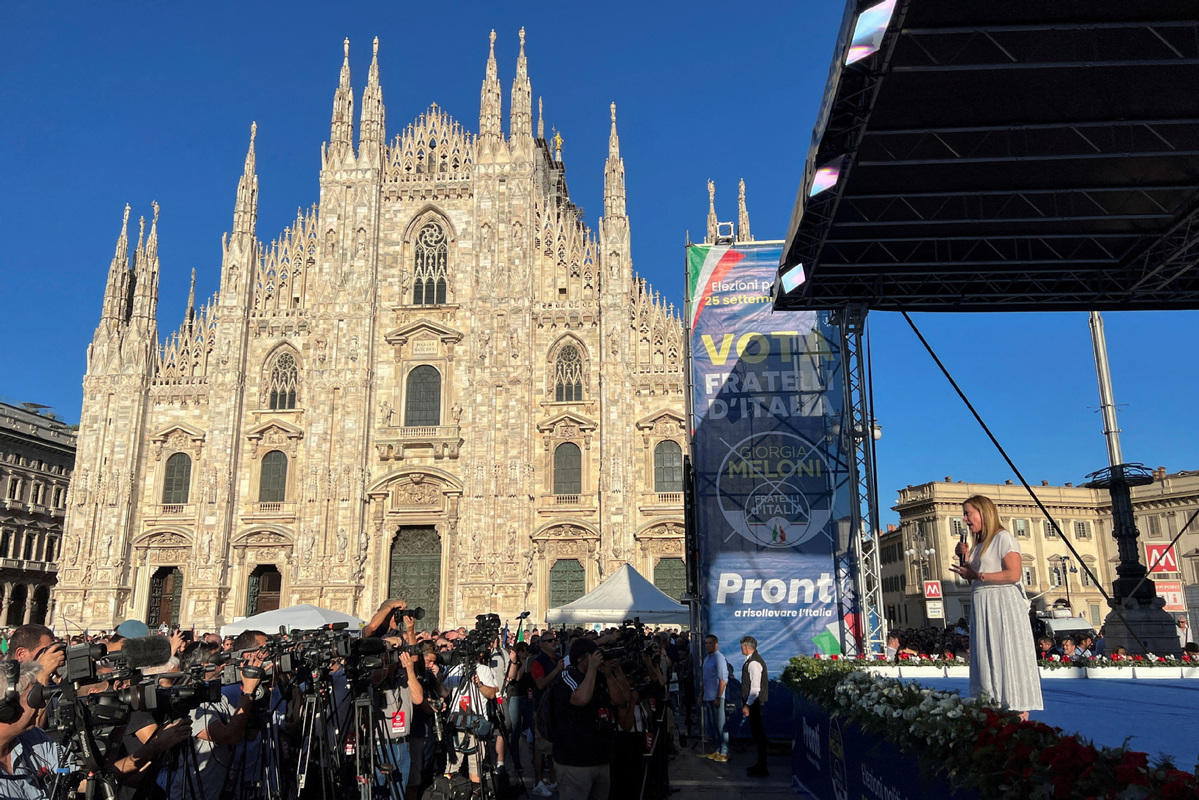 Fear among Europe's voters has carried far-right parties to the fore in many countries, according to the leader of a center-left alliance in Italy.
Enrico Letta, leader of Italy's Democratic Party, told The Associated Press gains made by a populist party in Sweden is proof of that fear.
"Fears are today a big part of the way in which our societies are living," the former premier said, as a far-right alliance led by Giorgia Meloni's Brothers of Italy looked poised to win Italian elections on Sept 25.
Letta, who leads a center-left alliance, said the fears stem from the novel coronavirus pandemic and resulting economic struggles, as well as the Russia-Ukraine conflict, and soaring utility bills caused by the shortage of natural gas.
While the challenges are real, he believes collaborative solutions forged with the European Union are the way ahead; not isolationism and nationalism.
"It's easier for the right, for the extreme right, to push, to boost (itself), on these fears," he said, as he explained why they stoke fears instead of seeking solutions.
In Sweden on the weekend, the Sweden Democrats, a populist, anti-immigration party, surged in popularity to become the nation's second-largest party.
In Italy, preelection polls suggest the Brothers of Italy is on course to get more than 20 percent of votes after only attracting 4 percent last time.
Letta said fear helped the far-right get "a foothold in Europe", and he said nationalism in Italy could grow to the point where the nation elects a party that wants to leave the EU.
"You have just two possible solutions; the solution that the right is raising is a solution of nationalism," he said. "The other solution is on our side, and our solution means Europe."
Letta's warning came after Meloni told supporters this week Italy should change its relationship with the EU.
"If I win; for Europe, the fun is over," The Express newspaper quoted her as saying. "With me, we will return to make ourselves heard and to defend our interests."
Meloni, who has forged a right-wing coalition with Silvio Berlusconi's Forza Italia and Matteo Salvini's League, said the EU should limit itself to dealing with "big matters "and let member nations manage their affairs.
"Don't let Brussels do what Rome can best take care of," she said.
The Cattaneo Institute think tank said after analyzing several opinion polls the right-wing alliance led by Meloni is on track to get 258 lawmakers elected to the 400-seat Chamber of Deputies while Letta's party will get 88.