Rising star Wu pictures exciting future
Share - WeChat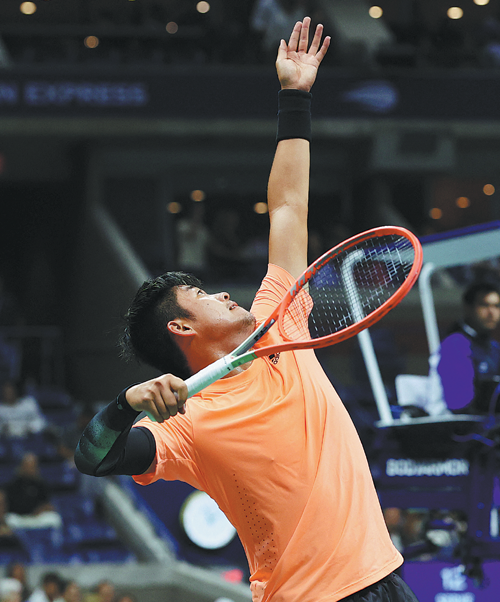 Young Chinese ace ready to serve up more surprises after historic US Open campaign
As the brightest young Chinese star at this year's US Open, Wu Yibing blazed a brilliant trail in his breakout run in New York. By sticking to his hard-work ethic, the 22-year-old is confident of serving up plenty of more treats for fans and insists he has yet to realize his full potential.
"I will try my best to reach the highest level I can get to in tennis, and my first priority is to meet the expectations I set myself. I never set a fixed goal that I absolutely must achieve. I just move forward step by step," Wu told this week's edition of China Daily online show Gen Z's Words.
"What matters to the young generation is to discover our potential, and we need to be brave to leave our comfort zone. We need to use our eyes and brains to figure out what we can achieve. We can't just stay put and wait for others to come and help us."
That attitude was much in evidence at the recent US Open where Wu became the first male Chinese mainland player to reach the last 32 of the year's final major. Daniil Medvedev stopped Wu's impressive run in New York, but by then the youngster had already convinced many that he can be the future of Chinese men's tennis for years to come.
"I would give myself eight out of 10 in terms of my performance at the US Open. My body was certainly feeling the intensity of the competition, so I would deduct one point for that. Winning or losing, I still saw many aspects to improve on. That's another point deducted," said Wu.
"Before the matches, nobody believed I could go as far as round three. But myself and my team believed that we would achieve our goals as long as we put the hard work in.
"I arrived at the US Open in decent form and was feeling good mentally. All these good performances were based on the confidence of myself and my team."
Wu signaled his huge potential in 2017 when he won the US Open boys' title and topped the junior world rankings. After entering the pro ranks, injuries and then the pandemic stunted his development-however, 2022 has been a different story. About four months ago, Wu was at No 1,759 in the ATP rankings-now he finds himself at No 131.
Looking back on those struggles, Wu said his love of tennis kept him persevering.
"Honestly speaking, giving up was never an option for me-and that's primarily because of my passion for and love of this sport. As long as you really love something, you try your best to keep improving and are constantly thinking how to become better and better," added Wu.
"I just told myself to keep moving forward with my plans during that time, such as focusing on my recovery from my injuries and watching high-level matches. In China, we still had the Chinese Tennis Association (CTA) Tour to keep playing."
Wu first picked up a tennis racket when he was 4 years old, and was selected to the Zhe-jiang provincial team aged just 8. He has always been considered a prodigious talent, but he is now well aware that talent alone is not enough to carve out deep runs at the majors.
"When I was a kid, I played better than many other kids, but am I a highly talented player compared with many of my international opponents? I don't think so," said Wu. "The more I play, the more I learn about tennis. I've gained more experience. I always like to watch the elite players in action, both male and female, cheering for them and learning from them.
"I never consider talent to be more important than hard work. My coaches are always reminding me, no matter how talented you are, without hard work, it's impossible to be successful."
Next-gen shines
Wu was not the only Chinese player to excel at this year's US Open. Seven players from the Chinese mainland reached the singles draws in New York, with five of those making the last 32.
China's men's No 1 Zhang Zhizhen made history as he and Wu became the first male Chinese mainland players in the Open era to enter the US Open main draw.
On the women's side, young stars like Zheng Qinwen and Wang Xiyu continued to shine on the international stage, while veteran Zhang Shuai reached the last 16 at the US Open for the first time in her career.
"For us players, we know how hard it is to enter the main draw of a Grand Slam. Zhang Zhizhen and I spent a lot of time together, and in the first half of this year he was not in top form. At the US Open, it has not been easy to finally win some matches," said Wu.
"Among the players, we get on well and the competition with each other is positive. Both on the men's and women's sides, Chinese mainland players have made breakthroughs. This is all very positive in terms of the development of Chinese tennis.
"I hope to maintain this momentum and see more and more Chinese players at the Grand Slams."
The new breed's emergence on the major stage also impressed veteran Zhang Shuai, who believes the future is bright for Chinese tennis.
"With so many promising young Chinese players, I'm so happy I'm not alone anymore. For a long time, I was always the only Chinese player at many tournaments. But now the Chinese players are getting stronger and stronger," said the 33-year-old.
"When I played my first US Open back in 2008, after winning or losing a point, I didn't even know who to look at because I was just alone. Now the new generation of players have their own teams, coaches and they are more professional.
"They now can win over seeded players and even Grand Slam winners, which was unthinkable when I was their age. But I'm not surprised at their achievements, as tennis is becoming more popular in China with a growing number of young talents emerging."
shifutian@chinadaily.com.cn