Xmas decor producers work against challenges
Share - WeChat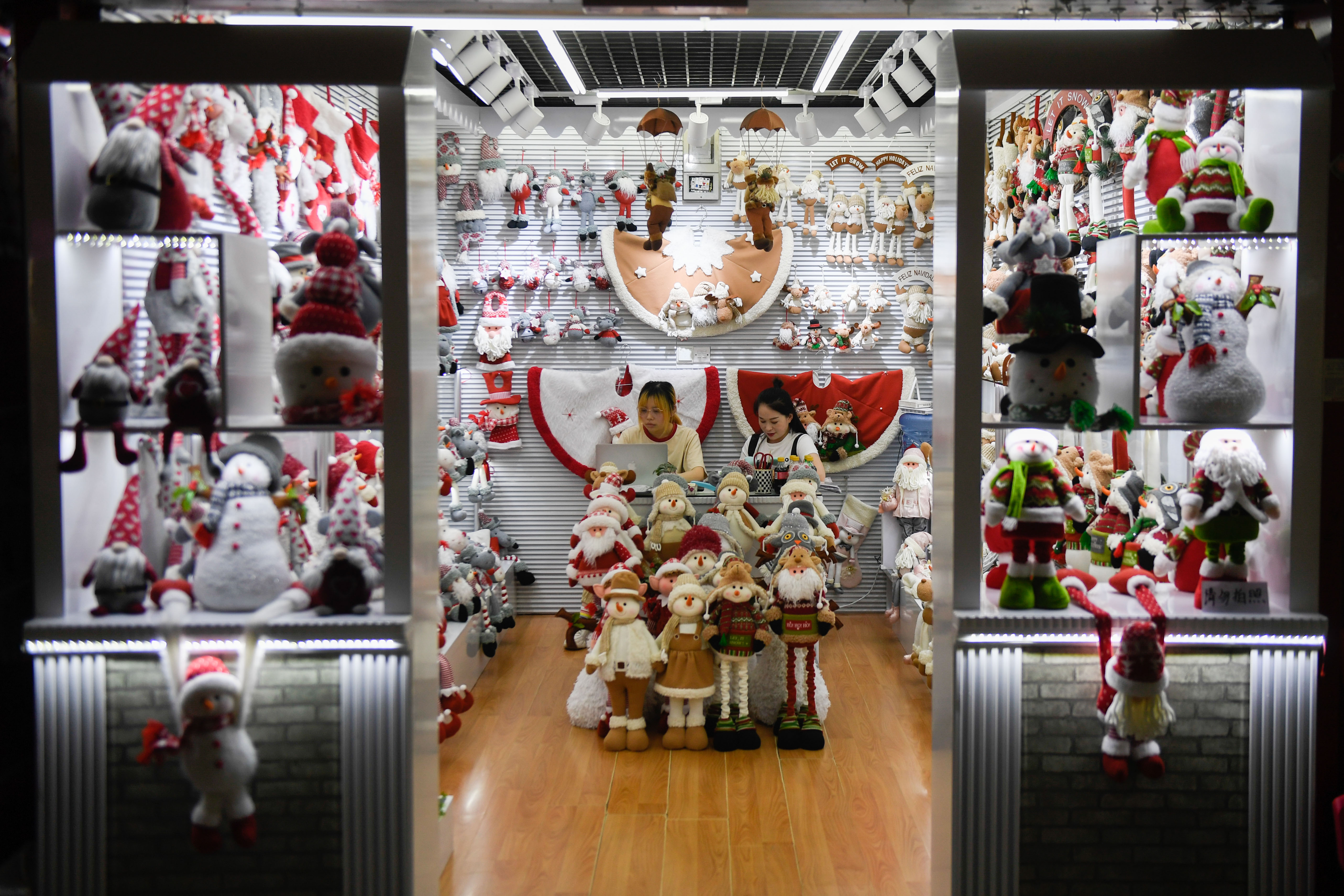 Market opens to high sales after COVID-19 restrictions lifted with chartered flights, new logistics channels
Yiwu, Zhejiang province-based businessman Liu Liwei is as busy as he is during the Singles Day shopping spree after Yiwu's market reopened on Aug 21, 10 days after restrictions caused by COVID-19 went into effect.
"My job is to arrange the deliveries, including sending out the backlog of goods, and I also notify my customers that production has returned to normal so they can place orders now," said Liu, who sells small accessories. He added that the past few days saw a significant reduction in online orders, but he still has some fixed customers who continue to place large orders.
Numbers from the Yiwu Bureau of Statistics showed that Yiwu's express delivery volume reached 34.77 million pieces on Aug 21. On Aug 22, that volume went up to 39.74 million pieces, an increase of 32.5 percent compared with the average daily express volume before the epidemic.
"Every August is typically the busiest month for selling Christmas products to global markets," said the person in charge of Yiwu Jiumu Arts & Crafts Co, who preferred to remain anonymous, China Times reports. "We had no idea how long the restrictions would last. We were worried that international customers would cancel orders and goods wouldn't be shipped, which could lead to huge losses. But the actual situation is much better than we expected."
Yiwu is the world's largest distribution center for Christmas products such as tree decorations, Yuletide clothing, greeting cards, festive lights and packaging, with two-thirds of the world's goods in this category coming from the county-level city.
To fight against the spread of the COVID-19 outbreak since Aug 2, Yiwu issued the notice on implementing temporary restrictions from Aug 11 to 14 and then postponed lifting the restrictions until Aug 21.
With the shortage of suppliers, the shutdown of production, and the suspension of express shipping during the 10-day restrictions caused by COVID-19 disturbing the overseas market, August began the Christmas season as cross-border shipping generally takes two to three months.
Christmas products are time-sensitive. If the products can't be shipped by the end of August, it is very likely that they won't catch up with the Christmas promotions in the following months.
The global pandemic has hampered the development of foreign-trade companies, which have found it difficult to take part in negotiations and offline exhibitions abroad.
Therefore, since April this year, Zhejiang has arranged chartered flights to bring foreign customers to China to purchase goods.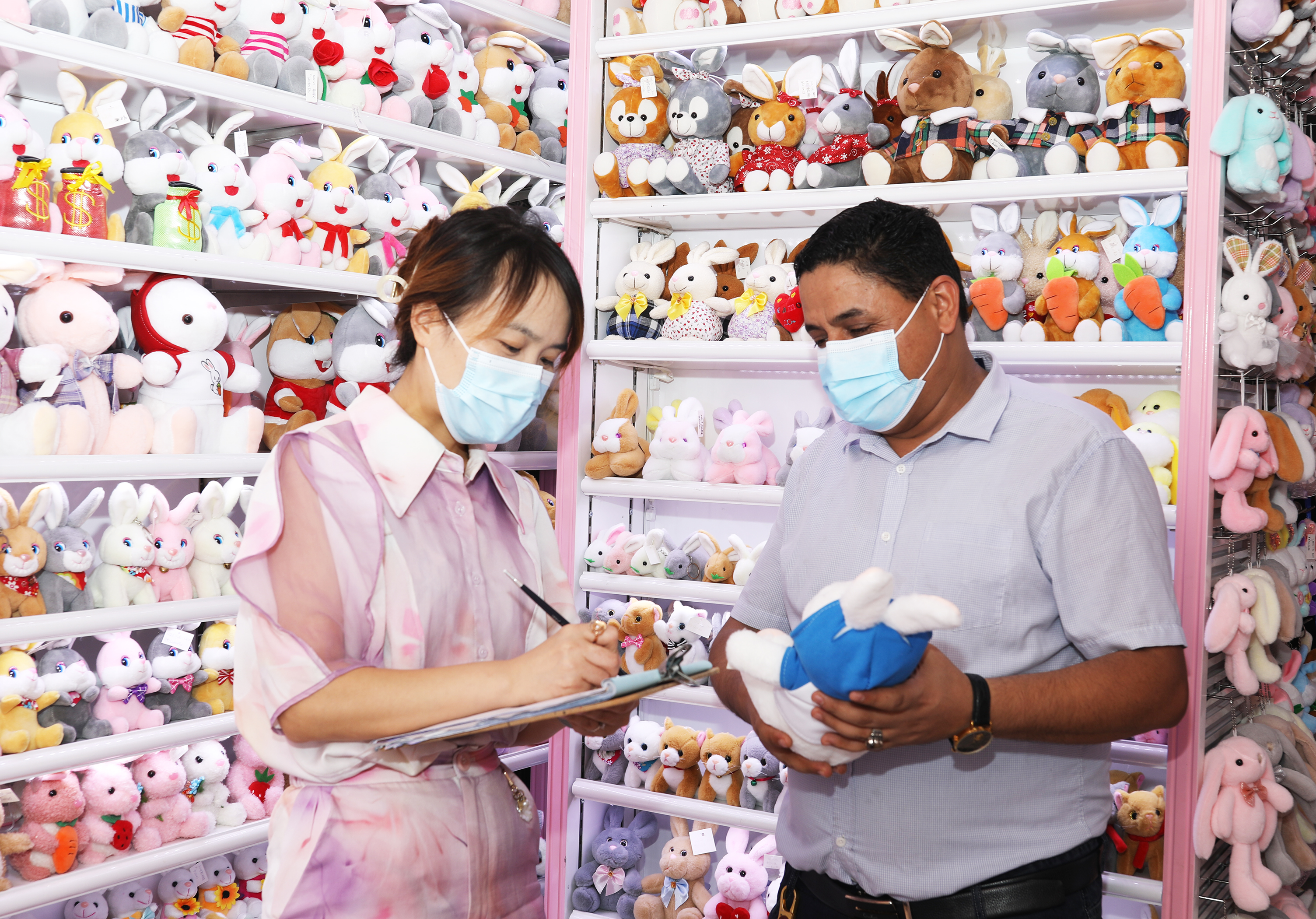 On Aug 24, 49 business people from foreign-trade companies left India and Pakistan and came to Yiwu International Trade Market to start their offline business tour.
According to Ge Qiaodi, deputy mayor of the Yiwu municipal government, from July 30 to Aug 28, the first three international charter flights carried overseas foreign business people to Yiwu, which not only provided a channel for people of foreign enterprises to come to Yiwu, but also brought some new customers and new orders, which boosts its market vitality.
"Most of the goods they purchase are non-standardized, multi-variety and of small-batch, which requires face-to-face communication during the procurement process. Therefore, it is particularly important to see samples on the spot. If purchasing online, there may be only some small orders. But if purchasing offline, large orders will be available," Ge explained. "That is why the form of charted flights is important during this period," he added.
"Our chartered flight was planned from the beginning of July this year because the chartered flights in Yiwu are different from those in other places across the country. The chartered flights in other places mainly send local workers to overseas countries on business trips, but those in Yiwu aim to bring foreign business people here," said Ge.
"We have also launched the second batch of chartered flights, which are scheduled to be completed in September," Ge said. He added that Yiwu is ready to welcome foreigners to come at any time to conduct business.
"In the past few years, affected by the epidemic, the difficulties of entering Yiwu are the biggest problems faced international buyers. Before the epidemic, there were about 15,000 foreigners stationed in Yiwu, and the number of people entering the country each year exceeded 550,000.But now, there are only about 9,000 permanent foreign workers here, and the number of temporary entries last year was only about 30,000," said Ge.
"To better facilitate business negotiation amid the pandemic, we also opened the online market and developed a comprehensive trade service platform, providing online services for production, growth, negotiation, assembly, logistics, foreign exchange settlement and other transactional processes," Ge added.
"In addition, we actively use self-built or franchised methods to develop overseas warehouses. At present, our warehouses cover 47 countries and regions. Using these, we can build an exhibition hall and send samples from the Yiwu market to the overseas warehouses so that foreign customers can check out samples and purchase products in their own countries," said Ge.
"In terms of growing freight prices, we have opened many channels, such as the China-Europe freight train. This year, we have sent more than 1,000 such trains. At the same time, our market management agency has also cooperated with centrally owned enterprises to lease warehouses at suitable prices to reduce logistics costs," Ge added.
On Aug 16, the 1,000th China-Europe freight train departed from the Yiwu railway port, providing a stable and smooth international logistics and transportation channel.
Numbers from the Yiwu Bureau of Statistics showed that the delivery volume of Yiwu's express service reached a total of 4.245 billion pieces, which was the same during the period last year, and its business revenue hit 12.2 billion yuan ($1.76 billion), an increase of 11.3 percent year-on-year.
In 2021, Yiwu's exports reached 290.16 billion yuan through market procurement trade, accounting for 31.2 percent of the country's total.
From January to July, the total import and export value of Yiwu reached 268.17 billion yuan, an increase of 33.8 percent over the same period last year. Among them, exports reached 244.44 billion yuan, an increase of 29.1 percent year-on-year.