Autonomous region vying to be pioneer of dual carbon goals
Share - WeChat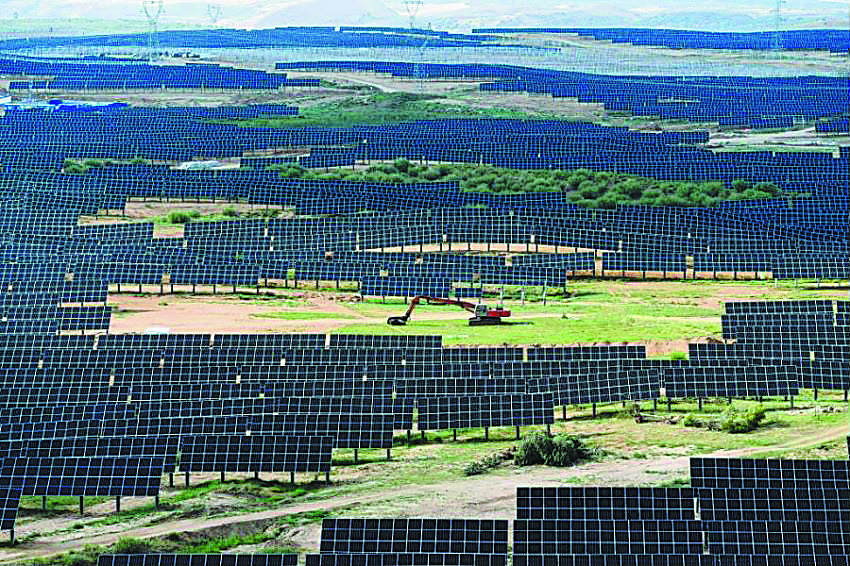 As the race to achieve net-zero carbon emissions is redefining the world's energy outlay, the city of Ordos in North China's Inner Mongolia autonomous region aims to grab a piece of the pie through energy transition.
With proven coal reserves of the Ordos Plateau standing at 210.2 billion metric tons, accounting for approximately one-sixth of the country's coal supply, Ordos has consistently been an important energy supply base in the country over the past few decades.
However, success has come at a cost-high carbon emissions. But Ordos, the country's main coal-producing region, is also blessed with abundant wind and solar resources, so it is focusing on how to make the transition.
The city came up with the world's first net-zero industrial park last year in partnership with green technology company Envision Group, with plans to support local renewable energy equipment, electrical vehicle manufacturing and battery industry clusters.
In the future, 80 percent of the energy in the entire park will be directly supplied by local wind power and photovoltaics, Envision said.
In order to complete the objective of replacing 5,000 heavy-duty trucks within the 14th Five-Year Plan period (2021-25), Ordos will also build supporting green power projects with an estimated annual power generation capacity of 15 billion kilowatts, it added.
Envision Group said it will cooperate with major automakers in Ordos to replace the city's 330,000 diesel trucks used for coal transportation with electric versions, leading to a reduction of 30 million tons of greenhouse gas emissions and cutting operating costs by 30 billion yuan ($4.35 billion).
It will broaden the use of new energy vehicles in carrying out environmental sanitation, logistics, public transportation and other work, it said.
An analyst said renewable energy resources are the trump card for transition in the city and will, in turn, further promote the use of cleaner energy in renewable energy-rich regions nationwide.
Following China's stated carbon peak and neutrality goals, it is necessary for the resource-rich city to upgrade local energy consumption. If high energy-consuming industries are able to trade coal for renewable resources, it will open up new vistas for economic growth, said Wei Hanyang, a power market analyst at research firm BloombergNEF.
"Ordos is a leading urban economy in Inner Mongolia with ample reserves of coal, used for thermal power, chemical and metallurgical purposes. Gas reserves have also been found in the area, and it enjoys massive land potential for renewable energy use. In the past decade, Ordos has introduced energy-intensive companies to turn its resource reserves into higher value-added assets, while addressing pollution challenges," Wei said.
Caixin Media said total reserves of wind energy with development potential in Ordos stand at more than 50 million kW, and if the city's arid areas can be fully utilized to build grid-connected solar photovoltaic power stations, installed PV capacity will be able to reach more than 60 million kW.
In recent years, Ordos has accelerated the development of a whole new energy industry chain. By the end of the 14th Five-Year Plan, installed capacity of new energy will reach 50 million kW, accounting for more than 50 percent of total installed power capacity, said local authorities.
Li Li, Party secretary of Ordos, said the city has driven the transformation of its economic structure through energy structure adjustments in recent years. It has vigorously cultivated new energy equipment manufacturing industry clusters and established a carbon-neutral research institute with colleges and universities to further facilitate the transition.
Hua Ruifeng, a member of the Standing Committee of the CPC Ordos Municipal Committee, said the government will continue increasing the proportion of its green power supply, accelerate the construction of long-term energy storage systems and create more zero-carbon products in the future.