Chinese smiles light up New York on historic day
Share - WeChat Wu Yibing leads the way as nation celebrates hat-trick of US Open wins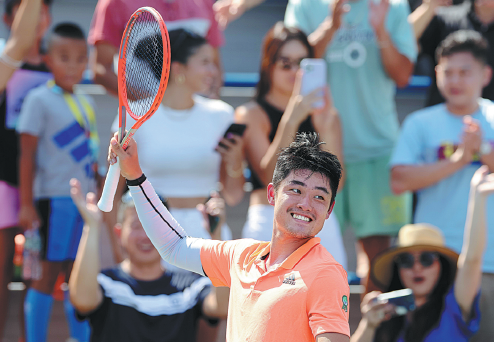 China enjoyed a storming start to the US Open on Monday with a hattrick of first-round victories spearheaded by Wu Yibing's historic triumph.
Rising star Wu has been in scintillating form this year and extended his win streak to 14 by stunning 31st seed Nikoloz Basilashvili of Georgia in New York. The victory saw Wu, 22, become the first Chinese mainland player to win a men's singles match in the main draw at a Grand Slam tournament in the professional era.
Wang Xiyu and Zhang Shuai completed China's great day with victories in the women's singles draw.
Wu's 6-3, 6-4, 6-0 triumph over the 30-year-old Basilashvili, ranked 35th in the world, ended a 63-year wait for a men's singles victory by a Chinese mainland player at the majors. Mei Fu Chi-at Wimbledon in 1959 before tennis turned professional nine years later-was the last male Chinese mainland player to win at the majors.
This victory, however, was all about the future, with Wu's breakthrough delivering a huge boost for Chinese men's tennis following decades in the doldrums.
"I didn't make too many unforced errors," said Wu, a former world No 1 in the junior ranks, on Monday. "I'm calm now and I'm more focused on making adjustments and getting ready for the next match."
He will next face Portuguese qualifier Nuno Borges, who came through a tough five-setter against US wild card Ben Shelton-7-6 (6),3-6, 7-6 (5), 6-7 (8), 6-3.
Wu is finally delivering on his huge potential after bursting onto the scene at the 2017 US Open where he was crowned junior champion. His move into the adult ranks was badly hampered by injury problems, however his form in recent months strongly suggests those struggles are behind him.
"It's happy and exciting but still more matches to come," he told atptour.com.
A native of Hangzhou, Zhejiang province, Wu has collected three titles on the ATP Challenger Tour over the last two months to catapult him up the rankings from No 1,869 in March to his current No 174.
Along with Zhang Zhizhen, Wu also made history last week when the pair came through the qualifying event to become the first Chinese mainland players in the men's singles main draw at the US Open in the pro era.
Zhang Zhizhen was unlucky not to follow his younger compatriot into round two on Monday, with the 25-year-old failing to convert any of his seven match points to lose in five sets-6-3, 7-6 (4), 6-7 (9), 1-6, 4-6-against Tim van Rijthoven of the Netherlands.
Despite being so agonizingly close to progressing, Zhang Zhizhen refused to let the loss get him down.
"It was a real roller-coaster ride but I'm not disheartened because losing at major tournaments is normal," said Zhang Zhizhen, who reached the finals of four ATP Challenger Tour events in his buildup to the US Open.
Wang Xiyu and Zhang Shuai both impressed in their contrasting routes to the second round of the women's draw.
Zhang Shuai, China's top-ranked woman at No 35, breezed through with a 6-4, 6-2 win over Jil Teichmann of Switzerland, the 30th seed.
"I'm excited to earn my first win against a high-level player at a Grand Slam. It's always tough to get a win at a major. I gave it my all, and I felt good out there today," said Zhang Shuai, who will next take on Anna-Karolina Schmiedlova of Slovakia, ranked No 115.
"I've had better performances over the past two weeks in Cincinnati and Cleveland, so I was confident that I could play well today."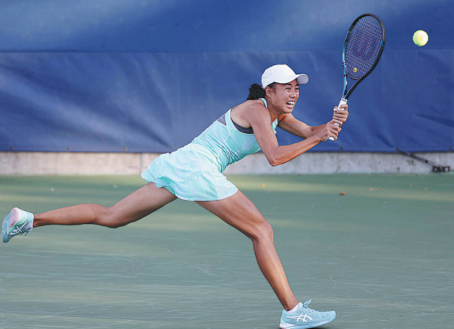 Zhang Shuai will also play in the women's and mixed doubles, and added: "It's a busy schedule for sure, but I'll give it everything I have. I am really looking forward to every match."
The 21-year-old Wang Xiyu fought back from a set down to prevail 5-7,6-3, 6-3 against Diane Parry of France. Wang, ranked 75th, will next face a stern test against third seed Maria Sakkari of Greece.
"Maria is an exceptionally good athlete and all I can do is learn more from this match. She is an attacking player and I have to stay focused," said Wang.
Whatever happens against Sakkari, Wang's ability to dig deep under pressure on the Grand Slam stage bodes extremely well for the youngster's career.
She admitted that winning the mental battle was the biggest challenge on Monday.
"Nerves are part and parcel of competition, and I tried to turn them into motivation-and it worked. I managed the pressure very well and it was a good lesson and experience for me," she said.
"I just tried my best in every point against a good opponent. After losing the first set, I found my rhythm in the second and third sets."
"I'm feeling a bit tired now but that's normal," she added. "Every match at a major is tough, and I'm prepared for the next one. There are no easy opponents at a Grand Slam so all I can do is to stay focused on my own game and mindset."
Wang believes China's wonderful collective performance on Monday will provide a lift to all the nation's tennis players.
"It's a great motivation for Chinese tennis after Wu, Zhang and I advanced to the second round. Personally speaking, it's a big boost for my confidence as I face future challenges."
Most of the focus at Flushing Meadows on Monday was on Serena Williams' farewell at the tournament, and Wang said of the superstar: "It's a pity that she will retire after the US Open. I never had a chance to play her. I admire her power and toughness. I can learn a lot from her career."