CIFTIS poised to tap global services bonanza
Share - WeChat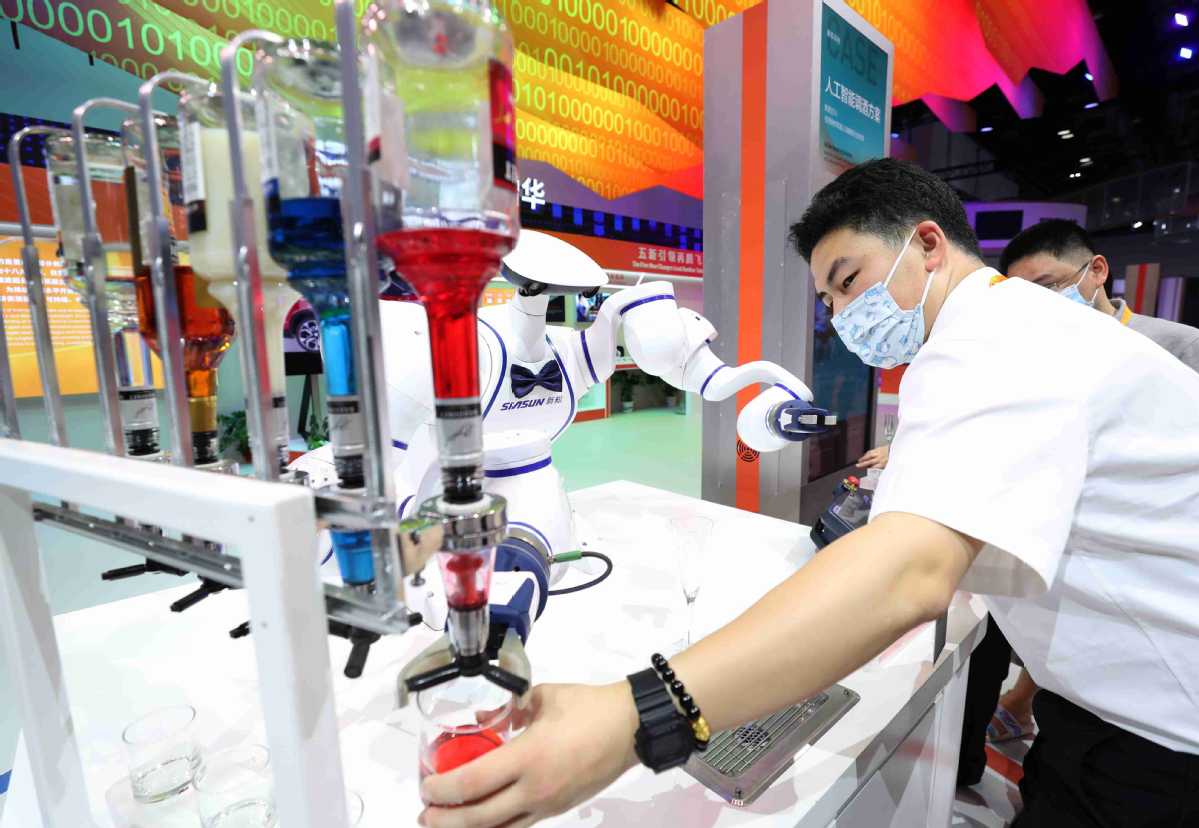 Multinational corporations said they are eagerly anticipating the upcoming 2022 China International Fair for Trade in Services in Beijing-a platform allowing them to showcase innovative solutions and tap into market potential in the nation.
Covering an exhibition area of more than 15,200 square meters and focusing on nine themes, including financial, educational, healthcare and supply chain management services, this year's CIFTIS, to be held between Wednesday and Monday, will see booths set up by more than 1,400 enterprises, including 446 Fortune Global 500 companies and industry leaders, said the Ministry of Commerce.
Unlike merchandise trade, trade in services refers to the sale and delivery of intangible services such as transportation, finance, tourism and telecommunications.
Ajlan & Bros Holding Group (ABHG), a Saudi Arabia-based conglomerate, sees itself as a beneficiary of the fair's spillover effect. The group will make its exhibition debut at CIFTIS this week.
Mohammed bin Abdulaziz Al Ajlan, ABHG's deputy chairman, said that the group has always been confident in the Chinese market and optimistic about prospects for the country's economic development.
"With the increasingly close economic and trade exchanges between Saudi Arabia and China, we are looking forward to conducting in-depth exchanges with more Chinese enterprises, as well as strengthening cooperation in emerging fields such as 5G, artificial intelligence, big data, biotechnology, financial technology and automation," he said.
By partnering with SF Express, a Chinese express logistics services provider, ABHG launched a joint venture in Saudi Arabia in the first quarter. The new company will introduce the latest technological solutions to the logistics sector in the Middle Eastern nation.
ABHG also sealed a deal with Inner Mongolia autonomous region-based Chifeng Jilong Gold Mining Co Ltd to establish a JV to conduct gold exploration in Saudi Arabia in the first half of this year.
A major global trade event, CIFTIS will offer all-round opportunities for companies worldwide to tap into China's services trade market, and serve as an exchange platform for Chinese firms to fully leverage domestic and overseas markets and resources, said Sheng Qiuping, vice-minister of commerce.
The holding of CIFTIS reflects China's support for opening-up, and its goal to foster cooperation regarding both trade in services and trade with other countries, said Eddy Chan, senior vice-president of FedEx Express and president of FedEx China.
Chan said he believes that the fair will serve as a platform for domestic and foreign companies and organizations to connect, creating more opportunities for collaboration and development as well as injecting confidence into the global economy in the post-COVID era.
Chan said the United States-based express company will continue to invest in China and expand its service network to more smaller cities in the coming years.
With tourism recovering, over 900 domestic and global companies will participate in the cultural and tourism exhibitions held both online and offline during CIFTIS, organizers said.
Actively adapting to the new characteristics and trends of culture and tourism consumption, Club Med, a global holiday services provider, has charted plans to make China another major market in its global business in the next three years.
And if it works as expected, the Chinese market of Club Med will equal that of France, said Andrew Xu, CEO of Club Med China and executive president of Shanghai-based Fosun Tourism Group.
Bullish on the global recovery, the group plans to open 17 new resorts by the end of 2024, among which nine will be in China.
Over the past decade, China's strength of having a super-large market has become more apparent. The accumulated import value of services has surpassed $4 trillion, said Wang Dongtang, director-general of the department of trade in services and commercial services at the Ministry of Commerce.
The total value of China's trade in services has remained in second place worldwide for eight straight years, Wang said.