Consumption, infrastructure get green tinge
Share - WeChat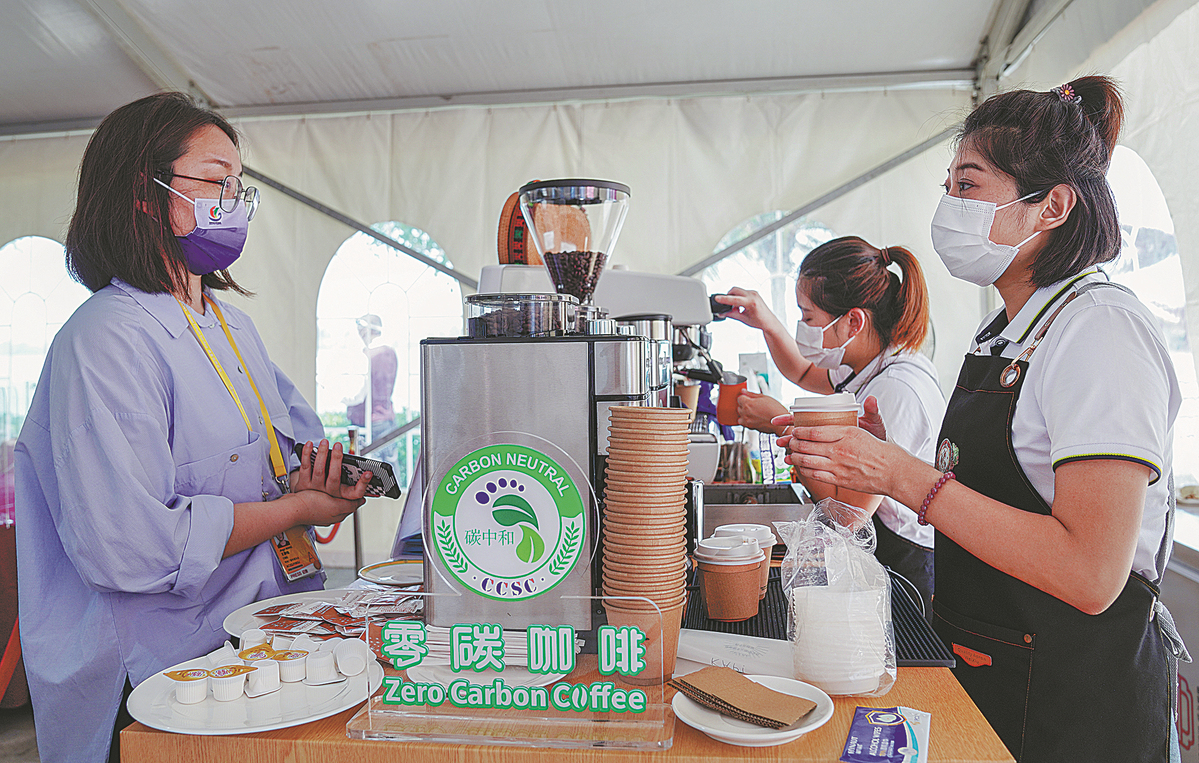 MNCs in China sew up plans to invest big-time on low-carbon innovations
Given a choice between buying a laptop complete with attractive packaging and purchasing one that comes in simple packaging made of recycled materials, most consumers might wonder a bit. But not those at the China International Consumer Products Expo held in July in Haikou, Hainan province, where US tech company Dell Technologies displayed a laptop encased in 100 percent environmentally friendly packaging materials.
Expo visitors threw curious glances at the novelty, with some even making inquiries. Besides the green laptop, a large number of green and low-carbon consumer goods were displayed at the expo. These included Miners' Tears, the world's first necklace based on environmentally friendly synthetic materials, beer made using energy-saving process that also cut its carbon footprint, coffee cups made with carbon capture technology, pure plant-based cosmetics and biodegradable pens.
Visitors and the people behind these innovations said the dazzling array of green products bears testimony to China's green transformation of products, services and industrial chains. Umpteen businesses from both home and abroad drew a lesson on how to launch environmentally friendly products and services that meet the aspirations of local consumers.
According to a survey by market consultancy Ernst & Young, despite the downtrend in global consumer confidence, 62 percent of Chinese consumers believe their lives will be better in three years. The figure is much higher than that of the United States (46 percent), Australia (43 percent) and the United Kingdom (35 percent).
Notably, 38 percent of Chinese consumers surveyed put "sustainability" at the top of their consumption decisions. In contrast, only 10 percent of the consumers surveyed gave value cost-effectiveness a top weighting. Globally, cost-effectiveness surpassed caring for the planet and emerged as the factor with the biggest consumer consideration.
"While inflation and the rising cost of living discourage consumers from paying a premium for sustainable products, we are delighted to see consumers opting for more frugal alternative brands and alternatives to achieve sustainable behaviors, or looking for a more efficient and sustainable lifestyle," said Zheng Mingju, managing partner of retail and consumer products at EY Greater China.
Agreed Yu Huanhuan, marketing director of Tmall Global, the global e-commerce arm of Alibaba Group, noting that an interesting phenomenon is that a brand with an environmentally friendly concept is likely to impress the new generation of consumers. More young people, Yu said, would like to support eco-friendly products.
In cosmetics particularly, 70.5 percent of Chinese consumers are willing to buy nature-based beauty products, while as high as 81.1 percent would like to buy skincare products that emphasize natural environment, Yu said.
"Notably, young consumers on our platform are willing to pay an extra 10 percent to 20 percent for brands that pursue environmentally friendly and sustainable development," she said.
"The reason is, young consumers particularly have a special view on the future. From caring about themselves to caring about the community with a shared future, from witnessing change to participating in change, to promoting solutions and changing the status quo, young consumers require a sense of participation."
With such demand, more multinational businesses are sewing up plans to make huge investments to promote environmentally friendly infrastructure and technology projects in China.
Dell from the US has committed to recycling an equivalent product for every product purchased by customers. More than half of the products are made of recycled or renewable materials and by 2030, all product packaging will be 100 percent recycled materials or renewable materials, it said.