Strumming songs sparks village kids' passion
Share - WeChat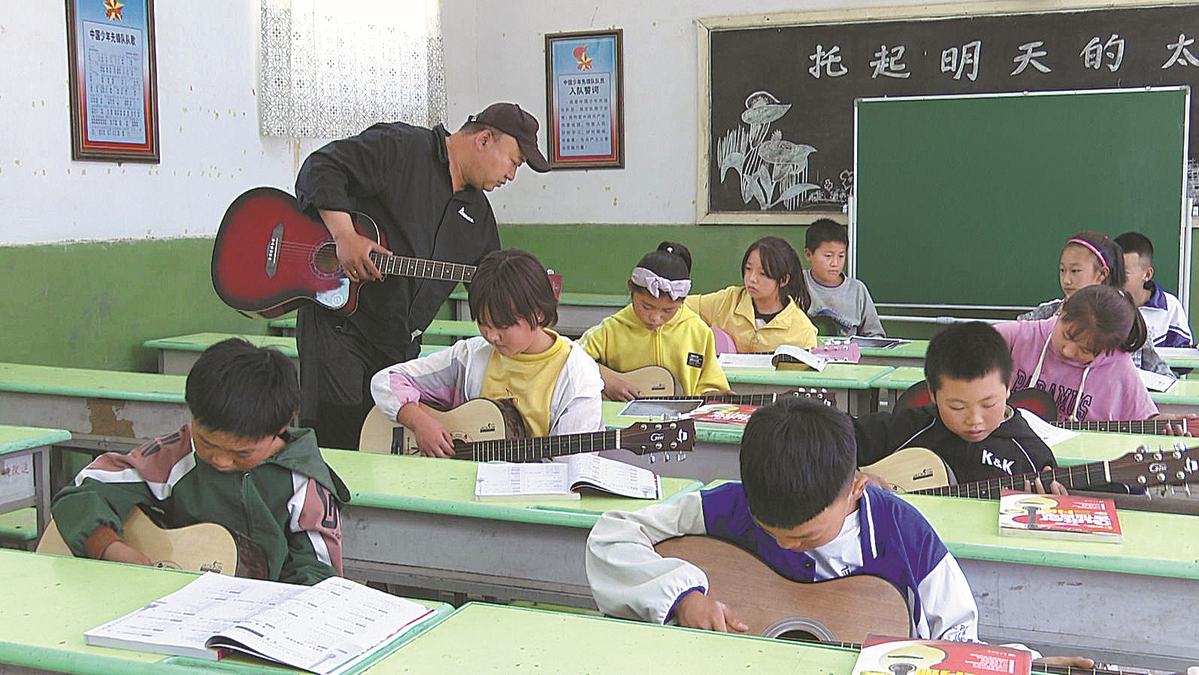 "Twinkle, twinkle, little star, how I wonder what you are…"
The sweet sound of the well-known childhood song drifted out of the village office in Gaozhuang in Zhongwei, Ningxia Hui autonomous region.
Inside, a small group of children were learning to play the guitar with Song Hao, deputy curator of Zhongwei Museum, who is also village Party chief.
"I'd only ever seen guitars on TV before, but when Mr Song came, he played the guitar for us and it sounded so beautiful that I fell in love immediately," said 11-year-old third grader Shen Huihong.
The 48-year-old was born into an artistic family. He received strict musical training as a child and is quite good at playing guitar and composing music.
After seeing Liu Yin, a teacher at a rural primary school playing the guitar on TV and singing a song he had written to attract public attention to students living in mountainous areas, Song was moved and wanted to do what he could with his own music to make the world a brighter place for the children.
"Where there is a dream, there is hope. Liu's TV performance planted a wish in my heart," Song said.
In June last year, he found an opportunity to turn that wish into reality.
He was chosen to participate in rural vitalization work in Gaozhuang for two years, and in his spare time, he started teaching village children to play guitar.
"There's something really magical about music," he said, remembering that when he played for the children, many had twinkles in their eyes.
Song asked them if they wanted to learn to play, and they all said "Yes", so he started a free class to teach them on weekends and during the summer and winter holidays.
He paid for 20 guitars and music textbooks from his own pocket and began to teach them the basics, like how to pluck the strings and read music.
There were just over a dozen students in the first group. Song still remembers that when he handed them the new guitars, they took them cautiously, eyes shining brightly.
The children loved the classes so much that they would arrive at the village office early to wait for Song. Over the past six months, a number of children have learned to play entire pieces, and Song said that he can feel the happiness and confidence that learning to play music has brought to them.
Shen Mingyi, Shen Huihong's father, spoke highly of Song and his guitar class, saying that his daughter has become braver and more talkative as a result.
In recent years, online classrooms connecting schools have made it possible for students in mountainous areas to enjoy the same quality of education as students in urban areas.
Thanks to the internet, villagers in Gaozhuang are also able to enjoy more cultural activities, including watching free movies.
"We will make use of these public cultural platforms to improve the musical and artistic literacy of children in mountainous areas," Song said.