The sound of rural music
Share - WeChat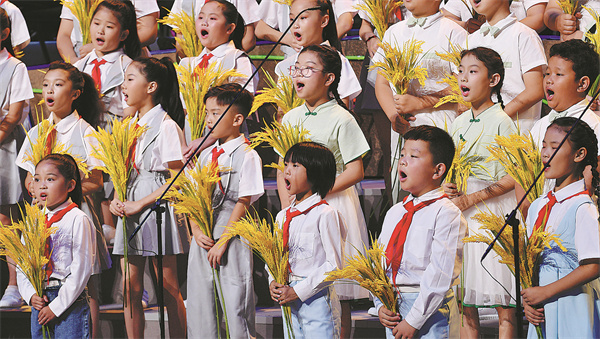 Music is the strongest form of magic, they say, and it was indeed when an ensemble of young singers from humble homes took center stage at the iconic China National Opera House to belt out a tribute to everyday heroes.
The new opera house in downtown Beijing, which opened this summer and has been a popular hub of classical dramas and ballet productions, hosted Childhood on the Ridge-2022 Concert of Art in Action on Aug 14, offering rural school choirs a golden opportunity to regale urban audiences.
A bunch of 151 children from eight village schools performed onstage that evening, the livestreaming of their concert drawing more than 100,000 views online. Their singing may not have been technically flawless like professionals, but their unbridled enthusiasm had spectators glued to the seats.
"It was the choir's first Beijing tour. We were excited and overwhelmed to perform at the China National Opera House. We are talking about the trip and the concert even a week later," says Leng Yin, the vice-headmaster of Dongfanghong Primary School and one of its music teachers.
Located nearly 2,000 kilometers from Beijing, at Renshou county in Meishan city of Sichuan province, the school choir was co-founded by Leng in 2019.
"It is hard to believe that a choir from a small village performed on such a prestigious stage. Definitely an unforgettable experience for all the children," the 38-year-old adds.
The 30-strong school choir struck a chord with three songs, including Gu Yong Zhe or the Lonely Warrior, originally sung by Cantonese pop star Eason Chan for a video game. The track, going viral on social media this year, is hugely popular among kindergarten, school and college students in China.
"The warrior song is a tribute to ordinary people who work hard and never give up. The children dedicated it to their parents who are always brave in the face of adversities. Most of these parents work in cities, far from home, to ensure their children have a better future," says Leng.
"The lyrics are poignant, like one section that roughly translates into 'who said only those standing in the light are heroes'."