Pomp, youth and tradition to the fore
Share - WeChat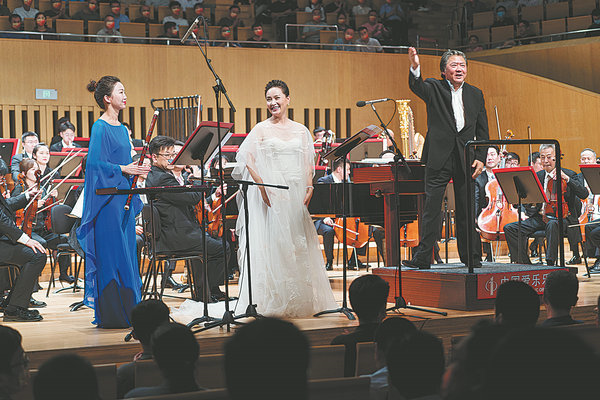 The China Philharmonic Orchestra has put together an ambitious set of programs for its 2022-23 season that showcases the orchestra's virtuosity and versatility through new and iconic works.
The season, whose programs were unveiled by the music director Yu Long in Beijing on Monday, will open on Aug 28 with a concert that Yu will conduct. It will feature works by English composer Sir Edward Elgar, including Pomp and Circumstance Marches, Cello Concerto in E Minor, Op 85, for Viola and Enigma Variations, Op 36.
The concert will be held at the National Center for the Performing Arts in Beijing. One of its highlights will be Mei Diyang, who is the first Chinese musician to hold the position of first principal viola at the Berliner Philharmoniker. It will be his first appearance in his home country since he took the position this year.
Mei was invited to perform with the China Philharmonic Orchestra during its two previous seasons, but the pandemic put paid to those plans. That makes Mei's coming performance with the orchestra all the more anticipated.
During the new season, the China Philharmonic Orchestra will pay tribute to two other composers.
On Feb 26, pianist Zuo Zhang will perform with the orchestra in a concert at the Forbidden City Concert Hall in Beijing, featuring Sergei Rachmaninoff's The Rock, Op 7, Piano Concerto No 1 in F Sharp Minor, Op 1 and Symphony No 1, Op 13, celebrating the 150th anniversary of the Russian composer's birth. The concert will be conducted by Russian Vassily Sinaisky.
On April 15, a concert will be held in the Forbidden City Concert Hall, also with works by Rachmaninoff, including Piano Concerto No 2 in C Minor, Op 18 and Symphony No 3 in A Minor, Op 44. Pianist Zhang Haotian will perform during the concert, under the baton of Latvian Andris Poga.
A concert marking the 190th anniversary of the birth of Johannes Brahms will be held on April 22 at the Forbidden City Concert Hall, under the baton of Yuan Ding, featuring the German composer's Tragic Overture, Op 81, Violin Concerto, Op 77 and Symphony No 2 in D Major, Op 73. Violinist Su Qianxun will be featured.
"This is the third season of the China Philharmonic Orchestra after the pandemic broke out in early 2020, which is still very challenging and difficult," Yu says.
The orchestra had organized concerts for the previous two seasons that had to be canceled because of the pandemic, he says.
"As a cultural institution, it's our job to present a diverse repertoire and exciting artistic collaborations to audiences."
Most Popular