Australian media reveals its bias toward China
Share - WeChat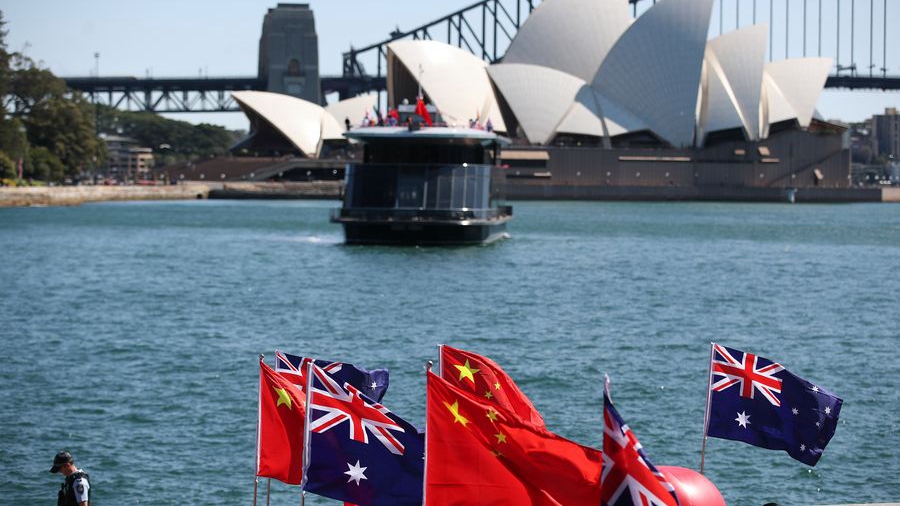 How can a conciliatory address to the National Press Club by the Chinese Ambassador to Australia Xiao Qian be described as "chilling", "shameless showmanship", in which the ambassador was "totally exposed" and "pinned?" This happened by having the Australian media in the same room as the ambassador.
Those words came from how the address was reported right across the Australian media. It was a further indication that on anything to do with China, the Australian media speaks with a single megaphoned, but misinformed, voice. It seemed as though the polite, mild-mannered diplomat had been turned into a demonic figure from the depths of Dante's inferno.
What actually did the ambassador say?
The address was conciliatory, mindful of recent difficult time, but hopeful for better times ahead.
Xiao began by noting that over the 50 years since diplomatic relations were established the two nations had developed a "sound, stable, friendly and cooperative relationship", one "mutually beneficial".
To support this, he presented a series of statistics as evidence, speaking of how in 2021 38.8 percent of Australian exports went to China, while 28.1 percent of Australian imports came from China. Not only goods but also people-to-people contacts grew enormously. From 2018 China became the largest source of tourists to Australia, more than a million tourists spending over $10 billion. The 131,000 Chinese overseas students represented 28 percent of Australia's total. Before COVID-19, two million Australians tourists visited China annually, while there were 1.2 million overseas Chinese in Australia.
Recognizing the recent deterioration of relationship between the two nations, Xiao regarded that as unfortunate, being against the interests of people. A new Australian government, he said, has made a reset of relationships possible. Already there was a re-opening of dialogue on "economics, education, and trade, while the meeting between both nations" foreign ministers was significant. He concluded that "both sides must strive to bring our relations back on track."
To that end the Chinese side, through Foreign Minister Wang Yi had put forward "proposals" not "demands" as has been erroneously asserted in the Australian media, largely due to a sloppy translation of the Mandarin word used by Wang.
China is a contributor, the ambassador stressed, not a challenger to the international order. "China has no ambition to replace any other country…will never seek hegemony, expansion, or sphere of influence." To that end "China's policy of friendship and co-operation with Australia remains unchanged."
Speaking of "no two leaves being alike", Xiao said of the two nations that "different as we are, there are no areas in which we have a fundamental conflict of interests…so it is important for both sides to take a constructive approach to these differences…with mutual respect."
Of differences in governance, Xiao, using a Chinese metaphor, noted "only the wearer of the shoes knows whether the shoes fit." For China, its method of governance had proven very successful. Between 1978 and 2018 the Chinese economy grew 225-fold, lifting per capita income from $155 to $8,800.
Clearly referring to Australia's alliance with the US the ambassador stated that China has no intention to interfere with or undermine Australia's relationship with a third party.
Xiao then addressed the question many were waiting to hear, that of Taiwan.
The recent visit by US House Speaker Nancy Pelosi, he charged, clearly infringes upon China's sovereignty representing, "a serious violation of the one China principle and violation of the provisions of the three China-US Communiques."
"It seriously infringes upon China's sovereignty and territorial integrity." Of Australia, the ambassador declared that in a 1972 communique it recognized the People's Republic of China Government as the sole government in China, then using words from that communique added, Australia "acknowledges the position of the Chinese Government that Taiwan is a province of China."
"If we can make compromise on many, many other issues, economic issues, trade issues, any other issues, there's absolutely no room for us to compromise on the question of Taiwan because it's a question of sovereignty and territorial integrity." As such China reserved all means to recover its territory, military means being a last resort.
Finally, attempting to allay fears, Xiao stated that China has no ambition to establish a military base in the Solomons, noting that the Solomons government had made it clear that it had no desire for such a base.
In his speech the Chinese ambassador asserted that coverage of China in the Australian media had become almost universally negative. "The media coverage on a country that is always negative is nowhere near the truth about that country…. misleading and harming the relationship between our two countries."
Such charge was sadly proven to be true by the questioning which followed.
A rabid media present set to a feeding frenzy.
Numerous journalists made their negative views of China very clear in statements masquerading as questions. Several times Xiao, at the conclusion of such questions, was forced to inquire as to where was the question in the statement.
Again, sadly the Australian media showed not only its bias, but its inability to understand anything of the Chinese position. Rather than engaging positively with the ambassador, they were determined to continue the demonization of China.
With Australian opinion being largely framed by such antipathy, one is left with little hope for positive engagement with China.
John Queripel is a Newcastle-(Australia)based historian, author, and social commentator.
The opinions expressed here are those of the writer and do not necessarily represent the views of China Daily and China Daily website.
If you have a specific expertise, or would like to share your thought about our stories, then send us your writings at opinion@chinadaily.com.cn, and comment@chinadaily.com.cn.
Most Viewed in 24 Hours
China Views