Wang kicks off new adventure
Share - WeChat Team China star says development potential key reason behind move to American league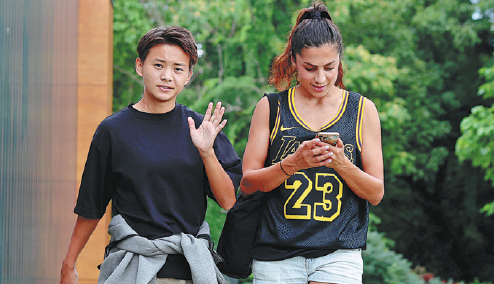 Wang Shuang believes her latest adventure abroad can only improve her as a player after the Team China star joined US team Racing Louisville of the National Women's Soccer League.
"I only hope that the day when I return from this journey I will be an even better player. The world is a big place, so I want to travel and grow as much as I can," Wang told People's Daily.
"I jumped at the chance to play in a high-level foreign league in the prime of my career and I intend to learn from it. The priority this time for me remains to learn more and absorb more. Compared with the last time I played in a foreign league, I'm calmer and more mature now."
Racing Louisville announced Wang's arrival on Wednesday, revealing it has signed the 2018 Asian Women's Footballer of the Year through the 2023 season after acquiring her NWSL playing rights via a trade with Seattle-based club OL Reign.
"We are excited to welcome Wang Shuang to Racing Louisville, and we thank her former club for working with us to make this signing happen," said head coach Kim Bjorkegren.
"We expect that Wang will help us with assists and goals, of course, but at the end of the day we also believe she will help us achieve better results. She fits into this group as a team-first player. We can't wait to see what she can do in our shirt."
The number on the back of that shirt will be 77, and Wang explained: "Some fans may think it's a little bit weird to pick such a big number. Many numbers have been used in the team so are unavailable. I've worn 7 with the national team, and it has been a lucky number for me. So I still want to use the number 7 to train and compete."
The 27-year-old could make her NWSL debut in Friday's match against the Houston Dash.
She took part in her first training session with the team on Tuesday, with assistant coach Mario Sanchez impressed by what he saw. Sanchez hailed Wang as "world-class" and said: "When you talk globally about the women's game, she is right up there."
"Even though there is something of a language barrier, Wang's soccer IQ is so high that I can show her something one time and she can implement it, which speaks volumes about her as a soccer player," he added.
Globe trotter
Wang has previously played abroad with South Korean club Daejeon Sportstoto, from 2013-14, and, most notably, with European powerhouse Paris Saint-Germain, from 2018-19, before returning to her hometown club Wuhan.
Wang became the first Chinese to score in the UEFA Women's Champions League, netting seven goals in 18 appearances across all competitions for PSG.
"I have played in Asian and European leagues, so this time I chose the American league. I want to experience a different style of play. The head coach of the team coached in China in 2018 and 2019, and he told me that he's been keeping a close eye on me for a long time. It was pretty unexpected that we would eventually work together in Louisville," said Wang.
Another familiar face to Wang at the club is Nadia Nadim. Racing Louisville's star forward was also Wang's teammate at PSG and helped her acclimatize to life in the French capital. Nadim is reprising that role in Louisville.
"She does have to get used to the environment and the weather, which can be a big factor. I know it was for me," said Denmark international Nadim on Wednesday.
"Everyone around me knows how hard it is to come to a new place with a different language. Everything feels so alien. We want her to feel as comfortable as possible off the field so that she can be the best version of herself on the field.
"That's what I want-for everyone to be great on the field, and sometimes that needs you to feel a part of the family off the field."
Wang has put in some groundwork herself for her move Stateside, and appears to be already fitting in well.
"My new head coach and teammates are all very helpful. They told me that I can find them anytime if I encounter any problems. Two months before I came to the US, I started to have English classes online," said Wang.
"The club prepared an apartment for me, and it's very close from where I live to where I train. I'm getting familiar with the new environment with my teammates."
Before the move, Wang was on national duty at the East Asian Football Championship in Japan, where Team China finished runner-up behind the host. Team China then flew to the US for a training camp, and head coach Shui Qingxia has given Wang's move to Louisville her full backing.
"The national team head coach and the Chinese Football Association are all very supportive of my decision. I always hope to have chances to develop my career. The whole national team had a farewell party for me, and we were all very sentimental," said Wang.
"Head coach Shui said many things to me, asking me to take good care of myself. She also told me many things that I should improve in terms of skills and tactics. I can sense she really cares about me."
shifutian@chinadaily.com.cn