Art in combat
Share - WeChat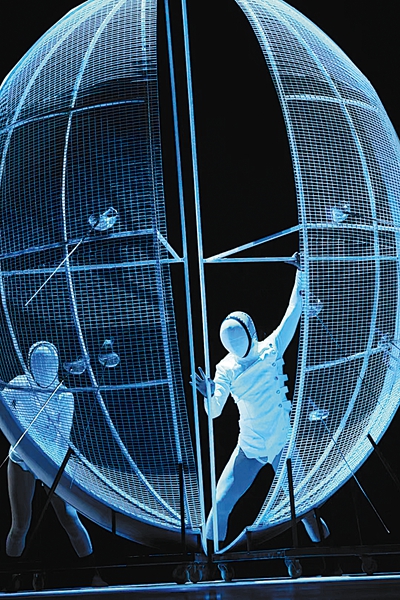 The dance moves in this production are based on fencing tactics. The concept of confrontation is shown by two fencers engaging in a bout on a seesaw, trying to advance and attack yet needing to maintain their balance.
Fencing coach Tian says despite having little knowledge of dancing, when Hou found him and told him about this project that incorporates the element of fencing, he immediately decided to offer his support.
"The dancers had no background in fencing. I didn't expect that she could actually merge fencing with dancing so well within slightly more than a year," Tian says.
"Dancing is an art form, but fencing is actually a kind of art form, too. Fencing is sometimes described as 'ballet in combat'. It's very aesthetically pleasing to watch high-level fencers in competitions. But amateurs may not be able to see that," Tian adds.
"With her choreography, Hou allows the general audience to see the beauty of fencing."
Although the creation of this dance was not similar to her previous experiences, Hou was able to express the beauty she found in fencing maneuvers in dance form. "Mystery, eccentricity and fantasy" are keywords she gave to the production.
"This dance is not long, but is enough for me to see the artist's apprehension, confusion, struggle, awareness, pain and compassion. This is created out of sincerity, in which the artist examines the world and humankind. It is sure to offer deep reflection," veteran dancer and choreographer Shen Peiyi says.
Most Popular