Wu Lei reportedly set to leave La Liga
Share - WeChat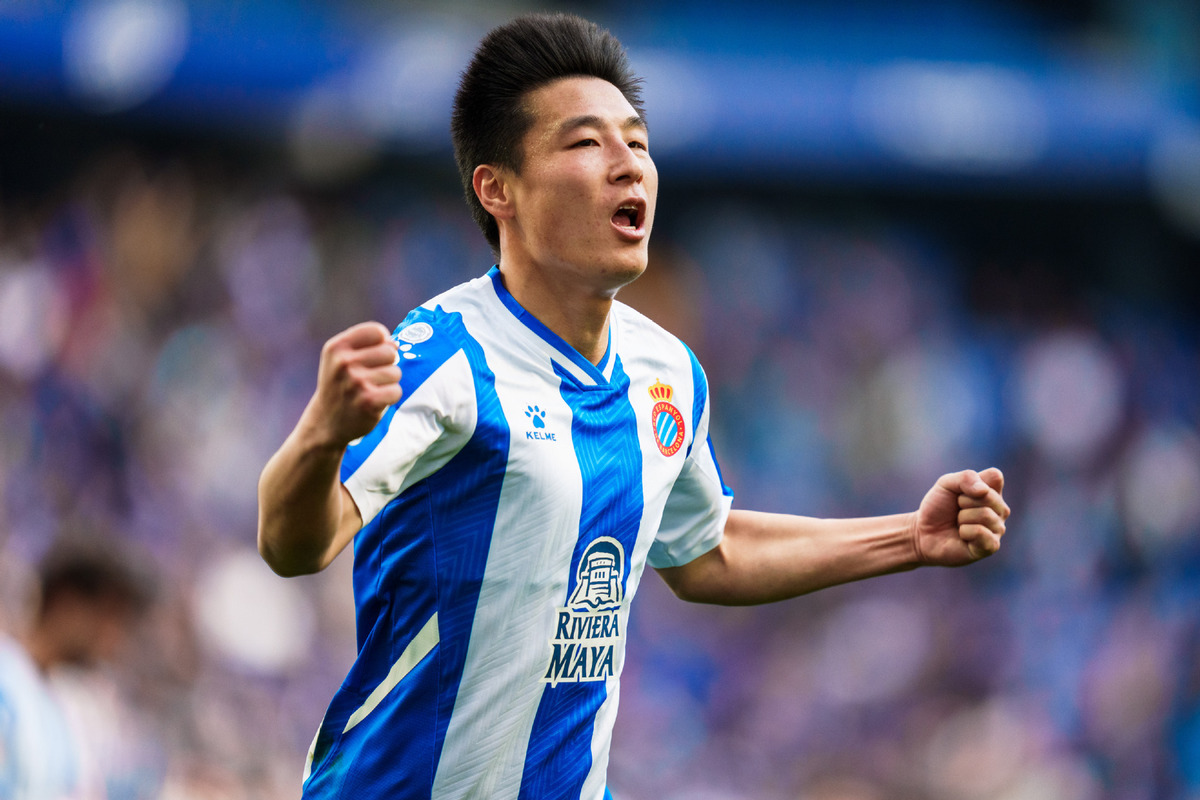 Wu Lei is reportedly in negotiations to secure a move back to China from La Liga club Espanyol.
As the only Team China international currently plying his trade in a major European league, the unconfirmed news sparked heated discussion online among fans.
Spanish sports publication AS on Wednesday reported that Wu and Espanyol are negotiating his return to China. According to AS, Wu's former team Shanghai Port (formerly known as Shanghai SIPG) has made contact with Espanyol about Wu's availability. There is still a year and a half left to run on Wu's contract in Spain.
The AS report suggested Espanyol is keen to get a deal done in order to free up salary space so it can sign new players for the coming La Liga season, which kicks off on Aug 12.
According to Chinese publication Soccer News, Wu's current salary is about 1 million euros ($1.02 million) after tax.
Titan Sports' correspondent in Spain, Lin Denuo, reported on Wednesday that there is a possibility that Wu could leave Espanyol, but no decision has been made yet as the talks are ongoing.
"Due to a knee injury, Wu missed a preseason match for Espanyol. He has recovered now, but during his recovery, the discussions about his future were brought to the table," Titan Sports revealed.
"Given that Wu has been playing as a substitute in La Liga, and Shanghai Port is not doing well in this season's Chinese Super League, it is natural that Shanghai Port hopes to get its best scorer back.
"However, it is still being discussed right now and the CSL's transfer window is not open yet. So it's still too early to say what the future actually holds for Wu."
News of the possible transfer quickly became trending news on Chinese social media. One related hashtag-"Wu Lei to return to Shanghai in summer window"-had been viewed over 16 million times in 24 hours.
Many fans were understandably disappointed that one of the best Chinese players of recent years was seemingly poised to end his Spanish stint, which had promised so much in Wu's successful debut campaign. Others, however, reasoned that a move makes a lot of sense for the 30-year-old, who has struggled for first-team minutes in recent seasons.
Wu was also linked with an Espanyol exit in January this year, but decided to stay in Spain to fight for his place in the starting XI.
In April, Wu found the net as a substitute against Celta Vigo to end a 666-day league goal drought that extended back to June 13, 2020.That sparked hopes of a revival in fortunes for Wu in Spain, however it proved to be his only goal of the league campaign in a season in which he was mostly consigned to the bench.
"Wu Lei has lost his position in the Espanyol starting XI for over a year and a half, and it's not the first time that Shanghai Port has discussed the possibility of bringing Wu back to China," read a commentary by Titan Sports.
"However, given that Wu is still an iconic Chinese player who's playing in a major foreign league, there will be more discussions about him and he will face even bigger pressure. But whether the current negotiations turn into something concrete remains to be seen. We'll simply have to wait and see."
Wu joined Espanyol in 2019 after helping Shanghai Port win its maiden CSL title. He excelled in his first season at the Barcelona-based club, becoming the first Chinese player to score in La Liga and helping the team rise from relegation trouble to Europa League qualification.
However, since 2020, it has been a rocky road for Wu, with the forward frozen out of the starting XI in a particularly turbulent period for Espanyol, during which it was relegated and subsequently promoted back to the top flight.