Rebuilding Steel Roses planting seeds of hope
Share - WeChat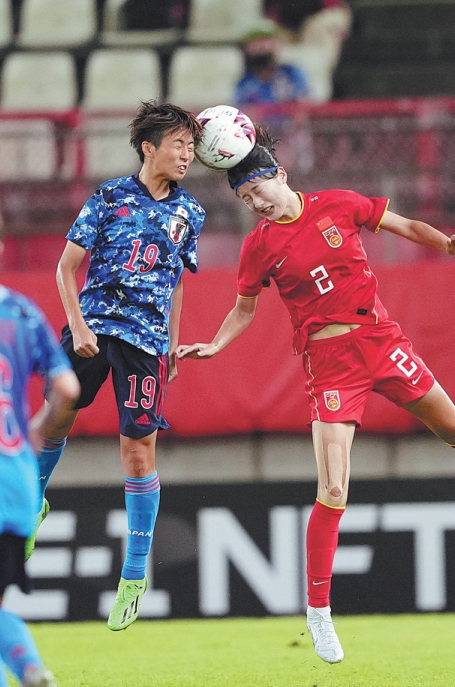 But head coach admits fighting spirit alone no longer enough
Although Team China failed to reach the top podium at the East Asian Football Championship, fans were impressed by the solid performances of Shui Qingxia's youthful squad.
Now the head coach is urging her players to learn from their exertions in Japan and become more ambitious following a runner-up finish at the tournament that delivered plenty of encouraging signs.
"The young generation of Team China players have limited experience at major international tournaments, but they produced good performances at the East Asian championship this time in Japan," said Shui after Team China's final match in Kashima on Tuesday, a 0-0 draw with host Japan.
"I hope the young players can grow through the competition and become more ambitious. I also hope the tournament can build the team's confidence, and help those who have just recovered from injuries to gradually return to peak condition."
Tuesday's result saw the Steel Roses finish second at the four-team championship, with one win and two draws, behind tourney winner Japan.
After lifting the Asian Cup in February, hopes were high that the Steel Roses could add another title in Japan, but despite admirably holding on for a point, China was undoubtedly up against a superior outfit on Tuesday.
The stats backed up that observation-37 percent possession, and just three shots on goal to Japan's 14.
"Seeing the performance of the young Japanese players, we realized that we still have a long way to go in the future. The responsibility is heavy and the process will be tough," admitted Team China defender Li Jiayue after the match.
Before heading to Japan, head coach Shui was keen to stress the squad was treating the championship more as a learning experience than a glory bid.
"The Japanese team's overall strength and their understanding of soccer are better than ours. So playing with our famous fighting spirit was not enough for us to beat them. We still have many shortcomings to fix, and our rivals are also improving. That is soccer, and mentality is also crucial," said Shui.
"We also need to continue to evaluate our tactics. For instance, if our passing or tackling is poor, we need to assess if our training methods are not right or if our skills are just below standard. And when our performance is not ideal, we need to evaluate and try to find solutions."
Chinese women's soccer has enjoyed considerable success in past decades. The Steel Roses won silver medals at the 1996 Olympics and the 1999 World Cup, but recently Team China's growth has fallen behind the rapid development of the women's game globally, especially in Europe.
The Steel Roses' disappointing group-stage elimination at Tokyo 2020 last year showed how far Chinese women's soccer had fallen behind the sport's elite nations.
The arrival of new head coach Shui has brought fresh hope for fans. Since being installed in the job, Team China is unbeaten in its past eight matches, with five wins and three draws.
"I hope Team China can be more confident after the East Asian championship, and the players can gel better together. I hope we see that the team still has our tradition and grows at the same time. That will be enough for me," Shui said.
Team China now heads straight to the United States from Japan for a month-long stint of training and friendly matches against local teams, both men's and women's.
Apart from most of the current players in the national squad, the training camp will also include several young Chinese players who are playing in foreign leagues such as Shen Mengyu of Scottish club Celtic.
Shui described the coming training camp as "a tough test of the players' physical and mental strength", and she also hopes to assess promising young talent in the squad.
"After the East Asian championship, our training camp in the US and the winter training to follow will be crucial for our players to level up their physical strength," said Shui. "We also need to think how to be stronger and have our own style of play based on our traditions."
Most Popular
Highlights
What's Hot