Graduates conquer series of tough challenges
Share - WeChat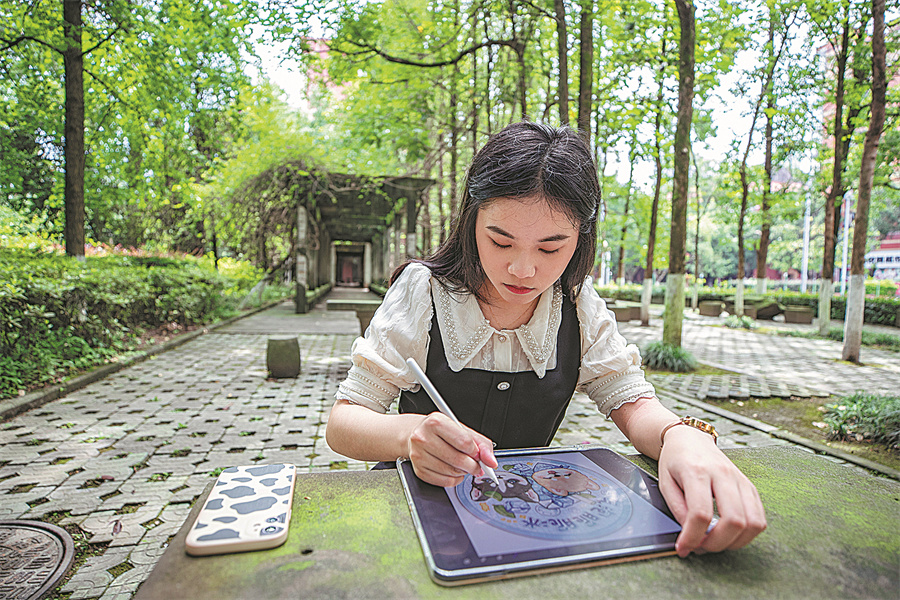 Business failure
To avoid the intense competition to find work, some new graduates are planning to return to their hometowns instead of moving to big cities such as Beijing and Shanghai.
Si Yue, from Longyan, Fujian province, decided to return home to find a job after failing to launch her own film and television studio due to a lack of money.
"In the third year at university, I began making detailed plans to launch my own business. However, this was far more complicated than I expected, so eventually my dream ended with the collapse of my cash flow," said Si, who graduated from Jiangxi University of Technology in Nanchang after majoring in broadcasting and television directing.
Looking back on her four years at university, she said that filming a documentary with her team made the most impact on her. The project required the team members to get up at 2 am, after which they shivered on a street for three hours just to complete a single shot that lasted a few seconds.
"Over the years, I have learned to become dedicated, which has encouraged me to follow my passion for the film and TV industry through persistence and hard work. Dedication has also brought me back from rock bottom on a number of occasions," Si said.
She has been relatively fortunate compared with many other graduates who are still applying for jobs, for which they attend interviews, but fail to be offered employment. Si quickly recovered from her business setback, passing a job interview soon after applying for her first position.
Now working as a TV and film copywriter for a short-video company in Longyan, Si said, "Many graduates are struggling to achieve their dreams in big cities such as Beijing, Shanghai and Guangzhou. My plan to return home didn't seem to be a good one initially, but I didn't have a better option."
Members of the post-2000 generation, born in the third decade of China's reform and opening-up-a prime time for the nation's economic growth-are considered to lead a more affluent and carefree lifestyle than previous generations.
Si said members of the post-2000 generation stand out for being personable and determined, despite being stereotyped as not having experienced suffering or hardship, lacking the ability to be grateful, and being too stubborn to listen to suggestions from others.
"I think members of my generation are like a star with sharp edges and corners, so we dare say 'no' to injustice, and express our points of view in public, but we also have a more tolerant way of looking at things," Si said.
The motto "never give up, just be yourself" is one that Si wants to share with future graduates. "As long as you do not give up, no one can give up on you, and the world will sooner or later belong to the post-2000 generation," she said.
Yu Hai, a sociology professor at Fudan University in Shanghai, said: "Graduates from this generation are facing challenges, so they shouldn't be viewed as not having experienced hard times. They will continue to face difficulties, but I believe they will make their own way because they are optimistic, determined and refuse to concede defeat."