Team China's soaring success
Share - WeChat Chinese athletes cap encouraging campaign at world championships with more medals on final weekend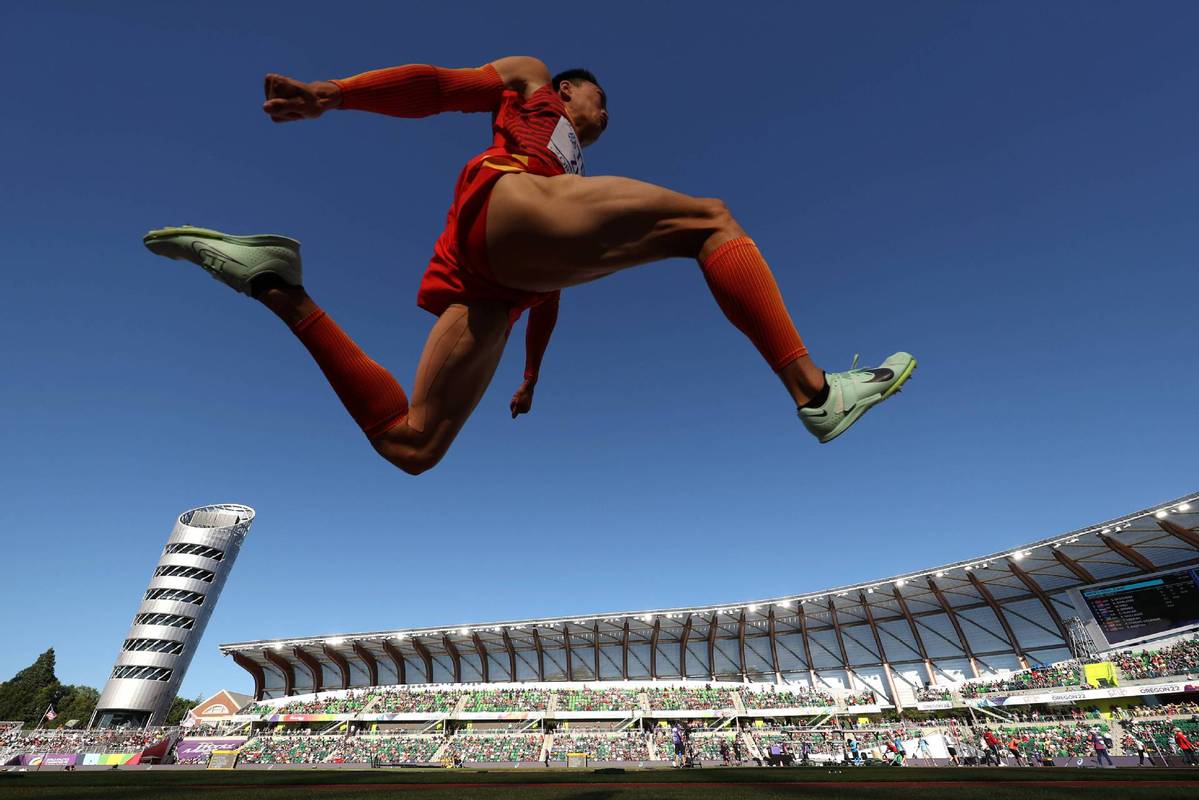 Not perfect but highly encouraging. That was the take from Team China's closing weekend at the world championships in Eugene, Oregon, where the nation added more medals to its haul and athletes banked invaluable experiences to aim higher at Paris 2024.
With an effort of 17.31 meters in his second attempt, men's triple jumper Zhu Yaming cemented his status as a gold-medal contender at the next Olympics in Paris by finishing third on Saturday. Zhu's first world championships medal was China's second from the horizontal jumping events following long jumper Wang Jianan's historic golden leap a week ago.
It was also Zhu's season-best jump, yet the 28-year-old Tokyo 2020 silver medalist reckons he is capable of jumping much further.
"A medal at the world championships is a good outcome at any time, so I am quite happy with this one. However, from the performance perspective, I am not quite satisfied," said Zhu, who produced a personal best of 17.57m to take Olympic silver in Tokyo.
"It was a bit windy today, which more or less affected my run-up. The result was below average for me. I know I could've done better. I just need to continue pushing harder," he said.
Portugal's Pedro Pichardo scored this season's world-leading 17.95m with his first attempt to win gold. Hugues Fabrice Zango of Burkina Faso finished second with 17.55m to complete the same podium lineup as Tokyo but with he and Zhu flipping positions.
Earlier in the women's 35 kilometer race walk, China's 2012 Olympic champion (20km) Qieyang Shijie doubled her Eugene medal count with a second bronze after finishing in an Asian record of 2:40:37 at the distance's world championships debut, following her third-place finish in the 20km event on July 15.
Even with no more golds on the final weekend, Team China can consider its Oregon 2022 campaign an extremely fruitful one. As well as their impressive medal haul (six in total by Saturday), the elite-level challenges faced by Chinese athletes at Hayward Field delivered a timely boost to their pandemic-affected preparations for the Paris Games in two years' time.
"I think it's quite a good start to the new Olympic cycle," said Zhu, who was making his second outdoor worlds appearance after missing the final round at the 2019 edition in Doha.
"It showed me the gap I need to bridge to the world's best and exposed some weaknesses that I need to work on harder in training," said the native of Inner Mongolia autonomous region.
"On the road to Paris 2024, we will for sure bump into more difficulties but this meet has given us confidence and hope. With two medals from horizontal jumping events, we've made history and we believe it's only the beginning," he said.
In veteran Qieyang's case, heading home with a fourth world championship bronze medal serves as motivation to come back stronger at future meets.
"I really want a gold medal that truly belongs to me," said the 31-year-old, who finished third in the 20km at the London 2012 Olympics but was officially promoted to gold in March after the top-two Russian athletes were stripped of their medals for doping violations.
"Coming to Eugene, I wanted to prove myself so much that I got carried away and messed up with the pace in my preparations," said the athlete hailing from China's Tibet autonomous region.
Although apparently not at her best, Qieyang maintained admirable discipline on her lonely journey as she raced way behind winner Kimberly Garcia of Peru and runner-up Katarzyna Zdzieblo of Poland. She never looked likely to catch the leading two or to be caught by those racing behind her on a day when cool and windless conditions favored the field of 41 that set off at 6:15 am local time.
"A bronze medal just consolidated my competitiveness in the event. I would still give myself full marks for my performance," she said.
Perhaps Team China's biggest disappointment in Eugene was reigning Olympic champion Liu Shiying's failure to reach the podium in the women's javelin on Friday. Liu's best throw of 63.25m in the fourth round was not quite enough for bronze as Japan's Haruka Kitaguchi surged past her by just two centimeters (63.27m) on her final attempt.
Australia's defending world champion Kelsey-Lee Barber overcame her back and neck issues to peak in Oregon after throwing a world-leading distance of 66.91m in the third round, while local athlete Kara Winger finished second with a final attempt of 64.05m.
Liu, who delivered China's first ever Olympic gold in the event by throwing 66.34m in Tokyo, said the Eugene defeat will only make her tougher and stronger.
"I am totally unsatisfied with my performance, which came down to fatigue and insufficient training prior to the meet," said the 28-year-old, who threw a PB of 67.29m at domestic Olympic trials in September 2020.
"It's time to go home and reflect on the positives and negatives from the experience and work harder and smarter. Nothing else."