Tech tonic
Share - WeChat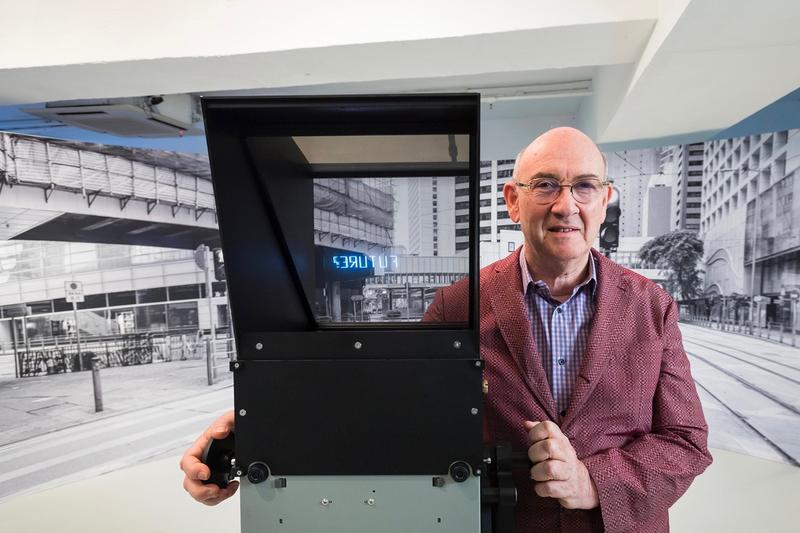 As the Hong Kong Palace Museum dishes out a plethora of new media experiences to lure newer audiences, Joyce Yip finds out about the value they're adding to the museum exhibits.
Jeffrey Shaw has given shape and form to what Emperor Qianlong (1711-99) might have dreamed of. A leading figure in the field of new media art and a chair professor at Hong Kong Baptist University's Academy of Visual Arts, Shaw has created - with fellow academic Sarah Kenderdine of cole polytechnique fdrale de Lausanne - a remarkable multimedia experience for Hong Kong Palace Museum (HKPM) visitors interested in finding out about a typical day in the life of a Chinese king.
It's a 5-meter-wide circular ceiling projection, showcasing portraits of the emperor and his Empress XiaoxianChun, cultural motifs with symbolic value, like dragon, phoenix and butterfly, plus excerpts from poems the grieving emperor wrote after the passing of his queen. Titled Dreamscape, the video is meant to be watched while lying on one's back on a circular bed, shared with fellow visitors.
The goal, says Shaw, was optimal engagement.
Throughout his 40-plus years of applying technology to make art, he has been trying to change the "passive relationship" viewers often share with exhibits. "Dreamscape is a great example because viewers lie down on the bed, look up and share their experience."
The piece is one of 53 videos, projection mapping experiences, digital exhibits and soundscapes HKPM has on offer. The focus on tech-driven projects is understandable. For a museum that aims to become "one of the windows for promoting Chinese culture and a platform to facilitate dialogue and exchange" - as per Wang Xudong, director of Beijing's Palace Museum, of which HKPM is a franchisee - extensive application of technology seems a necessity in order to appeal to a generation reared on Snapchat and Instagram.
Besides Dreamscape, HKPM's Gallery 2 features poem pods offered in surround-sound audio. In another video, Emperor Qianlong reveals his dietary preferences - beansprouts in spring and mutton in winter, apparently. Visitors can try their hand at Chinese calligraphy with a stylus resembling an oversized paintbrush; select patterns and colors to make their own digital version of imperial pottery in Gallery 3, dedicated to ceramics; and have their faces digitally superimposed onto royal portraits in Gallery 4.
More delights from the Shaw-Kenderdine collective can be enjoyed at the horse-themed exhibition in Gallery 9. Mythical horses depicted in ancient art grow digital wings and take flight on screens hung from the ceiling. Animated sketches of horses (inspired by Giuseppe Castiglione's 1755 painting Eight Horses) appear to respond to the footsteps of passing visitors. Shaw's team has also adapted images from Jean-Denis Attiret's (1702-68) picture album Ten Tribute Horses to create a lenticular procession of horses. Both Castiglione and Attiret came to China as Jesuit missionaries and were subsequently served as painters in the court of Emperor Qianlong.
Meant to "create conversations" and "a sense of engagement, interactivity, excitement and enjoyment with the physical works", Shaw-Kenderdine's interactive horses allude to Castiglione's panache in breathing life into his works.
"It's about taking the dynamism of the original work, which may be a bit invisible to some people because the work is now a historical project, and interpreting it in a new-media way that everyone can recognize," Shaw adds.