Fantastic Feng upstages favorites
Share - WeChat Veteran claims shock discus gold as Team China springs another surprise at worlds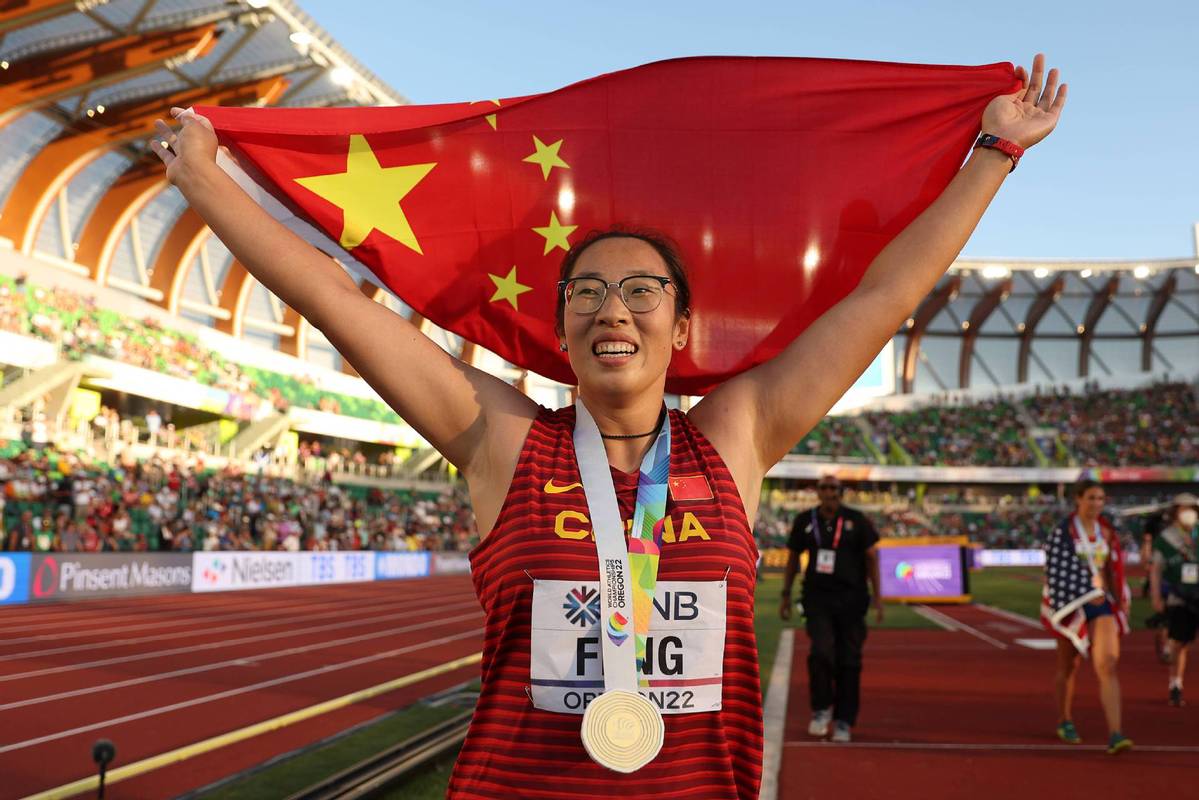 Team China sprang another surprise at the World Athletics Championships in Eugene, Oregon, on Wednesday as Feng Bin stunned the field-and herself-to claim gold in the women's discus throw.
The 28-year-old locked down victory with her first attempt-a huge personal-best effort of 69.12 meters to earn the nation its second title of the championships following Wang Jianan's shock long-jump triumph.
Feng also bettered her previous PB (66.00m) with her third throw of 66.89m.
Two-time Olympic champion Sandra Perkovic of Croatia won the silver with 68.45m while reigning Olympic champion Valarie Allman of the United States, the only woman to break the 70m mark this season, bagged the bronze with 68.30m.
"I'm so excited now! The result was also unexpected for me. Before the competition, I prepared as thoroughly as possible, and the goal I set for myself before the final was to exceed 66m. So the 69m result was also surprising for me," said Feng.
"My rivals have the ability to throw beyond 70m, so I needed to give it all I had in the first three throws to have a better chance of reaching the podium. I also have been focusing on my first three throws in training for a long time.
"I think the main factors behind the success are excellent training, great delivery in the final and a little bit of luck. I was a lot more relaxed after the first throw, and all I needed to do was to try my best in the subsequent throws."
As China's sole representative in the discus field, Feng said she was feeling the pressure despite there being little expectation of her victory back home during the buildup to the worlds.
The last time China won a world title in women's discus was at the 2011 championships in Daegu, South Korea, when Li Yanfeng topped the podium.
Feng's previous best result at the worlds was a fifth-place finish in 2019 in Doha. Having finished eighth at the 2016 Rio Olympics, Feng could only manage 17th at last year's Tokyo Games. However, she refused to quit after that setback, and her hard work over the past year paid off spectacularly on Wednesday.
"The Tokyo Olympics were a great pity for me as I also trained really hard at that time. But on the morning of the competition I had a stiff neck and I failed to make the final," said Feng, who won gold at last year's National Games.
"I was really frustrated. Since then the coaches and team leaders have massively helped and encouraged me to bounce back from that. That's how I regained my confidence and produced a great performance at the worlds.
"Our country has helped us a lot, providing a wonderful training environment. Without that, we would not be able to focus on training 100 percent like that. Chinese athletes can enjoy the most comprehensive support thanks to our great nation."
Also on Wednesday, Kenyan-born Norah Jeruto won world gold for Kazakhstan in the women's 3,000m steeplechase.
Jeruto clocked the third fastest time in history and a championship record of 8 min 53.02 sec for the steeplechase victory in Eugene, with Ethiopian Werkuha Getachew claiming silver in a national record of 8:54.61.
Another Ethiopian, Mekides Abebe, made the most of a mistake by Kenyan-born Bahraini Winfred Mutile Yavi on the final water barrier to snatch bronze (8:56.08).
Semenya struggles
While day five of the action at Hayward Field featured only two finals, South African heavyweights Caster Semenya and Wayde van Niekerk graced the track along with 400m hurdles stars Sydney McLaughlin and Dalilah Muhammad in a series of high-caliber heats and semifinals.
Semenya's first appearance in a world championships in five years saw the controversy-mired South African fail to qualify for the women's 5,000m finals.
In roasting mid-afternoon temperatures, the two-time Olympic gold medalist finished 13th in the first of two rounds in 15:46.12, more than 45 seconds off the 15th and final qualifying place.
"Cooking!" exclaimed Semenya after the race. She was forced to switch from her favored 800m (in which she is also a three-time champion) to the longer event due to gender eligibility rules that required her to take testosterone-reducing drugs to compete in races between 400m to a mile (1.6 km).
"It was hot, I could not keep up with the pace, I tried to stick as much as I could, but you know, it is part of the game.
"I think it is great to be able to run here," she added. "Just being able to finish the 5k, for me it is a blessing. I am learning and I am willing to learn even more."
Her time was far off the heat-winning 14:52.64 set by Ethiopian Gudaf Tsegay, fresh from her silver in the 1,500m.
Semenya's teammate van Niekerk qualified for the final of the men's 400m after finishing second in his semifinal in 44.75 sec.
Van Niekerk set the world record of 43.03 when winning Olympic gold in Rio, but then sustained a nasty knee injury that saw him sit out track for three years.
"It is the challenge of doing this 400m and not having as many races in my legs as I would love to have by now," he acknowledged.
"But I made it through and I felt comfortable for the majority of the race. So it is about recovering now and getting ready for the final."
Van Niekerk added: "It is a learning process in every race. I am listening to my body and executing that way.
"It has been a challenging three years and now I just want to come out and do my best. I need to be back with every step I take to be able to challenge my record."
American one-lap medal hope Michael Norman topped qualifying times for what should be an ultracompetitive final on Friday.
Elsewhere, American ace McLaughlin underscored her status as favorite to add a world gold to her Olympic 400m hurdles crown as she motored into a final showdown with US teammate and defending champion Muhammad.
"It's going to be a great race, I know that for sure," said the 22-year-old McLaughlin.
There was bad news for the US men's 4x100m relay team as newly crowned 100m champion Fred Kerley was ruled out of action.
Kerley was diagnosed with a "slight injury to his quad" in the semifinals of the 200m, from which he failed to advance.
AFP contributed to this story
shifutian@chinadaily.com.cn