Tesla Inc expected to make more vehicles in China than in US
Share - WeChat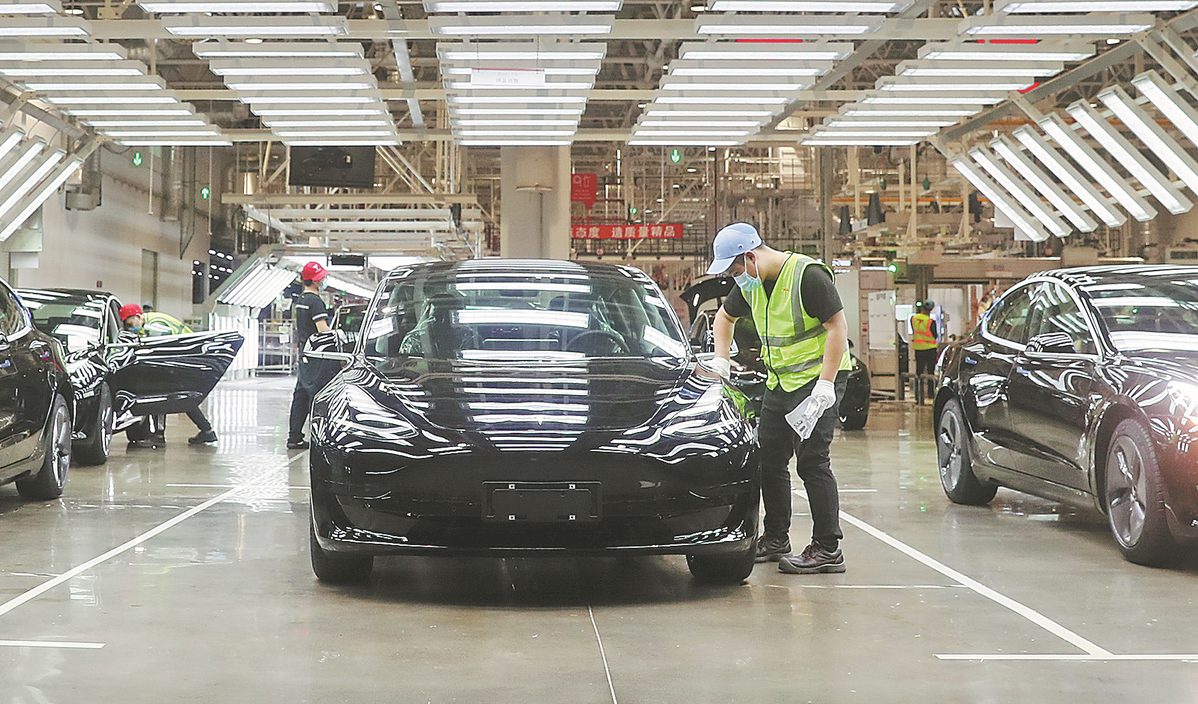 Tesla Inc is expected to produce more vehicles in China than in the United States, as its Shanghai plant has become the carmaker's largest manufacturing facility across the globe.
The Shanghai facility is now able to produce 750,000 vehicles annually, 100,000 units more than Tesla's Fremont plant in California, according to the company's second-quarter financial report released on Thursday.
They are followed by Gigafactories in Texas and Germany, each having an annual production capacity of 250,000 units.
Tesla's first-quarter report showed that as of the end of March, the Shanghai plant's annual capacity was over 450,000 units. The carmaker made the Shanghai plant a major global export hub in the middle of 2021.
In the first half of this year, the carmaker sold 294,800 Shanghai-made vehicles, including Model 3 sedans and Model Y SUVs in China, of which 97,182 were shipped overseas, according to the China Passenger Car Association.
Tesla's exports accounted for 48 percent of China's new energy vehicle exports from January to June, said the association.
Grace Tao, vice-president of Tesla, told reporters in June that the Shanghai plant is the carmaker's most important production center and export hub, calling Shanghai-made Tesla vehicles a "business card of Chinese manufacturing".
Tao said over 50 percent of Tesla's global deliveries in 2021 were made at the Shanghai plant, which is also the first wholly foreign-owned car-producing factory in the country.
Tesla vehicles are among the most popular cars in China-the world's largest market for electric cars and plug-in hybrids since 2015. Popular domestic NEV makers in China include BYD and Wuling.
"Few seem to realize that China is leading the world in renewable energy generation and electric vehicles. Whatever you may think of China, this is simply a fact," said Tesla CEO Elon Musk in a Sina Weibo post in late May.
Over 2.6 million NEVs were sold in China in the first half, and the total is expected to reach 5.5 million for the full year, said the China Association of Automobile Manufacturers.
Answering questions from investors on Thursday, Musk said Tesla is the best carmaker in China, but added he has a lot of respect for Chinese manufacturers and electric vehicle manufacturers in particular.
"They're smart and hardworking, and I think any company that's not as competitive as them will obviously suffer a market share decline," he said.
Edward Wang, managing director of syndicated research at J.D. Power China, said Chinese brands are likely to lead in this age of smart EVs.
Wang said Chinese carmakers usually have a better understanding of what local customers want and are quicker to adopt new technologies and launch new models.
"Such innovation is injecting momentum into Chinese brands in a rapid, effective and continuous way," he added.