Policies inject momentum into South China ports
Share - WeChat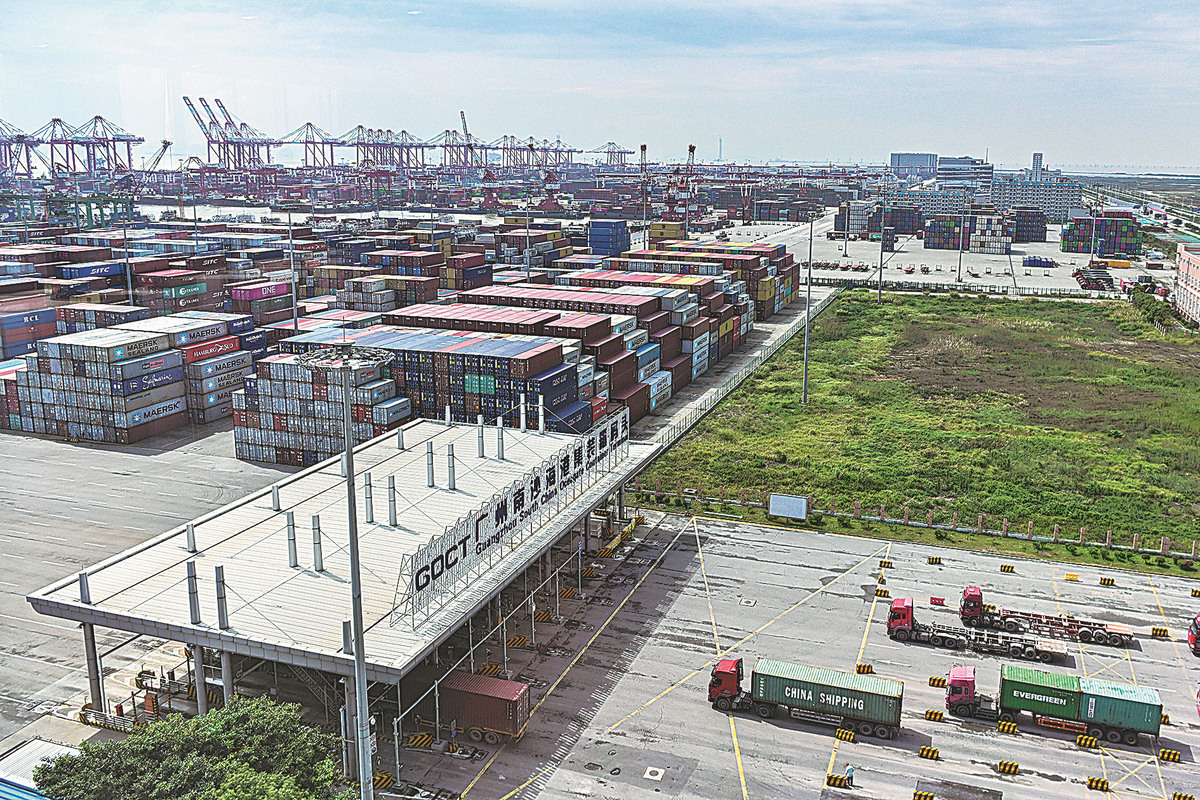 Ports in Guangdong province, a major manufacturing and trade center in South China, have witnessed an upward trend in business growth in recent months, according to data from local port operators.
"Workers have been loading and unloading goods in shifts 24 hours per day," said Chen Ziyang, deputy manager of the container terminal operation department of the third phase of Nansha Port, located in the southernmost point of Guangzhou, capital of Guangdong.
From January to May, the port's total container throughput increased 21.3 percent year-on-year, according to data from port authorities.
Although the resurgence of the COVID-19 pandemic earlier this year has posed certain problems for the port's business, the number of foreign trade ships has continuously reached peaks in recent months, said Chen.
"The number of ships bound for overseas markets is expected to reach a new high later this year," said Chen.
Favorable policies, including an overall plan to strengthen comprehensive cooperation within the Guangdong-Hong Kong-Macao Greater Bay Area by further deepening opening-up in Nansha, will help inject new momentum into the development of the port, according to Chen.
The plan, which was issued in June by the State Council, China's Cabinet, proposed to enhance the function of Nansha as an international shipping logistics hub and accelerate the construction of the fourth phase of Nansha Port.
"The port's fourth phase, which features automation in its operations, has entered the stage of normalized whole-process joint commissioning and testing, and it is expected to be put into full operation by the end of this year," he said.
After the completion of Nansha Port's fourth phase, the annual total container throughput of the port is expected to exceed 24 million twenty-foot equivalent units (TEUs), ranking as one of the world's highest for a single port area.
The container throughput of ports in Shenzhen, which neighbors Hong Kong, also climbed to a new peak in April, realizing a year-on-year increase of 15 percent to over 2.5 million TEUs.
Shenzhen's export volume decreased year-on-year by 2.6 percent in March when the city was affected in business and trade activities due to a citywide COVID-19 outbreak.
"It took only about 10 days for ships to wait for berthing after the COVID-19 pandemic eased," said Lin Min, deputy director of the operation department of China Merchants Port (South China) Operation Center.
Lin said, the port increased to its full operating capacity in early April, soon after the pandemic situation was under control in Shenzhen.
"The port's container throughput will continue to rise steadily this year," said Lin.
Shenzhen has two port areas in its western and eastern parts, with the western port area now maintaining operations 24 hours a day to reach a daily container throughput of 40,000 TEUs, Lin said.
The rebound of the ports' business has helped to facilitate the production of export-oriented enterprises in Guangdong since early this year.
Huastar Technology Development Co Ltd, based in Shantou in eastern Guangdong, for example, has adjusted its production plan to meet overseas demand for traditional toys, according to Wei Yong, the company's production manager.
"The demand for traditional toys in overseas markets has gradually warmed up since the beginning of this year-we had to adjust our production and export plans accordingly," said Wei.
Wei said, overseas customers mainly bought smart toy products in the past several years.
"Quality control has also become our top priority as more overseas customers have placed their orders for traditional plastic and acousto-optic toys," he said.
Data from local Customs indicate that toy exports from Shantou, a traditional toy and gift manufacturing and trade city, increased year-on-year by 31.5 percent to 4.96 billion yuan ($733 million) in the first five months.
Technical training services provided by local Customs have enabled the company to develop a deeper understanding of toy safety standards in various markets, helping improve its ability to deal with technical barriers in trade, according to Wei.
"We have opened technical training courses for staff at the production lines of the factories, offering services for enterprises to improve the design and quality of their products," said Lin Yonglin, head of the comprehensive business office of Customs in Chenghai district, Shantou.
Customs offices have teamed up with local government authorities to jointly build a technical service platform, providing services such as testing, product certification, technical training and consultation and quality evaluation to help toy and gift companies improve quality and avoid trade risks.
Increased exports of toys mirrored Guangdong's overall picture in foreign trade in the previous months. Data from Guangdong Customs showed that the province achieved a total foreign trade volume of 3.21 trillion yuan in the first five months, an increase of 1.9 percent year-on-year.
The province's import and export exchanges with the United States tallied year-on-year growth of 16.9 percent from January to May, while trade orders clinched with Taiwan province, and the EU logged year-on-year growth of 8.8 percent and 9.5 percent, respectively, in the first five months.
Guangdong's foreign trade with the Association of Southeast Asian Nations, Guangdong's biggest trading partner, grew 3.3 percent year-on-year and hit 505.61 billion yuan between January and May, it said.
ASEAN, the US, the EU, Hong Kong SAR and Taiwan province are traditionally the top five trading partners of Guangdong province. Guangdong's overseas trade volume represents around 22 percent of the country's total annually.
GAC Group, a leading automobile manufacturer based in Guangzhou, realized a year-on-year growth of nearly four times to ship 4,137 units of vehicles to overseas markets in June, the company's sources said.
In the first six months of this year, the company's vehicle exports grew 89 percent year-on-year to 15,535 units, it added.
The company shipped hundreds of its independently developed vehicles GAC Motor in April from Nansha Port to the Middle East, after the port opened several new overseas routes for the export of vehicles.
To better serve the shipments of China-developed vehicles, the port has so far opened six roll-on-roll-off shipping routes to Europe, South America, Southeast Asia, North and Central America and the Middle East.
In the first five months of 2022, Nansha Port helped ship about 45,000 units of vehicles, or six times compared with the same period last year, according to statistics from the Nansha Commerce Bureau.
The port has gathered more than 160 automobile upstream and downstream enterprises, forming an automobile trade industry chain integrating services of exhibition, shipping, finance and insurance, Customs declaration and testing.
Pei Xiying contributed to this story.