Automakers compete for top spot in biggest NEV market
Share - WeChat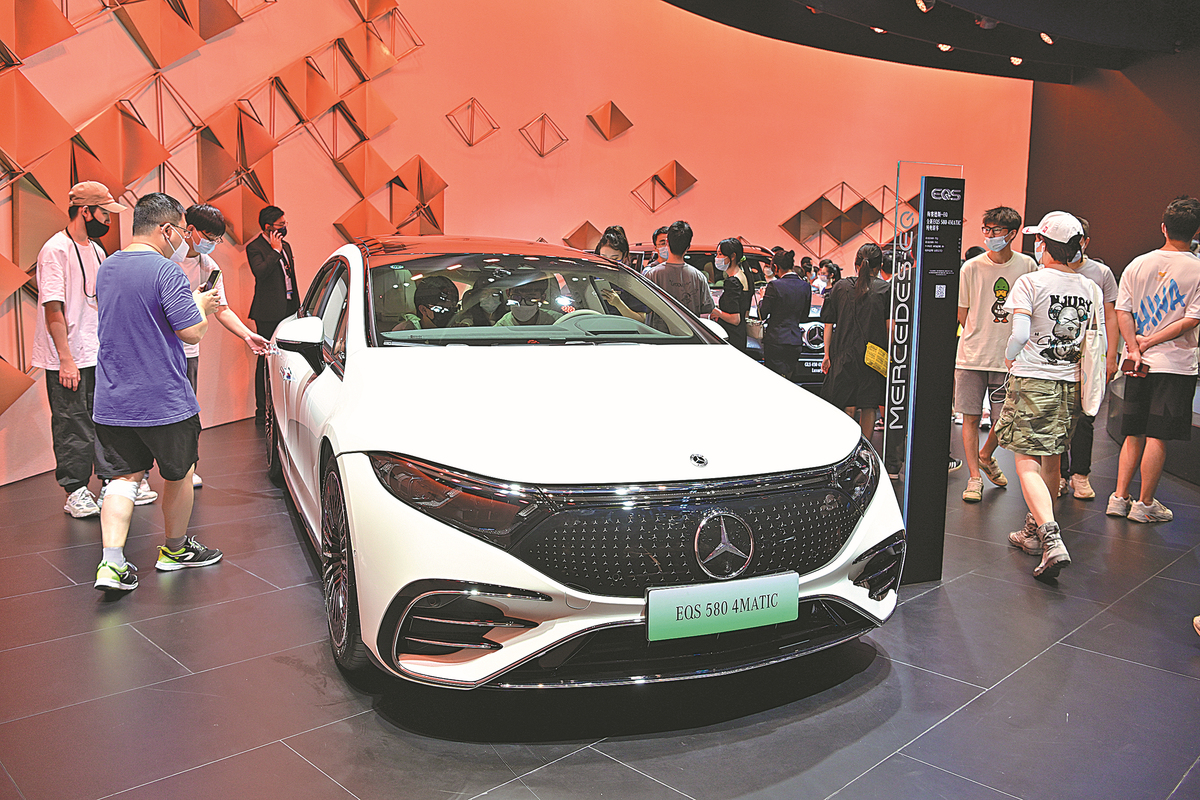 International brands targeting Chinese buyers in bid to win sales from domestic counterparts
Established premium carmakers are stepping up efforts to vie with local Chinese startups for buyers as the electric vehicle sector continues to boom in the world's largest vehicle market.
New energy vehicle sales hit a record in June, with 596,000 units sold, up 132 percent year-on-year, according to statistics from the China Association of Automobile Manufacturers.
The association estimates that sales for this year could reach 5.5 million in China, up from 3.5 million in 2021.
In the premium segment, NEV sales in June accounted for 27.5 percent of total vehicle deliveries, according to the China Passenger Car Association.
But this was still much lower than among Chinese brands, where the figure was 45 percent in the same month.
The potential of the segment has triggered ongoing competition, mainly between conventional international giants and local startups including Nio, which has positioned itself to rival BMW and Mercedes-Benz.
BMW said sales of its electric models in China in the first half of the year soared 74.6 percent from the same period of 2021.
It did not give the specific EV sales figure in China. Globally, BMW's EV sales more than doubled to 75,891 units from January to June.
In comparison, Chinese startup Xpeng delivered 68,983 units in the first half in China alone and Nio, whose production was temporarily halted due to COVID-19, sold 50,827 units.
Edward Wang, managing director of syndicated research at J.D.Power China, said Chinese brands are expected to lead in this age of smart EVs.
He explained that Chinese carmakers have a better understanding of what local customers want and are quicker to adopt new technologies and launch new models.
"Such innovation is injecting momentum into Chinese brands in a rapid, effective and continuous way," said Wang.
BMW is enriching its lineup of EV models to win customers back. By the end of this year, there will be five electric models for Chinese customers and the figure will rise to 13 by 2023.
"We are stepping up our e-mobility efforts, aiming for more than a quarter of our sales in China to be all-electric by 2025," said Jochen Goller, president and CEO of BMW China.
BMW has started production of its electric i3 sedan at its Lydia plant, which opened in June in Shenyang, Liaoning province.
The German carmaker said the mid-sized sport sedan was designed exclusively for the Chinese market, the largest worldwide for the carmaker.
"The expansion of our production footprint in China shows we are preparing for further growth in the world's largest electric car market and are confident in China's long-term prospects."
"With BMW's expanded and upgraded production base in Shenyang, we are now fully prepared to serve the growing market demand for e-mobility in China," Goller said.
Mercedes is stepping up its electrification efforts in the country as well. It said the EQ series saw their sales in the second quarter grow 28 percent from the first quarter, without giving the sales figures.
It now has electric models including the EQA, the EQB and the EQC SUVs. Mercedes said the China-made EQE sedan has rolled off the assembly line at its Shunyi plant in Beijing and will be launched later this year.
Another electric model, the seven-seat EQS SUV will be unveiled in China within months, it said.
Mercedes said it is launching 21 models in China this year, of which eight are NEVs.
Audi kicked off construction of its first EV-only plant in Changchun in Jilin province in late June.
The plant is set to be completed by the end of 2024. It is designed to produce more than 150,000 vehicles a year based on the PPE platform that Audi has developed with Porsche, another premium brand of Volkswagen.
"We are bringing the Premium Platform Electric-in short: PPE-to China. This means, electric Audi models, from China for China," said Markus Duesmann, chairman of Audi's board of management.
The first models expected to roll off the assembly line include the A6 e-tron sedan and the Q6 e-tron SUV, said Duesmann, who is also responsible for the carmaker's China business.
The plant is owned by Audi's joint venture with China FAW Group. Called Audi FAW NEV Company, it is the first Chinese joint venture in which Audi holds a majority stake.
Audi said it is investing around 2.6 billion euros ($2.72 billion) in the overall project, including the creation of the joint venture and construction of the manufacturing facility.
"Audi has a clear roadmap for the electric future. And the Audi FAW NEV Company is an important part of our strategy for China," said Duesmann.
Audi said it will offer five China-made electric models in the Chinese market by 2025. The carmaker estimated that NEVs will account for more than half the total premium vehicle sales in China by 2030.