Robot 'surgeon' saves lives, wins acclaim abroad
Share - WeChat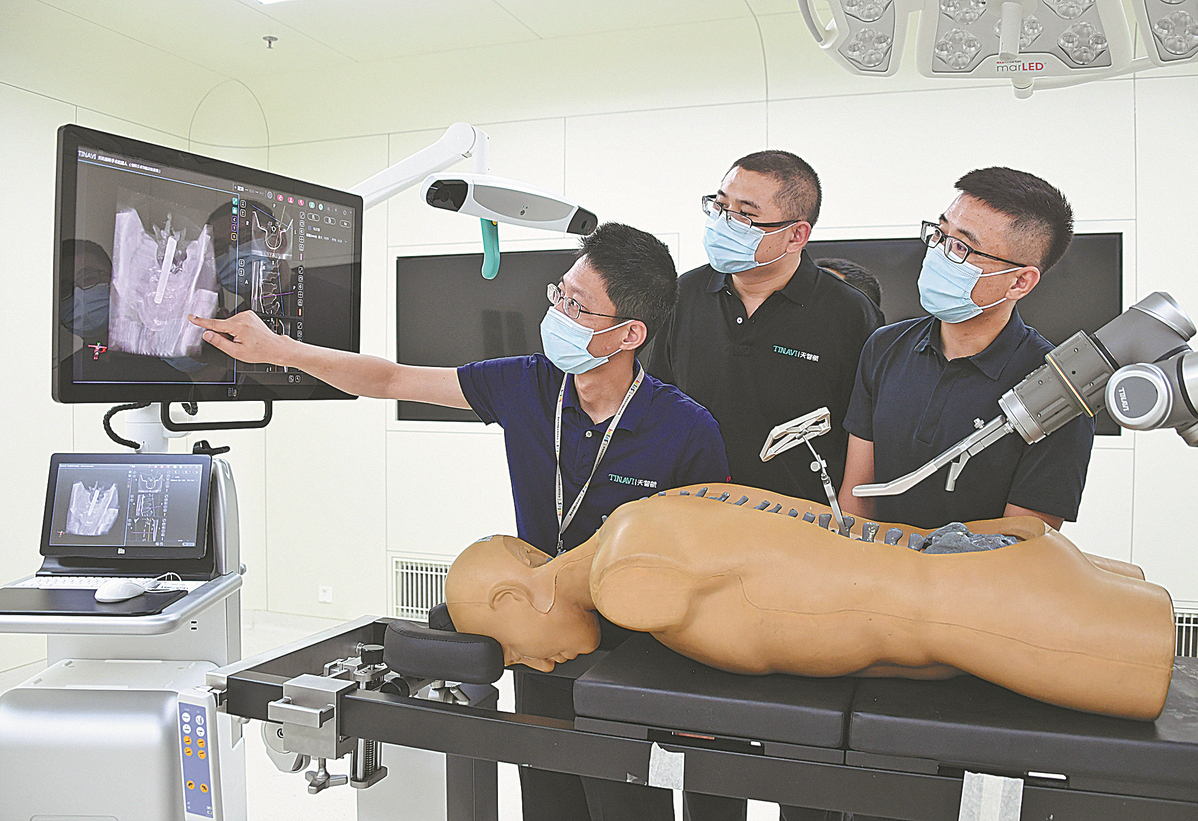 Surgeon Tian Wei said in 2015, he was faced with one of the most challenging orthopedic surgeries he had seen in his 30-year career.
A 43-year-old patient had complained of progressive numbness in the limbs on his right side for 14 months. The cause was a deformity in an upper cervical vertebra.
The patient was in dire need of surgery to implant a screw to help support the vertebrae in his neck, but the operation was risky. Any minor mistake could lead to paralysis or life-threatening hemorrhaging. Many hospitals were unwilling to treat him.
But Tian, who was then president of Beijing Jishuitan Hospital, decided to do the surgery-with a little help from another "surgeon".
The operation was completed in an hour with help from a surgery robot with a 3D high-definition visual system that can "see" the internal orthopedic structure and a mechanical "hand" that can guide surgical tools to the proper location with an accuracy of within 1 millimeter.
"That was the world's first robot-assisted surgery on the upper cervical vertebrae," Tian said, describing the 2015 clinical trial. "The homegrown robot is more precise than foreign products."
The robot was developed by Tinavi Medical Technologies Co Ltd, a Chinese pioneer in medical robots, in partnership with Jishuitan Hospital. Since then, the Beijing-based company has launched new generations of orthopedic surgical robots, managed a product that could be massively produced and brought China's first homegrown orthopedic surgical robot to the market. By the end of last year, the company's robots had been used in more than 20,000 orthopedic surgeries in China.
China has an average of 20 million bone injury cases annually, with almost four out of five requiring surgical treatment, according to an article published by the renowned medical science journal Nature in 2020. These injuries usually involve complicated structures deep inside the body.
Traditional bone surgeries typically demand a high degree of steady surgical experience, as well as force control and a clear view of the injuries. In such cases, the need for deep incisions and exposure to multiple X-rays may elevate medical risks. Tinavi said its robots aim to apply minimally invasive orthopedic solutions to these difficulties.
Tian, who is now an academician at the Chinese Academy of Sciences, said it is notable that midsized hospitals in China are more eager to buy orthopedic surgery robots than large hospitals.
"In the past, midsized hospitals did not dare to perform operations that were very sophisticated, and they would recommend patients transfer to large hospitals. But now, surgical robots are able to provide a great deal of assistance in carrying out such surgeries," Tian said.
In December, Tinavi's TiRobot II, a robotics-guided orthopedic surgical system, obtained a Canadian Standards Association (CSA) certificate, which the company said made it the first orthopedic surgical robot from China with technology qualified for entry into the North American market.
The CSA is a not-for-profit membership-based association based in Toronto. It develops consensus standards to help protect the health and safety of Canadians and is also recognized around the world.
The robotics-guided orthopedic surgical system is applied in trauma surgery on the cervical spine, thorax, lumbar area, sacrum, pelvis and limbs. It was certified in accordance with the latest industrial standards, including product safety regulations, medical software, availability and specialized standard of robot performance, the company said.
"The surgical robot's complexity is an aggregation of many modern high-tech elements," said Ge Yanqing, vice-president of the Canadian Standards Association Group. "The surgical robot is more technologically sophisticated and precise, with higher added value, than other robots. In China, surgical robots have been applied to orthopedics, neurosurgery, cardiac surgery, gynecology and other operations."
Xu Jin, CEO of Tinavi, said it is well known that medical standards and requirements in North America are among the strictest in the world. "Therefore, the CSA Group certificate is a recognition of the company's techniques and quality, and may pave the way for Tinavi to obtain necessary approvals to enter the international market," Xu said.
Huang Junhui, secretary of the board of directors at Tinavi, said the CSA certification is equivalent to a prerequisite for submitting an application to the United States Food and Drug Administration.
"The CSA is a certification body recognized by the FDA. After this certification, we have the qualifications to apply to the FDA."
Tinavi, founded in 2006, holds over 100 patents, the company said. It was listed on the Science and Technology Innovation Board of the Shanghai Stock Exchange in July 2020 and became the first listed medical robot enterprise in China, raising about 448 million yuan ($66.5 million).
This year, a new integrated surgical treatment called Viper Prime&TiRobot was launched on the market. This new product was jointly developed by US healthcare giant Johnson & Johnson and Tinavi, and it has integrated TiRobot and Viper Prime, an advanced, minimally invasive implant system of Johnson& Johnson. The companies said it provides surgeons with efficient and intelligent services and will benefit more patients with spinal problems.
The move marked the latest step in cooperation between Johnson &Johnson and Tinavi. In October 2019, the two sides signed an agreement on business and research cooperation.