Company breaks foreign brands' dominance
Share - WeChat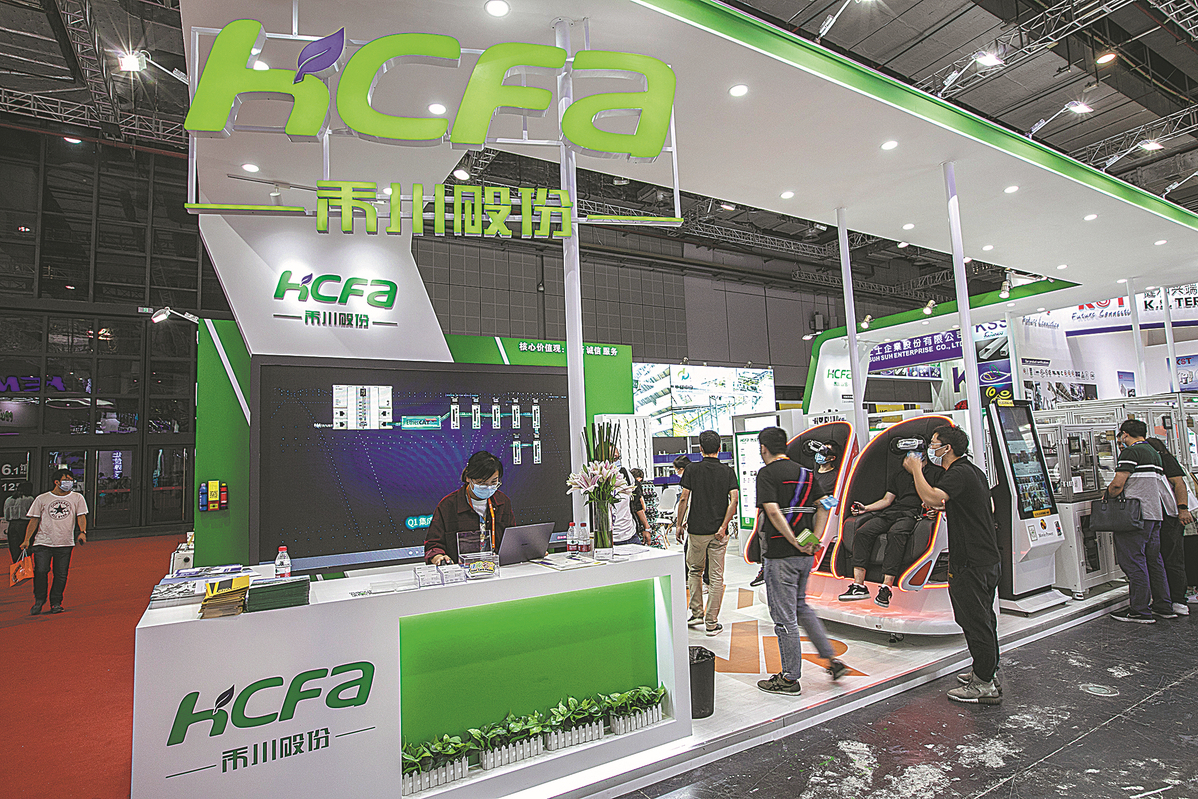 Servo system provider Hechuan Technology, based in rural county, advances to forefront of field, aims for world-class quality
Editor's note: China aims to nurture 10,000"little giants" from 2021 to 2025 amid an ambitious plan to trigger the vitality of small and medium-sized enterprises in its sprawling industrial economy. "Little giants" typically specialize in niche sectors, command high market shares and boast strong innovative capacity. To be termed a "little giant", a Chinese firm must see a minimum 5 percent year-on-year average growth rate of its main business income or net profit in the past two years. More importantly, it must have two valid invention patents or other similar proof of its innovation capabilities, and at least 3 percent of its top line must be dedicated to R&D, among other financial and operational criteria. China Daily explores how they help the world's second largest economy stabilize its industrial and supply chains, navigate headwinds from the COVID-19 pandemic and achieve breakthroughs in technology bottlenecks.
"Did we get cheated?" That was the thought that private equity company official Chen Ze said went through his head when he first visited the headquarters of a high-tech company his employer planned to invest in.
The offices of Zhejiang Hechuan Technology Co are located in a small, rural county in Quzhou, Zhejiang province, which Chen, managing director of Fortune Capital, said seemed like an improbable location.
Chen and his team had taken high-speed trains and taxis before setting out on foot along country roads.
"Does the company have crucial technologies developed by itself, or is it just producing products based on foreign patents?" Chen said he asked himself amidst the pastoral scenery.
But after extensive talks with Hechuan's management team, Chen said he understood the core competence and technological prowess of the company, a pioneering Chinese firm focusing on industrial automation products and services.
Hechuan, founded in 2011, was among the first domestic companies that broke the dominance of foreign brands in the Chinese servo system market.
Servo systems are self-contained devices that use electronics and gears to transmit precise motion control for many uses. They have become crucial high-end components in advanced manufacturing and industrial automation control.
At the heart of precise and flexible manufacturing, they are widely used in sectors such as semiconductors, consumer electronics, photovoltaics and medical devices. For a long time, China had to rely on imports to meet its growing demand for servo systems until domestic brands such as Hechuan made breakthroughs in homegrown technologies.
Hechuan had become the No 2 Chinese maker of servo systems, and China's top industry regulator has classified it as a "little giant".Companies classified as such are smaller, often startups, with special products and know-how in important sectors. Its customers include big names such as Foxconn Industrial Internet Co Ltd, battery giant Contemporary Amperex Technology Co Ltd, logistics heavyweight SF Express and carmaker BYD.
In April, Hechuan made its debut on the Shanghai Stock Exchange's Science and Technology Innovation Board, also known as the STAR Market, raising 893 million yuan ($132.5 million) to finance its digital manufacturing plant and research institute.
"We are a company with a big dream," said Wang Xiangbin, chairman of Hechuan. "We want to be a one-package solutions provider in industrial automation, which can outrival big international brands."
According to Wang, Hechuan's servo system products have already approached or exceeded the level of foreign companies that are in the first echelon of the technology.
"If you compare industrial machines to people, the motors of the servo system are equivalent to the joints of people. The encoders allow the joints to perform precise movements, and Hechuan's proprietary encoders can control the servo system to the precision of 0.036 degrees, which means that they can meet the requirements of more than 90 percent of industrial application scenarios," Wang said.
Encoders are sensors that essentially provide feedback to help control a motor's speed and position.
Hechuan's progress in the field has lured customers from foreign rivals and helped establish its reputation in the industry. Now, it accounts for 3 percent of the Chinese servo systems market. Though still behind Japanese companies such as Yaskawa, Mitsubishi and Panasonic in market share, Hechuan is growing rapidly thanks to surging demand from sectors such as the lithium battery and photovoltaic industries.
"We hope one day our market share in China will reach 15 percent," Wang said, adding that the company has been investing 10 to 15 percent of its annual sales revenue in research and development since its first year.