China lose to Serbia in men's FIVB Volleyball Nations League
Share - WeChat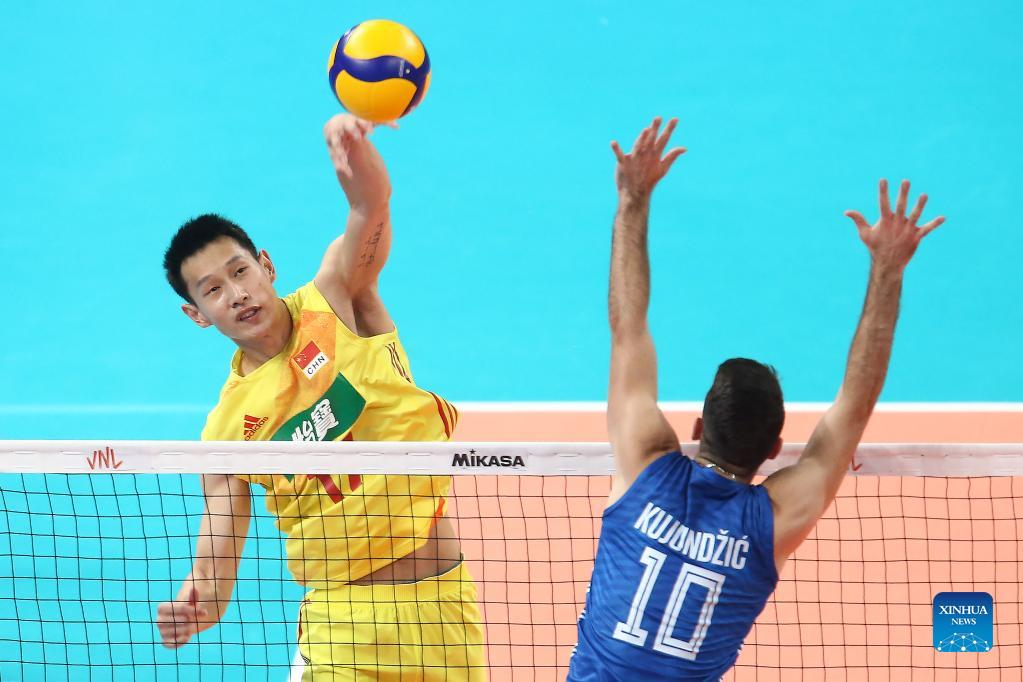 GDANSK, Poland -- China men's volleyball team lost to Serbia 25-17, 25-17, 23-25, 25-22 in the FIVB Volleyball Nations League in Gdansk, Poland on Sunday.
China wanted to continue the positive momentum after beating Bulgaria on Saturday, but Bozidar Vucicevic was unstoppable, scoring a match-best 18 points. Zhan Binglong and Li Yongzhen scored 11 points each for China.
Wu Sheng's players made 40 unforced errors, while Serbia made 16 fewer which turned out to be crucial in Sunday's game.
Led by Igor Kolakovic, Serbia made a perfect start to take a four-point advantage at the first technical break before the 2019 European champions kept the distance to win the first set 25-17.
The second set was also under Serbia's control thanks to Pavle Peric and Mirak Kunundzic's strikes. After a confident victory of 25-17, the Serbian players were just one step from closing the match.
However, China fought until the end. In the third set, Zhang Binglong showed great quality as he scored seven points with a 77.78 percent efficiency. His efforts allowed Wu Sheng's players to move the game into the fourth set after winning the third 25-23.
The initial stage of the fourth set was very tight as none of the team could build a strong advantage. Then the Chinese players were on the best way to level the game, leading 20-18, but Serbia scored three points in a row before handling the pressure to win 25-23.
China finished the preliminary phase of the tournament in the 13th position with three victories, beatin Brazil, Germany and Bulgaria.
Also on Sunday, Italy prevailed over the Netherlands in three straight sets, 25-23, 26-24, 25-21. Daniele Lavia scored 15 points for the winners, while Alessandro Michieletto added 14.
Poland crushed Slovenia 3-0 to take revenge for the defeat at the Tokyo Olympics. The second-placed hosts advanced into the next round with 10 victories.
The final tournament will be played from July 20 to 24 in Bologna, Italy.
Most Popular
Highlights
What's Hot