Splendid culture of silk weaving in Nanchong amazes Silk Road youths
Share - WeChat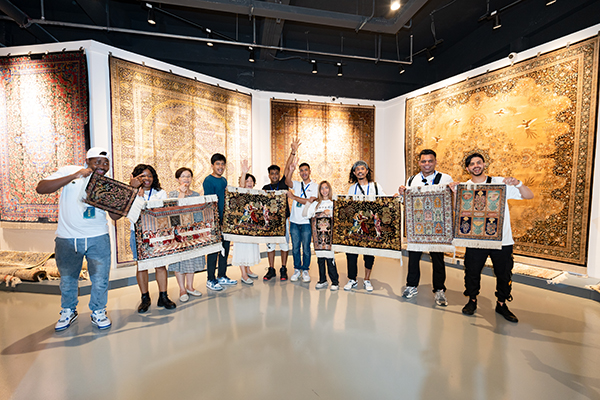 "12 million knots! And it takes the weavers 3 years to make one carpet. Unbelievable!" said Deng Yilin, an international student from Chengdu Sport University, who was amazed by a beautiful silk carpet in the Langzhong Silk Carpet Weaving Skills Exhibition Center during the "Belt and Road · In Love with the Capital of Silk - the Study Tour of Silk Road Youths Exploring Nanchong City" activity on the afternoon of July 6. The Malaysian girl was curious about the knowledge of weaving from a thread to a silk carpet.
On the same day, in the "museum" of silk carpets with patterns of Chinese and Western cultural themes, such as natural scenery, folk stories and legends, utensils, flowers, birds, fish, insects, grotto sculptures, buildings, bricks and tiles, the Silk Road youths touched the soft silk carpets to feel the delicate workmanship.
Ruan Jinyu, a Nigerian student from Sichuan Normal University, marveled at the exquisite and unique craftsmanship of Langzhong silk carpet, saying, "I like this hand-woven silk carpet very much. I've had a deeper understanding of the long-lasting silk culture of Nanchong, the capital of silk, through the silk carpet weaving skills. I will recommend the wonderful Chinese culture to my friends."