Key to mesopotamia
Share - WeChat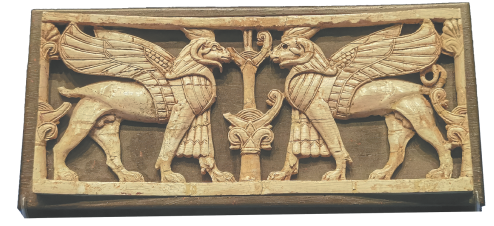 A relief portraying Sphinx from the 9th century BC, found in Syria, is among the highlights in Encounter Mesopotamia: An Exhibition of Antiquities From Ancient Syria, in Beijing. WANG KAIHAO/CHINA DAILY
Artifacts from ancient Syria on display in Beijing offer visitors a tantalizing glimpse of the remarkable civilization, Wang Kaihao reports.
A 6,000-year-old clay wine vessel shaped like a hedgehog; a baker's mold that goes back four millennia; tablets inscribed using the logo-syllabic cuneiform script; or figurines that make a sartorial style statement. Take your pick to travel back in time.
An exhibition of 200 exquisite cultural relics from Syria, which officially opened to the public in Beijing in late June, spans eras and offers visitors a fascinating insight into the Mesopotamian civilization.
On loan from nine museums in Syria and on display at the National Library of China, these artifacts have weathered battles and wars, witnessed the rise and fall of empires, and withstood more than just one pandemic to inspire generations of history and archaeology enthusiasts.
Titled Encounter Mesopotamia: An Exhibition of Antiquities From Ancient Syria, the presentation is being co-organized by the national library and the Art Exhibitions China, which is a national-level institution in charge of cross-border display of cultural relics.