Title-chasing Tang ready to back up tough talk
Share - WeChat Chinese challenger confident of dethroning champ and making history
Never one to mince his words, Tang Kai has vowed to retire ONE Championship's featherweight king Thanh Le and become China's first men's world champion with a major MMA promotion.
With his confidence boosted by a nine-bout winning streak that includes seven knockouts, Tang was typically forthright when asked about challenging world champ Le.
"He's too old. It's about time for him to hang up his gloves. My goal is to knock him out, send him into retirement and keep the belt for as long as I can," Tang, a 26-year-old from Hunan province, said after a virtual news conference last week to announce the fight.
"I've been looking forward to this fight for a long time. I even dreamed about fighting him before I'd earned the title shot," added Tang, who knocked out South Korea's Kim Jaewoong in March to become the No 1 contender in the division.
"I have nothing but the utmost respect for Thanh Le. But I will become the first Chinese man ever to wear an MMA world champion belt after the fight."
Despite his self-assuredness, Tang, who owns a 14-2 career win-loss record, knows he faces a tough assignment when he takes on Le in the main event at ONE 160 on Aug 26 at Singapore Indoor Stadium.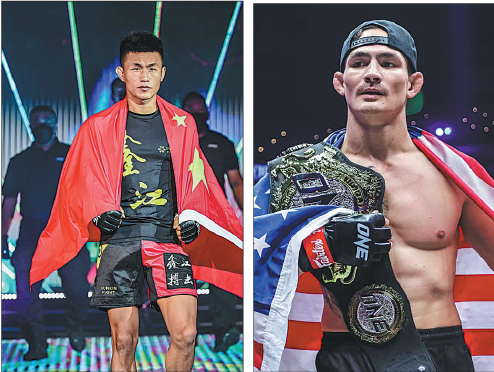 Should he beat Le, who wrested the division's belt from Martin Nguyen via a third-round stoppage in October 2020, Tang should be expected to join compatriots Xiong Jingnan and Zhang Weili in spearheading MMA's expansion in China.
Xiong is the ONE Championship's reigning women's strawweight champ, while Zhang is a major star and former strawweight titleholder with the Las Vegas-based Ultimate Fighting Championship.
Known as a knockout artist in the ring, Le promised to teach Tang that he's champion of the division for a reason.
"Tang Kai got good skills, and he is quick and powerful. I don't think we are going to go to a decision," said the Vietnamese-American, who turns 37 on Aug 28.
"I will take him to the deep water and take him late to the fourth or fifth round. I want him to feel the championship, I want him to feel that he doesn't belong there for five rounds with the champ… I am ready to go in there and finish him."
Since making his ONE Championship debut in May 2019, Le has proven to be a formidable force.
The Louisiana resident is on a five-fight winning streak, holds a 13-2 record, and owns a 100 percent finishing rate with 12 KOs and one submission.
In his most recent appearance at ONE: Lights Out in March, Le knocked out grappling specialist Garry Tonon in just 56 seconds to retain his featherweight title, showcasing recent improvements in his own grappling skills.
Rather ominously for his rivals, Le leveled up his skillset on June 11 when he was awarded a Brazilian Jiujitsu black belt.
With an ambitious, hungry and young challenger in Tang coming his way, Le expects to prove that he only gets better with age.
"What do you lose with age? Speed? I still got a little speed left in the back. Power? Still got that. Except I got a lot more up here," Le said, pointing to his head during the virtual news conference.
"We've had a long time developing things in our career and a lot of that is up here."
Born in Shaoyang, Hunan province, Tang signed up for wrestling training at a provincial sports school in 2008, dreaming of becoming an Olympian after being inspired by the Beijing Summer Games.
Yet the long odds of him making it to the national program forced a rethink, and when the more glamorous world of mixed martial arts caught his attention, he soon embarked on a new path.
Tang then moved to Shanghai to train full-time in MMA at the Dragon Warrior Gym under coach Alex Niu and Brazilian Jiujitsu trainer Marcio Andrade, fighting his way to prominence with domestic promotions thanks to his potent striking, clinical takedowns and ground-and-pound skills.
After putting together eight stoppage victories, Tang was rewarded with a contract from ONE Championship in January 2019 to kick off his climb up the major pro ranks.
He is currently preparing for the title fight at Tiger Muay Thai in Phuket, Thailand.
Underlined by Tang's rise, the untapped potential of Chinese MMA has convinced ONE Championship that China deserves a more prominent place on the world stage.
"China is the birthplace of martial arts and it should play a big role in ONE, given that we're an Asian-based promotion," Chatri Sityodtong, chairman and CEO of the Singapore-based promotion, said earlier this year.
"I think Chinese athletes have the talent and potential to be world champions and they are very close. I'm very confident that, with the culture and history of martial arts in China, the future is very bright."
sunxiaochen@chinadaily.com.cn