Market entities reach 159 million by May-end
Share - WeChat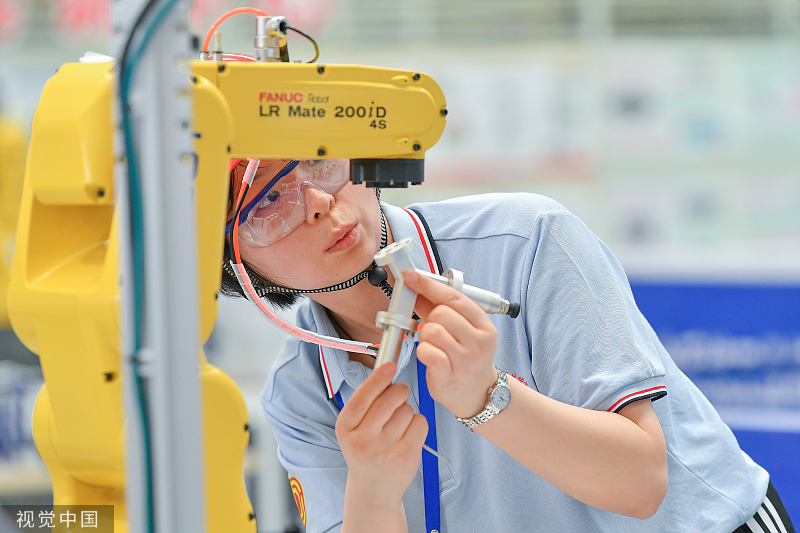 Market entities reach 159 million by May-end
The number of market entities registered in China stood at 159 million by the end of May, said the country's top market regulator. The number was 3.6 percent higher compared to the end of 2021, said the State Administration for Market Regulation. The administration has launched a campaign to help micro, small and medium-sized enterprises and individual businesses reduce costs and raise the quality of their products and services, said the SAMR. The campaign has so far covered over 18,000 enterprises, over 90 percent of which were micro, small and medium-sized firms.
PBOC adds liquidity via reverse repos
China's central bank on Friday conducted 10 billion yuan ($1.5 billion)of reverse repos to maintain liquidity in the banking system. The interest rate for the seven-day reverse repos was set at 2.1 percent, according to the People's Bank of China. The move aims to keep stable liquidity in the banking system, the central bank said. A reverse repo is a process in which the central bank purchases securities from commercial banks through bidding, with an agreement to sell them back in the future.
Revenue of mobile gaming industry down
Chinese mobile game developers saw their sales revenue drop 10.85 percent year-on-year in May to 16.6 billion yuan ($2.48 billion), according to a recent industry report. The revenue was also 2.15 percent lower than in April, according to the report released by CNG, a research institute on the gaming industry. The decline in the mobile gaming sector has caused the gaming industry to shrink. Total sales revenue of the entire gaming industry decreased to 22.92 billion yuan last month, down 6.74 percent year-on-year, the report stated. Overseas sales revenue of China-developed games stood at $1.45 billion in May, down by 5.8 percent from the previous month.
International goods trade reports surplus
China reported a surplus in its international goods trade in May, data from the State Administration of Foreign Exchange showed. Trade in goods exports came in at 1.87 trillion yuan ($278 billion) in May, and imports at 1.46 trillion yuan, resulting in a surplus of 402.2 billion yuan. Trade in services saw a deficit of 50.8 billion yuan, with the sector's exports and imports standing at 188 billion yuan and 238.8 billion yuan, respectively. China's international goods and services trade combined increased by 14 percent year-on-year to 3.76 trillion yuan in May, data showed.
First vehicle rolls off BYD's Hefei plant
The first vehicle rolled off the assembly line of the leading Chinese auto manufacturer BYD's brand-new plant in Hefei, capital of East China's Anhui province, on Thursday. In July 2021, BYD and Hefei reached a cooperation agreement involving the new project, and in less than a year, the company manufactured its first vehicle in the new plant at a record speed, according to local authorities. The total investment of the project in the first phase was 15 billion yuan ($2.24 billion). After the project is fully operational, its annual output value is expected to exceed 50 billion yuan.