3x3 hoopsters battle to World Cup bronze
Share - WeChat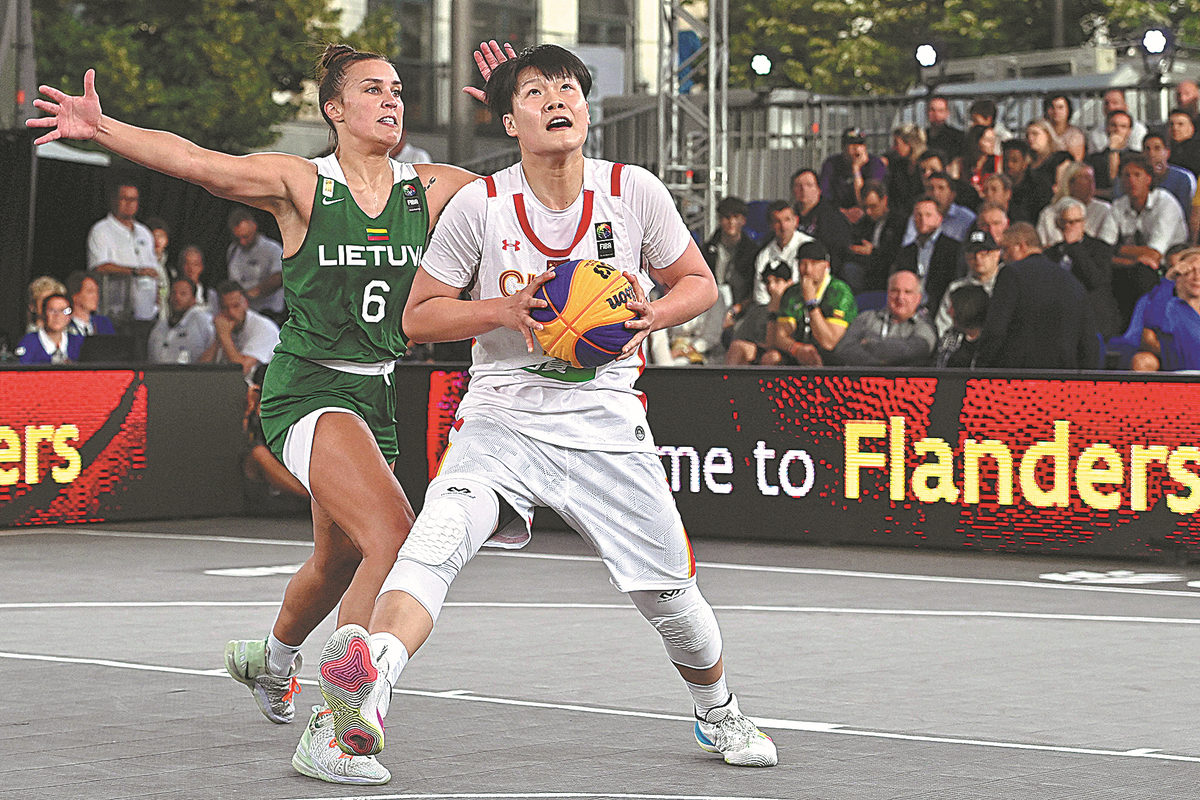 China's 3x3 women's basketball team kicked off the new Olympic cycle with a second straight podium finish at the World Cup over the weekend.
As the tournament's defending champion, the team proved it remains in the top echelon of the half-court game on Sunday after overwhelming Lithuania 21-11 in the third-place final to claim World Cup bronze in Antwerp, Belgium.
It was Team China's third straight medal at a major international event following its golden campaign at the 2019 World Cup and a third-place finish at 3x3's Olympic debut at last year's Tokyo Games.
Although narrowly missing a shot to defend its gold after a 17-16 defeat to France in the semifinals, Team China head coach Xu Jiamin took pride in her players' efforts to pull off another medal run against long odds.
"This is the best we could do without solid preparations due to the COVID-19 pandemic, so we're satisfied with the result," said Xu, the mastermind behind China's 3x3 national program.
"Obviously, we are not at our best with the change on our roster and very limited time and opportunity for high-quality training programs.
"Yet we still pulled it off. It will certainly inspire us to work on the weaknesses this tournament has exposed so we can come back stronger at the next international event."
With Yang Shuyu, China's star guard at Tokyo 2020, called up by the national five-a-side team in February, Xu had to rely heavily on the remaining three players from the Tokyo 2020 roster-guard Wang Lili, forward Wan Jiyuan and center Zhang Zhiting-in Belgium. Yang's replacement, Cao Junwei, was apparently not ready to adapt to the pace of the half-court game.
Due to strict pandemic-control policies at home, Xu's players had to train behind-closed-doors in Sichuan province for over a month prior to the World Cup, missing international warm-ups while the rest of their tournament rivals were flexing their muscles on FIBA's pro circuits.
Xu, though, has remained upbeat, urging everyone involved in the national program to wipe the slate clean and start from scratch.
"Once you reach the top, the expectation will naturally go higher. We had high hopes of ourselves as well," said Xu.
"It's time for us to leave all the previous results behind entering the first year of the Paris Olympic cycle. We should focus 100 percent on how we practice and compete for the future, rather than handling the pressure of trying to live up to the expectations from our past."
Drawn in Group A in Belgium, Team China overpowered three European opponents with size and height led by center Zhang. However, in its only defeat of the group stage, China failed to live with the speed and sharpness of Japan, underlined by a 17-14 loss to its fast-transitioning Asian neighbor.
Without adequate physical conditioning due to its rushed preparations, Team China found it hard to stay fresh playing two games a day in the knockout phase, resulting in the semifinal loss to eventual winner France, whom China beat in last year's Tokyo bronze-medal final.
"They had a stronger start than us and outlasted us with a faster pace," said Zhang, a 1.95-meter-center, who combined for 42 points in seven games to rank third on the scoring chart in Belgium.
"We learned our lesson-that we need to start stronger and quicker in the future and take care of the details as much as we can," added Zhang, the backbone of the 3x3 national program since Team China's 2018 Asian Games victory.
Inspired by street hoops, 3x3 basketball is often played on an outdoor half court at iconic urban locations, with the fast-paced action usually accompanied by booming urban music soundtracks.
The game features a 12-second shot clock, half the time used in regular FIBA competitions. Shots made outside the traditional 3-point line earn two points, and those inside count for one point. Teams switch from defense to offense straightaway after scores or after clearing the ball to outside the arc following a rebound.
First played internationally at the 2010 Youth Olympics in Singapore, the 3x3 format has developed its own city-based world tour under FIBA's supervision.
In a country where 300 million people regularly hoop as a hobby, according to a Chinese Basketball Association report, the 3x3 game has flourished thanks to its accessibility and relatively cheaper costs for equipment and facilities.
As a trial for developing a serious 3x3 domestic league of its own, the WCBA introduced a half-court tournament during its 2020-21 campaign, with all 18 clubs required to play 3x3 games the day after their regular-season five-a-side games.
Having already made history by delivering China's first Olympic medal from basketball in 29 years, Xu expects her team to keep helping the game grow in popularity.
"Every time we step on the court representing our country, we always fight for the best outcome to inspire greater interest in the sport and get more attention from more fans," said Xu.
"Hopefully, we can keep putting on excellent performances to keep the momentum going."
The 3x3 team's bronze was China's first Olympic medal in basketball since the five-a-side women's squad won silver at the 1992 Barcelona Games.