Teenager Pan powers to prominence
Share - WeChat Unexpected fourth-place finish in 100m freestyle indicates bright future for China's men's program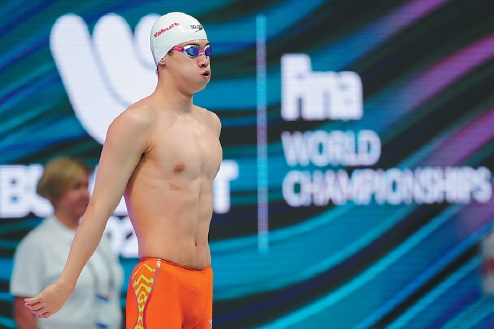 In a mixed day for Team China at the FINA World Championships, the standout performance of teenager Pan Zhanle delivered a major boost for the nation's men's pool program.
After the euphoria of bagging two titles on Tuesday, China's gold rush halted on Wednesday, with Olympic champion butterfly star Zhang Yufei and the world-record-holding 4x200m freestyle relay team falling short of expectations in the Hungarian capital.
However, Pan's unexpected fourth-place finish in the 100m freestyle final was exceptional on a number of levels.
The second-youngest swimmer in the final, Pan maintained his blistering form from the semifinals to clock 47.79 seconds and touch in fourth, missing out on the bronze to Joshua Liendo Edwards of Canada by a mere eight-hundredths of a second. Hot favorite David Popovici of Romania won the high-profile sprint gold in 47.58, while Frenchman Maxime Grousset took silver in 47.64.
To put Pan's performance into perspective, the teenager, who turns 18 on Aug 4, swam the final's fastest split for the second 50 meters-24.84 sec-to power all the way from seventh place at the halfway mark to almost clinch what would have been a sensational podium spot.
Pan was justifiably buoyed by his result and is now dreaming of future glory.
"Racing against the world's best at such a high-profile international meet for the first time, I consider I've done a pretty good job," Pan told Xinhua.
"Still, I felt quite nervous in the final. Maybe it stopped me from pushing for a quicker time after I did it in the semifinal," added Pan, who swam a personal-best 47.65 in the semifinal to tie China's national record, set by former world champion Ning Zetao in 2015.
"I knew Popovici improved his PB by two seconds over three months. So, why can't I do that as well?
"As for when I can win a medal in the future, I believe what belongs to me will eventually be mine. I didn't get it this time, maybe next time it will happen."
Born in Wenzhou, Zhejiang province-a cradle of Chinese swimming world champions-Pan was selected to a junior program at just 4 years old due to his exceptional ability and natural interest in aquatic sports.
"He just liked swimming so much when he was a child that once he didn't do well in training I had to treat him differently from the other kids," Wang Shi, Pan's junior coach at a sports school in Wenzhou, told Hangzhou Daily.
"Whereas I would tell the other kids to keep swimming, I would keep Pan out of the water, sidelining him from training, which he didn't like."
With Pan rising to international prominence, the Chinese men's squad has rekindled hopes of rejoining the elite ranks in sprint events following the retirement of Ning in 2019 and the declining performances of two-time 100m backstroke world champion Xu Jiayu, who also hails from Wenzhou.
Zhang off the pace
Earlier, China's reigning Olympic women's 200m butterfly champion Zhang Yufei failed to replicate her Tokyo 2020 dominance, clocking 2:06.32 to finish a disappointing third place at her fourth worlds.
Zhang also had to settle for a bronze medal in the 100m fly on Monday, extending her gold-medal drought at the long-course worlds since her debut in 2015.
"People put a lot of expectations on me at this meet. I actually felt a lot of pressure," said the 24-year-old. "Now after these competitions, I feel a release.
"I will not push myself too much at every meet. The most important thing is to stay healthy and keep moving forward to prepare for the next Olympics. Looking at the international veterans, I can learn from them and allow myself to have ups and downs in order to have a longer career. I lose something this time, but gain more energy and momentum for next time."
Canadian teenager Summer McIntosh set a new world junior record of 2:05.20 to win the women's 200m gold, ahead of runner-up Hali Flickinger (2:06.08) of the United States at the Duna Arena.
Team China's failure to finish on the podium in the women's 4x200m freestyle relay final also ranked as a setback. The quartet of Tang Muhan, Li Bingjie, Ai Yanhan and Yang Junxuan, had been aiming to add the world championship title to their Olympic gold in Tokyo, however they finished out of the medals in fourth, in 7:45.72. The United States, led by superstar Katie Ledecky, won in a championship-record time of 7:41.45, with Australia (7:43.86) second, and Canada (7:44.76) third.